Malaysian siew bao (bbq pork buns)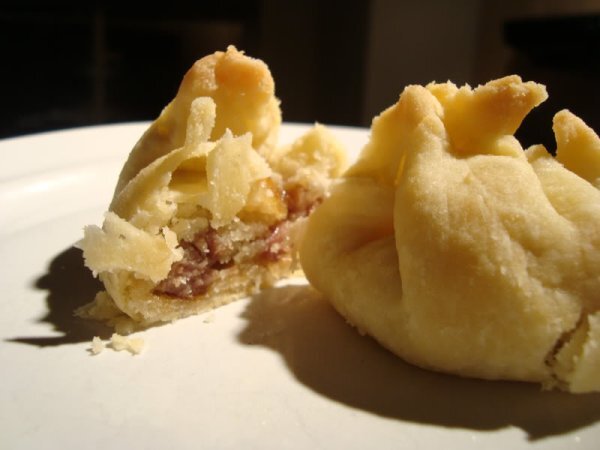 Preparation
Filling: Add oyster sauce, soy sauce, water, corn flour and sugar in a small bowl and stir to mix well. Heat 1 tablespoon of oil in a frying pan. Stir fry BBQ pork, onion and green peas until fragrant. Add the oyster sauce, soy sauce, water, cornstarch and sugar mixture and stir well.
Pastry: Put all the ingredients of water dough in a food processor and pulse until it forms a soft dough. Cover it in a bowl and let it rest for 30 minutes. Repeat the same with oil dough.
Divide the water dough and oil dough into 18 equal portions. Roll out a piece of the water dough into a flat circle. Place a piece of the rounded oil dough in the centre of the flat circle. Gather the outer edges of the water dough circle and wrap up the oil dough ball.
Pinch and seal the edges. With the heel of your palm, gently press the dough down to flatten it lightly. Using a rolling pin, roll out the dough into rectangle shape. Roll up the dough Swiss-roll style. Turn the rolled dough 90 degrees. Repeat. The pastry is now ready for filling and shaping.
Assembly: Preheat the oven to 400 degrees F. Roll out the pastry into a flat circle. Place 1 tablespoon of filling in the centre. Gather the outer edges of the dough circle and pleat and pinch to seal. Brush egg wash on the surface and sprinkle with sesame seeds. Bake for 25-30 minutes or until golden brown.
Questions:
You may like
Recipes