Polar bread - swedish flat bread
Polar bread - swedish flat bread
Healthy bread and a kids favourite!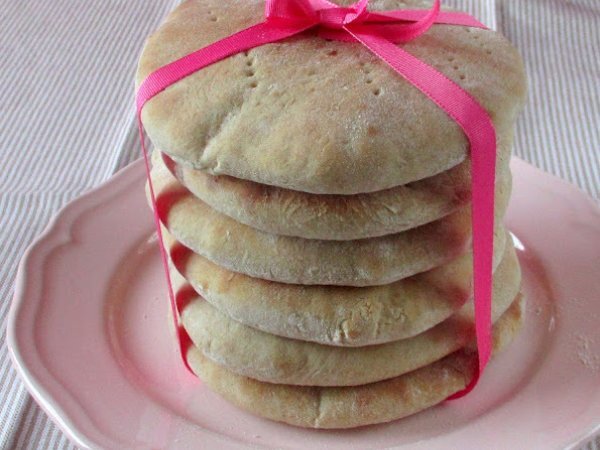 Recipe type:

Other

Number of serving:

6 servings

Preparation:

20 min

Cook time:

10 min

Ready in:

30 min

Difficulty:

Easy
Ingredients
50 grams butter
5 dl water (500ml)
50 grams of fresh yeast, or 1 tbslp dry yeast
3 tbsp golden syrup
1 tsp
salt
5 dl rye flour (500ml)
11 dl wheat flour (500ml)
Preparation
Step 1
Melt butter, add water and warm until 37 degrees C, is using fresh yeast, about 45 degrees or little more, if using dry yeast. Pour the liquid into a bowl, add yeast, and let it dissolve. Add golden syrup and salt and stir. Add most of the flour and work the dough until smooth and a little shiny. By hand, about 20 minutes. The dough should not stick to the edges of your bowl when you've worked it enough. Sprinkle some flour on top, cover with a kitchen towel, and set aside and let it rise to double the size, about 30 minutes.
Step 2
Heat oven at 275 degrees C. Place oven paper on several baking plates. Divide the dough into 20 pieces. Form to round balls and then use a rolling pin to flatten your breads on a floured baking table. Prick your Polar Breads using a fork and place onto baking plates. Cover with a kitchen towel and let rise for about 10 minutes.
Step 3
Bake in the middle of your oven for about 3-5 minutes. Let them cool on a rack, covered with a kitchen-towel.
Step 4
http://meandmysweets.blogspot.se/2012/07/swedish-flat-bread-polar-bread.html
Questions:
---
---
Related video
Related recipes
Recipes