Bhangarapan bhairi/mullu murungai keerai vadai/prickly amaranth leaves fritters
Bhangarapan bhairi/mullu murungai keerai vadai/prickly amaranth leaves fritters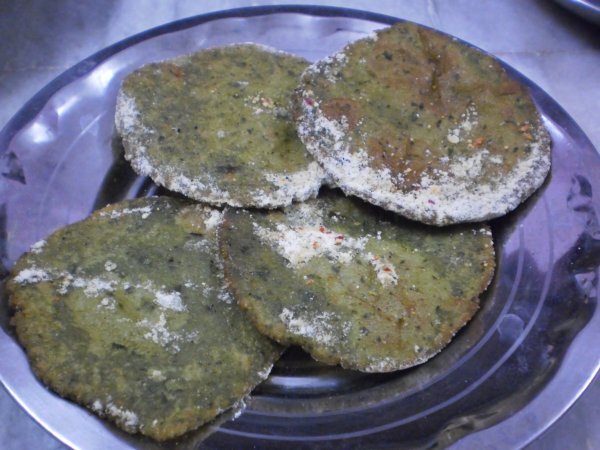 Bhangarapan bhairi/Mullu Murungai Keerai vadai is a famous Madurai special fritter snacks prepared with prickly amaranth leaves, rice flour dough, spiced up with pepper and deep fried. This amaranth leaves have medicinal properties and rich in magnesium, iron, calcium, fibre, potassium, etc.This fritter is a popular street food known as bhangarapan bhairi in Madurai, Tamilnadu, India served by the street vendors during the evenings at a very reasonable price. This is a healthy snacks for school going kids.
Preparation
Separate the leaves from stem and wash it.
Grind the leaves to a smooth paste in a mixer grinder/blender by adding required amount of water.
Mix rice flour, pepper powder and salt.
Add the ground amaranth leaves paste to the flour mix and make it a dough by adding required amount of water. The dough should be in chapati dough consistency.
Heat oil in a thick bottom kadai. Make 3 inches diameter patties with the dough and deep fry till it is cooked.
Sprinkle some spicy idli powder over and Serve hot.
Questions:
You may like
Recipes