Pork tenderloin wrapped in phyllo dough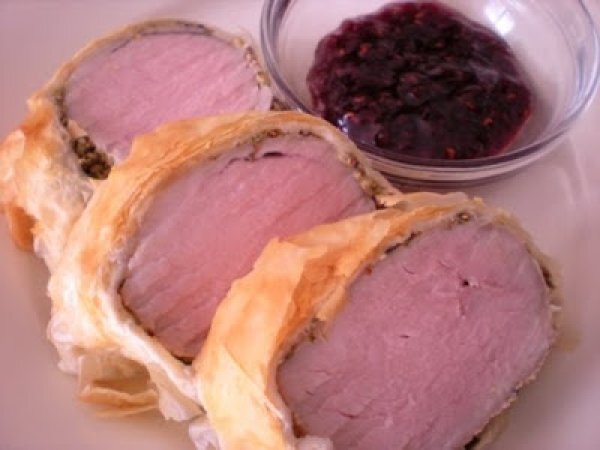 Preparation
Pork Tenderloin Wrapped in Phyllo Dough:
Preheat oven to 400°
Sprinkle pork with salt and pepper; place on a jelly roll pan coated with cooking spray. Bake at 400° for 15 minutes, turning once. Remove from oven; let stand 5 minutes or until slightly cool. Coat pork with mustard; sprinkle evenly with thyme, pressing thyme into mustard to adhere.
Place 1 phyllo sheet on a large cutting board or work surface (cover the remaining dough to prevent drying); lightly coat with cooking spray. Repeat layers with remaining phyllo and cooking spray, ending with phyllo. Gently press phyllo layers together. Lightly coat top phyllo sheet with cooking spray.
Arrange pork along 1 short edge of phyllo, leaving a 2-inch border. Starting at short edge with 2-inch border, roll up jelly-roll fashion. (Do not roll tightly). Place roll, seam side down, on jelly roll pan coated with cooking spray. Bake at 400° for 20 minutes or until the roll is golden brown and a thermometer registers 155°. Let stand 10 minutes.
Place chutney in a microwave-safe bowl; microwave at HIGH 30 seconds or until warm, stirring once. Cut the pork crosswise into 8 even slices using a serrated knife; serve with chutney. You obviously can use a store prepared chutney.
For Cherry Chutney:
In a medium-sized saucepan, combine onion, ginger, vinegar, red pepper flakes, salt, and brown sugar. Bring to a boil and add cherries. If you are using frozen cherries, defrost the cherries and drain liquid before using.
After adding cherries, turn heat to a low simmer and put the lid on the saucepan. Continue to simmer on low for five minutes to soften the cherries. Remove the lid and bring heat up to medium. Stir occasionally to prevent the liquid from burning. Simmer five minutes more, until the liquid thickens and the chutney has a jam-like consistency.
Remove from heat. Add minced sage. Cool to room temperature before serving.
Questions:
You may like
Recipes