Garlic kangkong (local spinach) spaghetti with sausage
By
Pal_Raine

My mother loves to cook and invent recipes out from our fridge. And me as her taster at the same time her food critics, have to give review on her cooking (well I know my mom is a great cook). And to be fair well I give her recipe a 100% PERFECT PASTA TASTE!

This recipe you can cook in 30 minutes or less. No hassle at all.

~Happy Cooking!~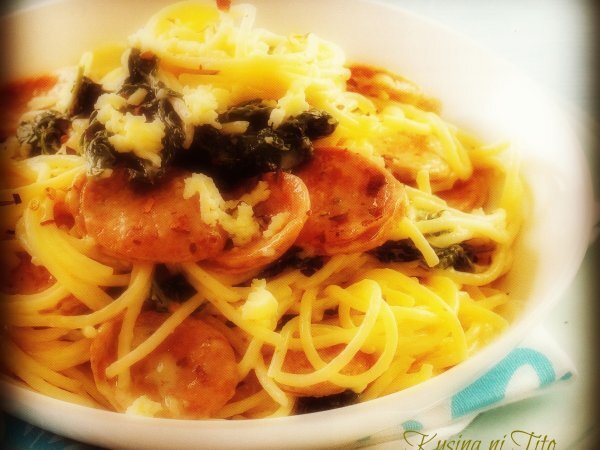 Recipe type:
Starter
Number of serving:
4 servings
Preparation time:
15 minutes
Cook time:
15 minutes
Ready in:
30 minutes
Difficulty:
Very Easy
Ingredients:
Preparation:
Step 1:
Bring a pot of water to a boil. Add pasta and cook until al dente, for about 8 minutes.
Step 2:
Meanwhile, in a large saute pan over medium heat, then put oil.
Step 3:
Add sausages and saute until browned. Add garlic and kangkong. Saute until garlic is softened and green are wilted.
Step 4:
Drain pasta, and keep 1/2 cup of pasta liquid, and add to sausage mixture.
Step 5:
Top with cheese, and toss to combine. Pour in the reserved pasta water and stir until cheese melts.
Step 6:
Add red pepper(this is optional), salt and pepper to taste. Then again saute for several seconds until-heated through.
Step 7:
Serve hot. Makes 4 servings.
Print this page
Add to favorite
By
Pal_Raine

Questions:
Related video
Related recipes
Recipes
Related articles
Impress your friends with these St Patrick's day recipes!