Garlic rasam (garlic tomato soup)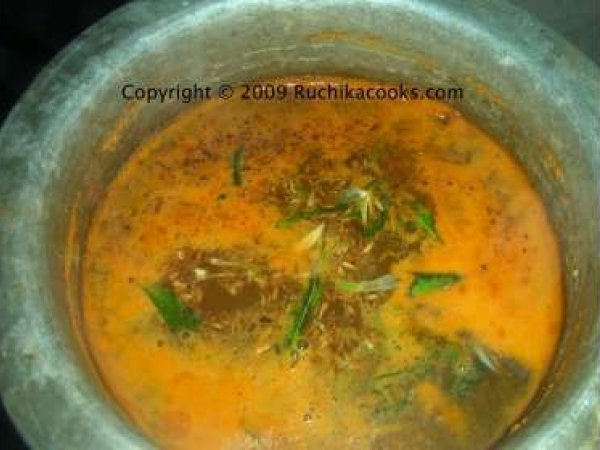 Preparation
Garlic Rasam (Garlic Tomato Soup)

People suggest eating an apple a day to keep healthy and I suggest eating/drinking this garlic rasam for this chilly day, especially if you have a cold like me..(Achooo..) ..But before we dig in, let me ask you a few questions first.

-Were you outside all evening yesterday, seeing the light shows or fire works?
- Were you catching up with pals over a cuppa, enjoying the cool breeze, sitting out by the pool?
-Any chances you over ate at the pot lucks or get-together's?
- Feeling tired like you were awake all night (obviously, what a question)

What can be better than spicy, steaming cup of garlic rasam on a cold, chilly day? Or what a way to start the new year!!!

I make rasam in my eiya sombu(lead vessel) and the whole house has the aroma of rasam if I use that sombu. And I add enough garlic while making this rasam protecting me from any lurking vampires or viruses.

Ingredients for garlic rasam:

Medium sized tomato- 1

Garlic- one whole or atleast 6-7 cloves

Tamarind- lime size ball (1/2 tsp of tamarind paste if you are using paste)

Cooked tuvar dal- 1/2 cup

Rasam powder- 1 tsp

Salt to taste

Black pepper powder- one pinch

Turmeric powder- 1/4 tsp

For tempering:

Ghee- 1 tsp

Cumin seeds- 1 tsp

Asafoetida- one pinch

Curry leaves- a few

Method:

Soak tamarind in 2 cups of warm water. Let is sit for 10 minutes and extract the juice. Keep aside.

Chop garlic lengthwise and keep aside. Dice the tomato.

In a saucepan (I use eiya sombu) add salt, rasam powder, turmeric powder, chopped tomato and crush them slightly using a fork or a rough mash by hand.

Add the tamarind juice and make up to 3/4th of the volume of the vessel with water. Cover and let it simmer for 15-20 minutes till some of the water has concentrated.

Mash the cooked dal with a cup of water and add it to the simmering rasam in the pot. Taste and adjust salt. Add pepper powder if required. Simmer till the dal forms a froth on top. Switch off.

Heat ghee in a tadka pan and add asafoetida and cumin seeds. When the seeds sizzle, add curry leaves and the chopped garlic. Stir fry for 2-3 minutes, till garlic turns golden brown. Pour this tadka over rasam. Serve hot with rice and any poriyals, my choice is potato kari or kathirikkai kari. A cup of this steaming hot rasam rice and a nice nap for 4 hours, best medicine ever.

And say bye-bye to cold, flu or sore throat.
Questions:
You may like
Recipes