kfc style chicken (fried)
kfc style chicken (fried)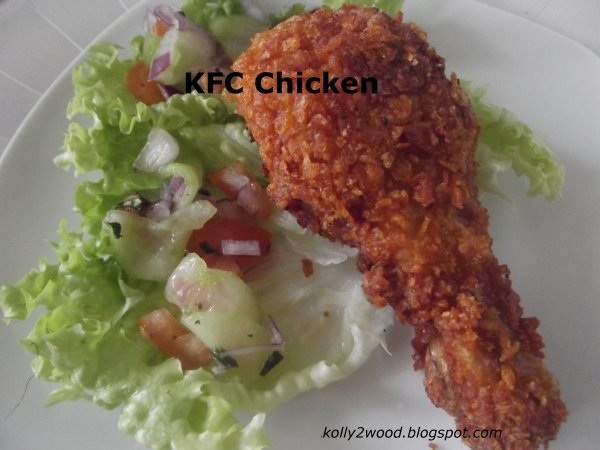 I tried KFC crispy chicken this way. I enjoyed with my family. so, I want to share this recipe with you . Eat and ENJOY.
Ingredients
6 leg pieces (don't remove the skin)
---
---
---
1 teaspoon of pepper
---
1/4teasppon of black salt
---
1 teaspoon of dried
basil
---
---
1 teaspoon of ginger
garlic
past
---
*****************************
---
1 cup of plain flour
---
2 eggs (beaten)
---
1 1/2 cup of crushed corn flakes (I usually use leg pieces or wing or chicken breast. My children love wing pieces. Wing pieces are very crispy)
Preparation
Cook chicken with all spices mentioned in the list for 10-15 minutes.before frying.
In a bowl beat the egg.
Keep in a plate plain flour.
Keep another plate crushed corn flakes.
Take a piece of semi- cooked chicken. Roll it in the raw flour. cover your chicken piece with flour.
Now dip the chicken pieces in the egg.
Now cover the dipped chicken pieces with crushed corn flakes.
Meanwhile heat oil..
Fry the chicken pieces deep fry in the hot oil.
When it is brown on all the sides serve with salade leaves and tomates.
Questions:
Hi, Why are you using black salt? Is it also possible to use common salt or sea salt? BR Erich
Answer:
Hello Erich, I am using black salt just for digestion. If you want, you can use common salt or sea salt.
You did not mention in the recipe what to do with the dry ingredients and the chicken legs what do you mean by cook them??? Thank you
Answer:
Hi dina Thank you very much for mentioning. Now , I think your doubt is cleared. You can see again my KFC recipe. Thank you very much once again.
I would like to confirm that we have to cook the chicken before deep frying it?
Answer:
Hello Yes, you have to cook chicken befor frying. Try it and tell me Okay
Related recipes
Recipes