Blueberry & kumquat cream cheese tarts with graham cracker crust ~ ?????????????
Blueberry & kumquat cream cheese tarts with graham cracker crust ~ ?????????????
Here a very good receipt to give color to your festival! It is very pleasant to see thus that eating!
Ingredients
---
---
---
2 ½ tbsp corn starch
---
6 oz cream cheese, cut into cubes and softened
---
---
½ cup heavy
cream
, whipped to soft peaks
---
2 1/2 cups
---
2 ½ cups blueberries
---
1 tbsp sugar
---
400g (about 24) kumquats
---
2 cup granulated sugar
---
1 ½ cup water
Preparation
Combine ¾ cup of the milk and 3 tablespoon of the sugar in a medium saucepan. Bring to a simmer over medium heat. Meanwhile, in a large bowl, whisk together the egg yolks, cornstarch, and the remaining 2 tablespoons sugar. Whisk the remaining ¼ cup milk into the yolk mixture. Remove the milk mixture from the heat and add a little of the hot milk to the yolk mixture to warm it, whisking constantly to keep the yolks from cooking. Pour the egg yolk mixture into the hot milk mixture, whisking constantly as you pour.
Return the custard to the stove and bring it to a boil, whisking constantly. Let the custard cook for 1-2 minutes until it thickens. Add the cream cheese and vanilla and whisk until smooth. Using a fine sieve; strain the mixture into a clean bowl. Cover the surface with plastic wrap and refrigerate until chilled.
Beat the heavy cream over medium speed until soft peaks form. Whisk the pastry cream until smooth and fold in the whipped cream until combined.
2) Blueberry Compote:
In a medium saucepan combine 1 cup of the blueberries with the sugar. Cook over low heat until all the berries have popped and the juices come out. Strain the mixture into a bowl and discard the solids. Add the rest of the blueberries into the syrup and toss to combine.
Wash and pat dry kumquats. Remove calyces, cut them in half horizontally then pit with a fork. Bring sugar and water to boil, add the kumquats. Cover with a paper towel (directly on kumquats) and cook for 2 minutes over medium heat.
Remove from heat and let sit overnight at room temperature. Trash the paper towel and remove the kumquats and transfer to a bowl. Reheat the poaching syrup to a boil then remove from heat. Add the kumquats back into the syrup and let sit overnight at room temperature. Place the compote (discard the syrup) in an airtight container and keep refrigerated; good up to a week.
To assemble:
Spoon the pastry cream into each tart shell and top with the blueberries or candied kumquats, sprinkled with finely chopped pistachios. Serve soon after assembling.
Photos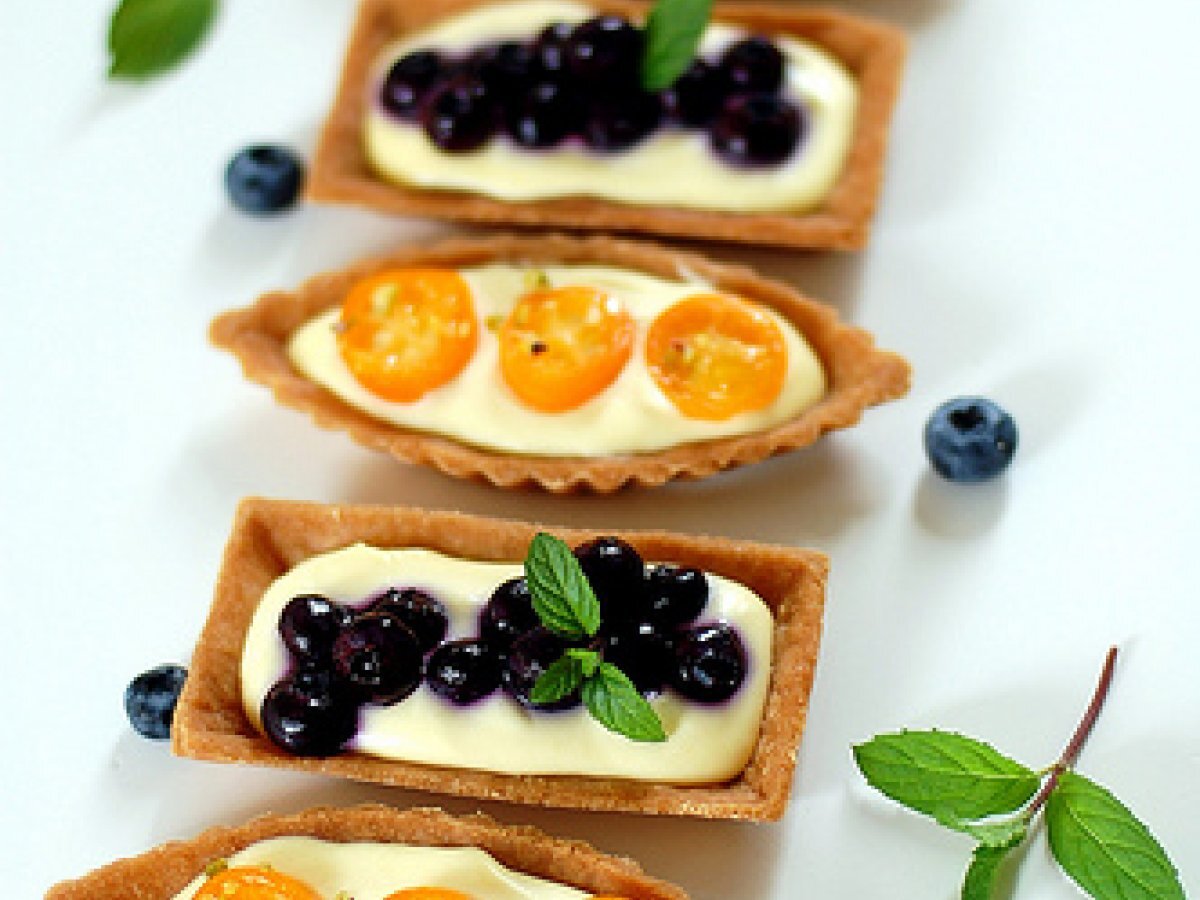 Questions:
Related recipes
Recipes