Krathong thong (patty shells with minced chicken)
Krathong thong (patty shells with minced chicken)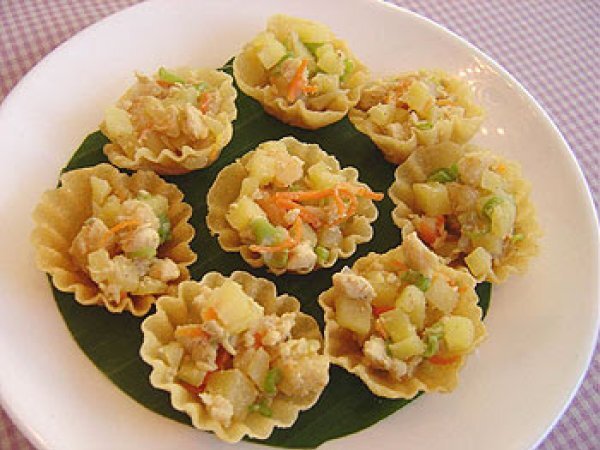 Another small savory recipe to add to your list of appetizers.
Ingredients
---
6 tablespoon plain flour
---
2 tablespoon tapioca flour
---
---
---
---
---
¼ baking soda (bicarbonate of soda)
---
4 cups corn oil or vegetable oil
---
2 tablespoon corn oil or vegetable oil
---
4 tablespoon finely diced onion
---
200 g (7oz.) cooked chicken (or pork), finely chopped
---
2 tablespoon finely diced carrot
---
2 tablespoon sugar
---
¼ teaspoon black soy sauce
---
½ teaspoon salt
---
½ teaspoon white pepper coriander leaves for garnish
---
1 red chilli, finely sliced
Preparation
Make the patty shells first by mixing all ingredients except oil together in a bowl. Heat the oil then dip the KRATHONG mould in the oil to heat up.
Dip the mould into the batter and plunge back into oil. Fry for about 5 minutes until light brown.
Then shake to remove the cup from the mould. Place on the kitchen paper to drain, Repeat to make 20-25 cups.
The filling : Put the oil in a hot wok and stir fry onion and chicken for 2 minutes.Add the rest of the ingredients and fry for about 3 minutes until vegetables are fairly soft.
Leave them to cool.Divide the filling among the batter cups. Garnish with coriander leaves and slices of fresh red chilli.
Questions:
Related recipes
Recipes
Related articles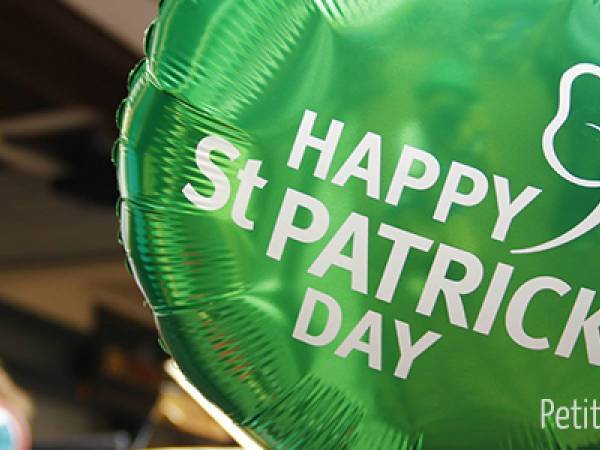 Impress your friends with these St Patrick's day recipes!