Krathong thong (patty shells with minced chicken)
Krathong thong (patty shells with minced chicken)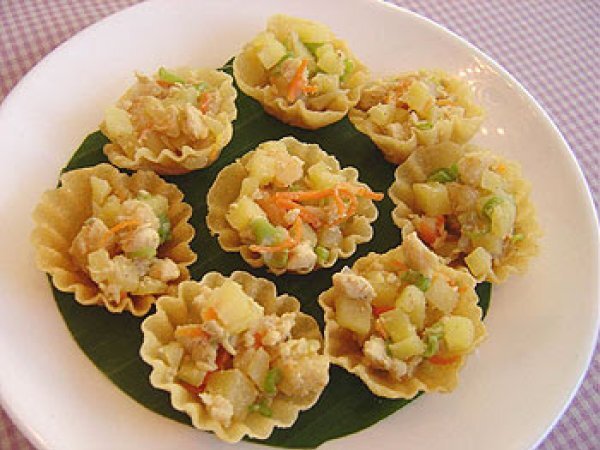 Another small savory recipe to add to your list of appetizers.
Preparation
Make the patty shells first by mixing all ingredients except oil together in a bowl. Heat the oil then dip the KRATHONG mould in the oil to heat up.
Dip the mould into the batter and plunge back into oil. Fry for about 5 minutes until light brown.
Then shake to remove the cup from the mould. Place on the kitchen paper to drain, Repeat to make 20-25 cups.
The filling : Put the oil in a hot wok and stir fry onion and chicken for 2 minutes.Add the rest of the ingredients and fry for about 3 minutes until vegetables are fairly soft.
Leave them to cool.Divide the filling among the batter cups. Garnish with coriander leaves and slices of fresh red chilli.
Questions:
You may like
Recipes