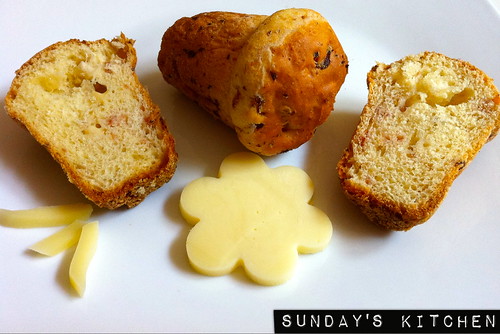 These little savory cakes make a great appetizer for any occasion. A simple recipe with a very delicate flavor !!

Preparation time: 2 hours
INGREDIENTS
enough to make about 18 small cakes (2.5 x 3 inch round cake pans) or 1 large cake (10 x 4 inch tube pan - angel food cake pan)
1-3/4 cups (8.8 oz) manitoba flour
1-3/4 cups (8.8 oz) flour 00
1 tbsp sugar
1 oz (25 g cube) fresh yeast (you can buy it from a local bakery)
2/3 cup (5 fl oz) water
7 tbsp (3.5 oz) unsalted butter
3 eggs
1 tsp fine sea salt
2 tbsp grated parmigiano reggiano cheese
Filling ingredients
5.5 oz thinly sliced cooked ham
5.5 oz sharp provolone cheese (better if Auricchio)
Dissolve the yeast in 2/3 cup of water.
Put (only) 1 cup of flour 00 and the dissolved yeast in a large mixing bowl (or stand mixer bowl) and let "rest" for 15 minutes.
Cut the ham and provolone cheese into small pieces.
Pour into the mixing bowl the remaining flour 00, 1-3/4 cups manitoba flour, 1 tbsp sugar, 7 tbsp unsalted butter, 3 eggs, 1 tsp salt and 2 tbsp grated parmigiano cheese.
Mix (with a dough hook) on medium speed until the dough becomes soft.
Add the small pieces of ham and provolone cheese.
Grease (with unsalted butter) and flour the cake pans.




Fill each cake pan about 3/4 full with dough.
Let dough rise until it reaches the top of the cake pans.
Bake in preheated oven at 355°F for 35 to 40 minutes.
Remove from the oven and let the Babà rustici cool down for about 10 minutes. Gently remove pans.