Banana chocolate cake
Banana chocolate cake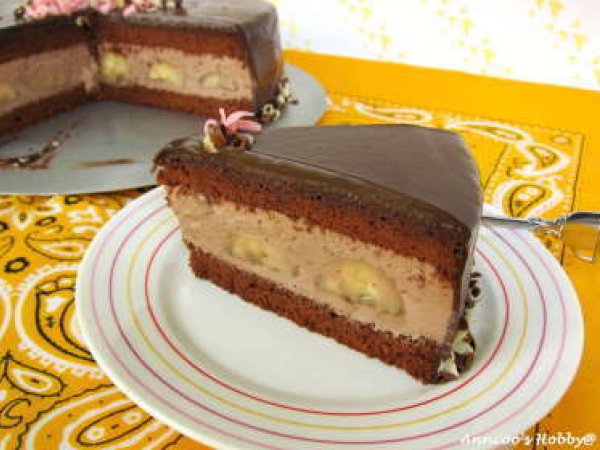 Preparation
Boil milk or whipping cream and mix to melted chocolate with a hand whisk follow by vanilla extract and rum, mix well and leave to cool.
Whisk up fresh cream and whipping cream together to soft peak and add whipped cream to melted chocolate.
Sprinkle or rub some lemon juice on banana and cut banana into half.
Place one slice of sponge cake in an adjustable cake ring and brush sugar syrup on it.
Spread half of chocolate mousse on sponge cake ~place banana on it and balance chocolate mousse to cover the banana. Lastly cover the 2nd slice of sponge cake on top, brush sugar syrup again and freeze mousse cake for at least hour.

Ganache Cream
250g Semi-sweet chocolate - chop to small pieces
200g Whipping cream
40g Butter - cut so small pieces
1/2 tbsp Rum
1 tsp Vanilla extract
Put chopped semi-sweet chocolate and butter in a bowl.
Boil whipping cream and pour cream into the chocolate and stir with a hand whisk to smooth.
Add rum and vanilla extract, stir well.
Remove mousse cake from cake ring after freezing.
Pour ganache cream on cake.
Quickly use palette knife to spread ganache evenly on cake.
You may like to apply 2 to 3 layers of ganache cream to make the chocolate cream thicker.
Lastly clean the side of the cake with kitchen towel and decorate as desire.
Put the Banana chocolate cake in fridge for few hours before serve.
For cutting chocolate cake - Dip your knife in hot water and quickly dry it off before each cut.
Questions:
You may like
Recipes
Related articles