Cranberry and orange cupcake with orange cream cheese frosting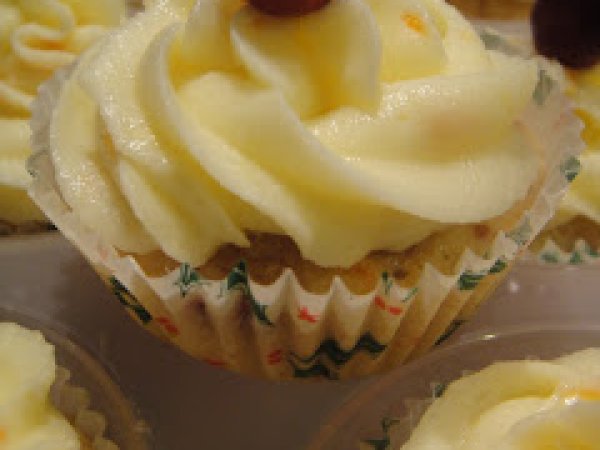 Recipe type:

Dessert

Number of serving:

4 servings

Preparation:

20 min

Cook time:

25 min

Ready in:

45 min

Difficulty:

Very Easy
Ingredients
- 2 large
eggs
- 200 g caster sugar
- 100 g corn oil
- 135 ml sour cream
- 1 teaspoon
vanilla
extract
- Grated zest of 1 orange
- 228 g plain flour
- 1/2 teaspoon baking powder
- 1/4 teaspoon bicarbonate of soda
- 1/4 teaspoon
salt
- 1 teaspoon ground cinnamon
- 140 g fresh or frozen
cranberries
- 175 g cream cheese
- 450 g icing sugar
- 125 g unsalted butter
- Grated zest of 1 orange
Preparation
Step 1
Preheat the oven to 180C.
Step 2
In a large mixing bowl beat the eggs and sugar together until light and fluffy.
Step 3
Slowly pour in the oil, a little at a time, beating well after each addition, then repeat the process with the sour cream and vanilla extract, making sure everything is well combined, and incorporate the orange zest at the end.
Step 4
Sift the dry ingredients together in a bowl and then add to the batter and beat well. Finally, fold in the cranberries gently. Carefully spoon the mixture into the cupcake cases, filling them to about 2/3 full.
Step 5
Bake in the oven for 20-25 minutes or until slightly raised and golden brown. Allow to cool in their tins for 10 minutes before turning out on to a wire rack to cool completely.
Step 6
To make the icing, place all the ingredients in a mixing bowl and beat until thoroughly combined and the icing is smooth and pale.
Related recipes
Questions:
---
---
Related video
Recipes
Related articles