Eggless ferrero rocher tarts
Eggless ferrero rocher tarts
It's a simple but delicious dessert can be made in minutes ..
If you are a great fan of Ferrero rochers .this dessert is for you .. Beware you will not stop eating with one ...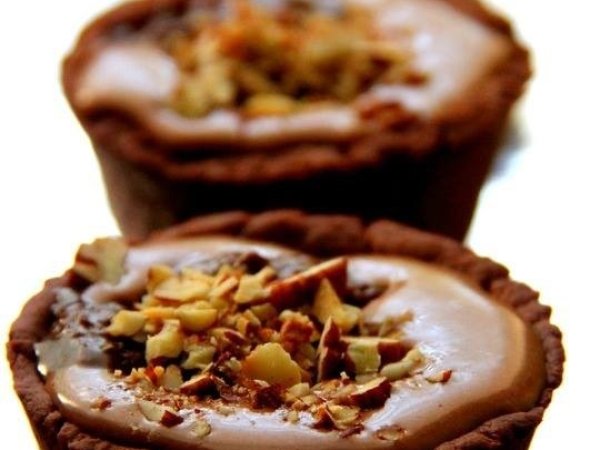 Preparation
For the Tart Base:
In a bowl combine APF, Icing Sugar and Cocoa Powder . Mix really well.
Add the cold Butter. Combine everything together . The dough will be crumbly.
Now add the Cold milk and mix . It will form a dough .
Cover it with a cling wrap and refrigerate the dough .
For the Chocolate Mousse:
In a microwave safe bowl , add the chocolate chips and microwave it for 2 minutes.
Chocolate chips will turn into liquid chocolate.
Mean while soak the china grass with 2-3 TBLS water. Allow it for couple of minutes.
Then microwave it , till it melts.
Now add the China grass mixture and Condense milk to the liquid chocolate and combine really well . Beat the mixture for a minute to make sure there is no lumps.
Meanwhile whip the whipping cream till the soft peaks.
Add the whipped cream to the cooled chocolate mixture and fold.
Cover it with a cling wrap and refrigerate till it is been used.
For Roasted Almonds and Pecans:
Chop the almonds and pecans to the required size.
In a pan add almonds and pecans.
Dry roast them till they crunchy.
Allow them to cool.
For the Chocolate Thing:
In a microwave safe bowl add the Semi sweet chocolates and condense milk and heat it for 30 seconds.
With the help of the spatula mix it really well.
Now add the Chopped Roasted Nuts and mix well.
Cover it with a cling wrap and refrigerate till it is been used.
How to bake the Tart:
Pre heat the oven at 350F.
Roll out the dough . Shape the dough really thin to a muffin pan ( As we do for pies) .
Cover it with another tray on top of the muffin tray ( I used Pizza Tray ).
Bake it for 12 minutes. Remove the pizza tray and bake it for another 5 minutes.
Once they are baked take it out from the oven.
Assembling the Tarts:

Once the tart is completed cooled down spoon it with some Chocolate Mousse.
On top of the Chocolate Mousse add some Chocolate thing.
Garnish it with some Roasted nuts.
Notes:

You could use Milk Chocolate instead of Semi Sweet Chocolate.
Instead of China grass , 1 TSP of gelatin can be used in the same procedure.
I coved the muffin tray with the pizza pan , you could blind bake with some nuts / rice or any kinds of beans. This worked well for me.
The tarts were crispy and delicious. I didn't have any problem removing the tarts from the muffin pan. ( Nothing broke too)
You could use any nuts which is available.
Questions:
You may like
Recipes