Layer cake with strawberries and mascarpone cream
Layer cake with strawberries and mascarpone cream
The perfect recipe to enjoy strawberry season ! You'll love the sponge cakes and the mascarpone cream :) If you love strawberries this recipe is made for you.
Materials
Electric mixer
3 molds 6 inches diameter
Plastic wrap
Parchment paper
Spatula
Piping bag
Bench scraper
Cake turntable
Preparation
Cake :
Separate egg yolks from the whites.
Mix egg yolks with sugar until until the mixture lightens.

Add flour and potato starch and mix well. Add lemon peel and mix again.

Whisk the egg whites until they form peaks. Add them carefully to the previous mix with a spatula.

Pour the batter into 3 greased molds (6 inches diameter) and bake 13 minutes at 350°F (180°C).

Remove from oven and leave to cool down on a grid. Unmold and wrap the cakes in plastic wrap.

Cream :
Put all ingredients in a bowl and mix it all with an electric mixer. Refrigerate.

Put some cream on a cake turntable. Put some parchment paper on top and put some cream on it. Put the first cake on the cream.

Brush some syrup on top of the cake (you can make a syrup or use strawberry / red berries syrup).
Cover the cake with cream with the piping bag.
Put the strawberries cut in half on top and put cream on the empty spaces. Put the second cake on top.

Repeat step 8 and finish by adding the third cake on top. Cover the whole cake with some cream, smooth it all with a spatula and freeze the cake during 30 minutes.

Sortir du frais et couvrir le gâteau complètement avec de la crème. Bien lisser le tout à la spatule et mettre au congélateur à nouveau pendant 15 minutes.
Remove from freezer and cover the cake generously with cream. Smooth it with a spatula and freeze again for 15 minutes.

Decorate your cake with cream and strawberries cut in half and there you are !

The cake has to be very cold to cut it easily.
Observations:
Mold :
You can use 1 mold but baking time will be different. You'll have to cut the cake into 3 same layers.
Photos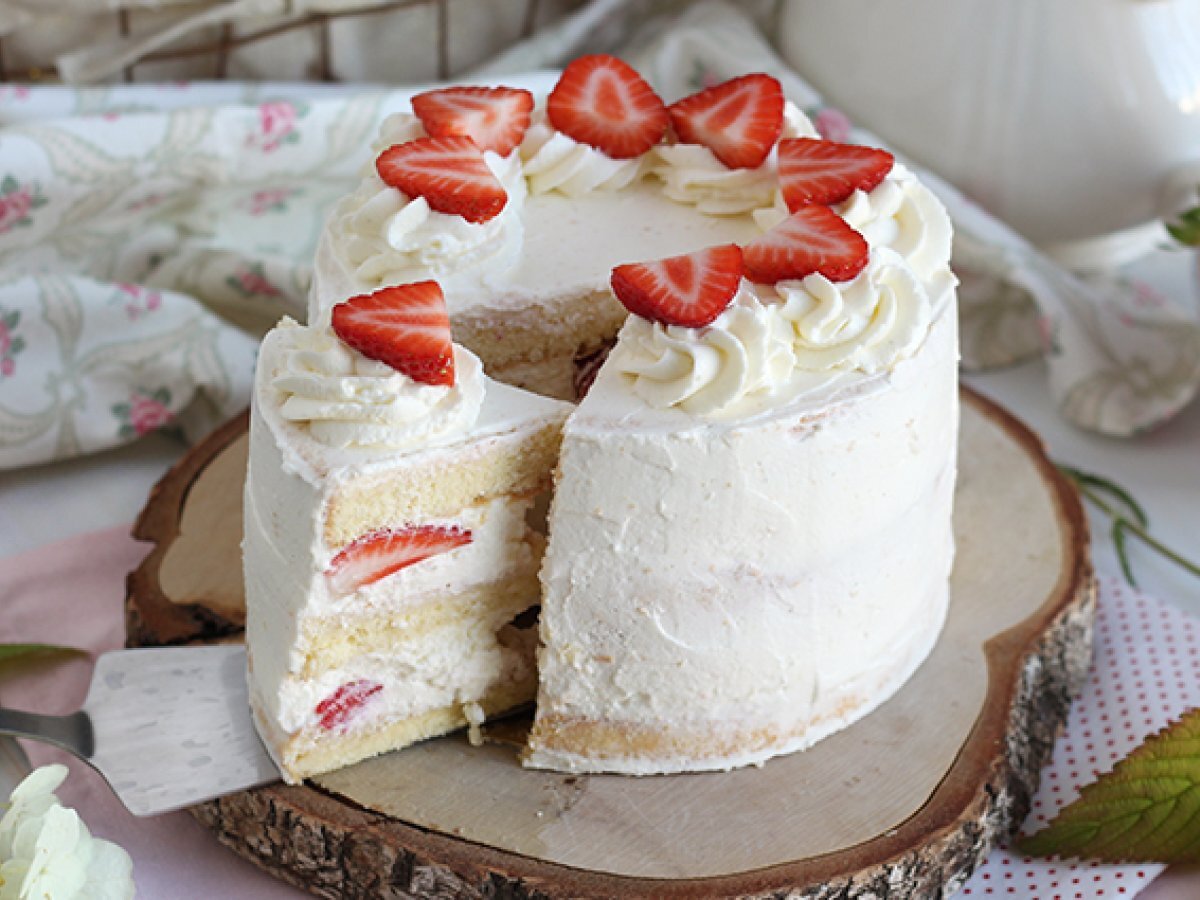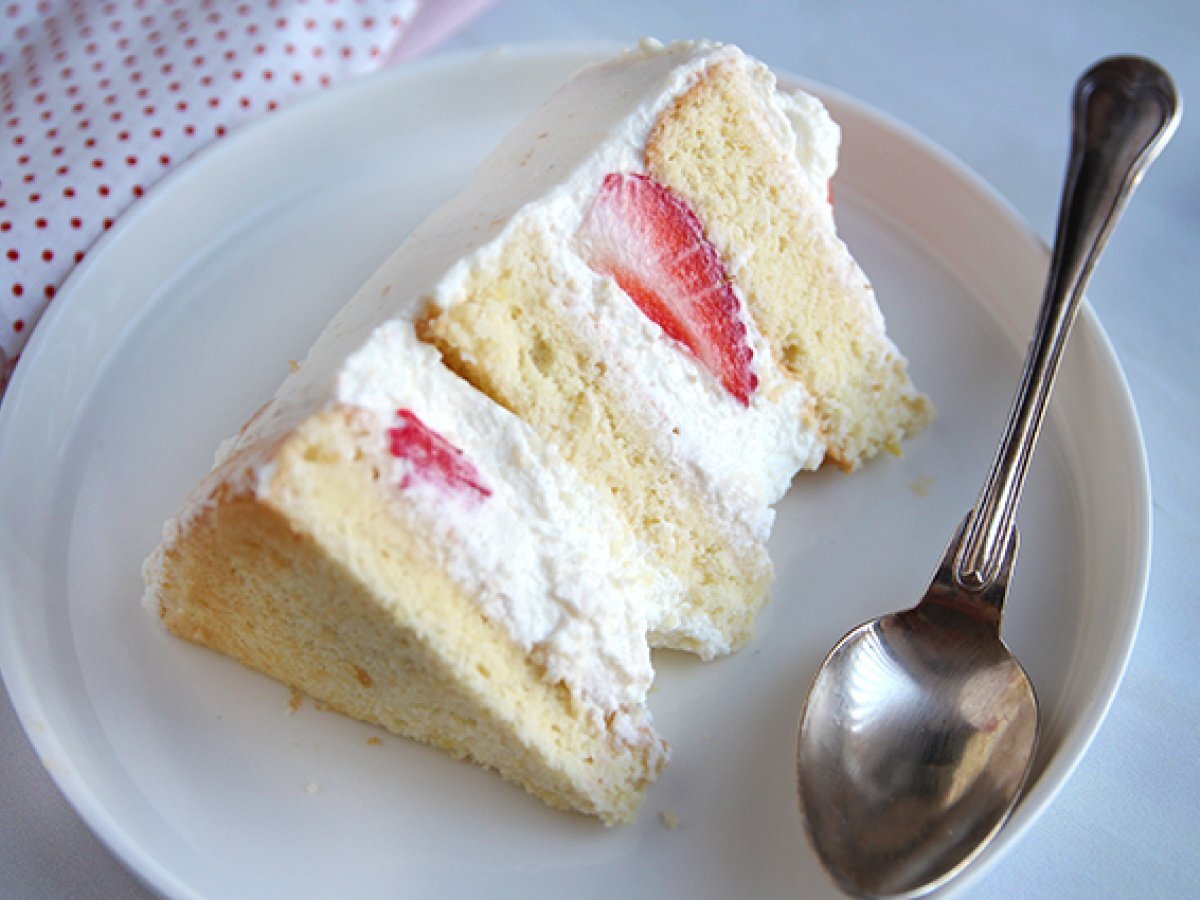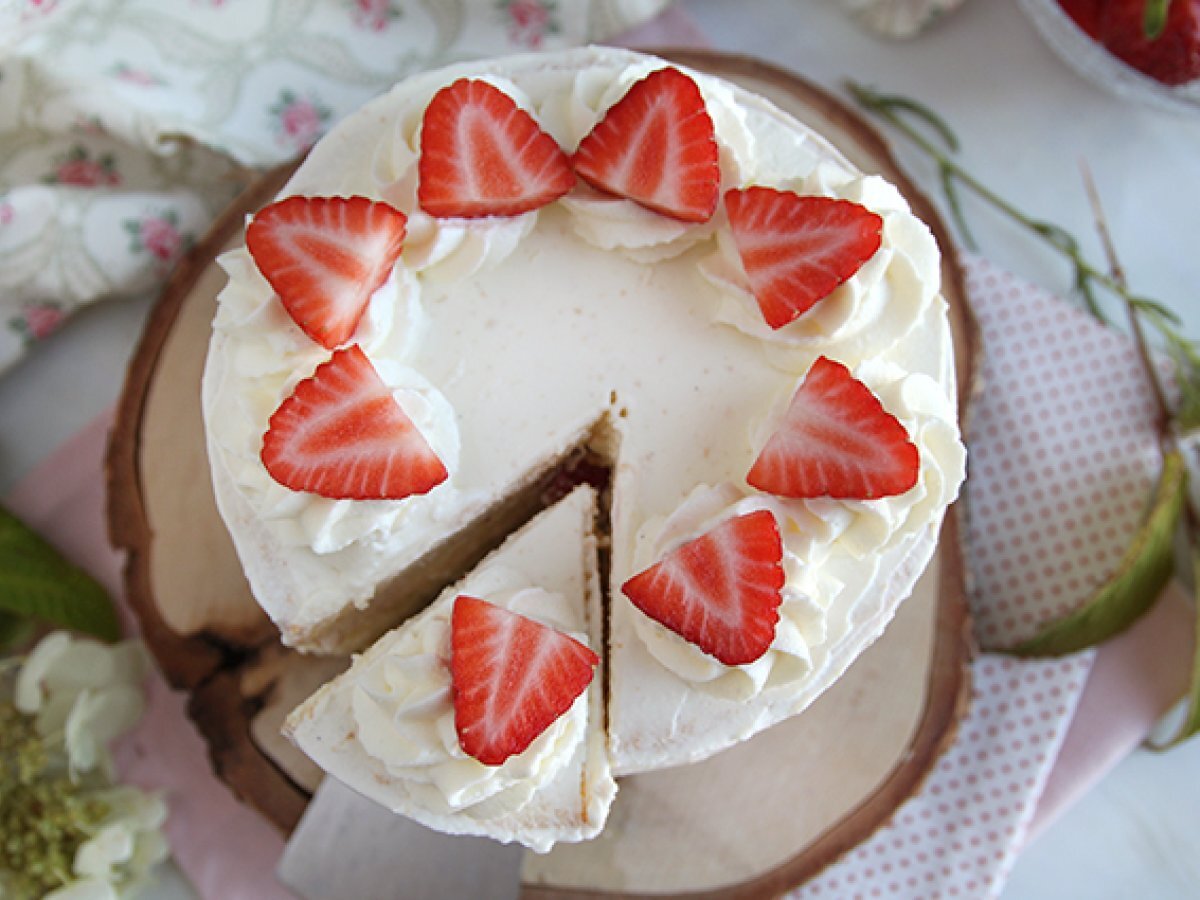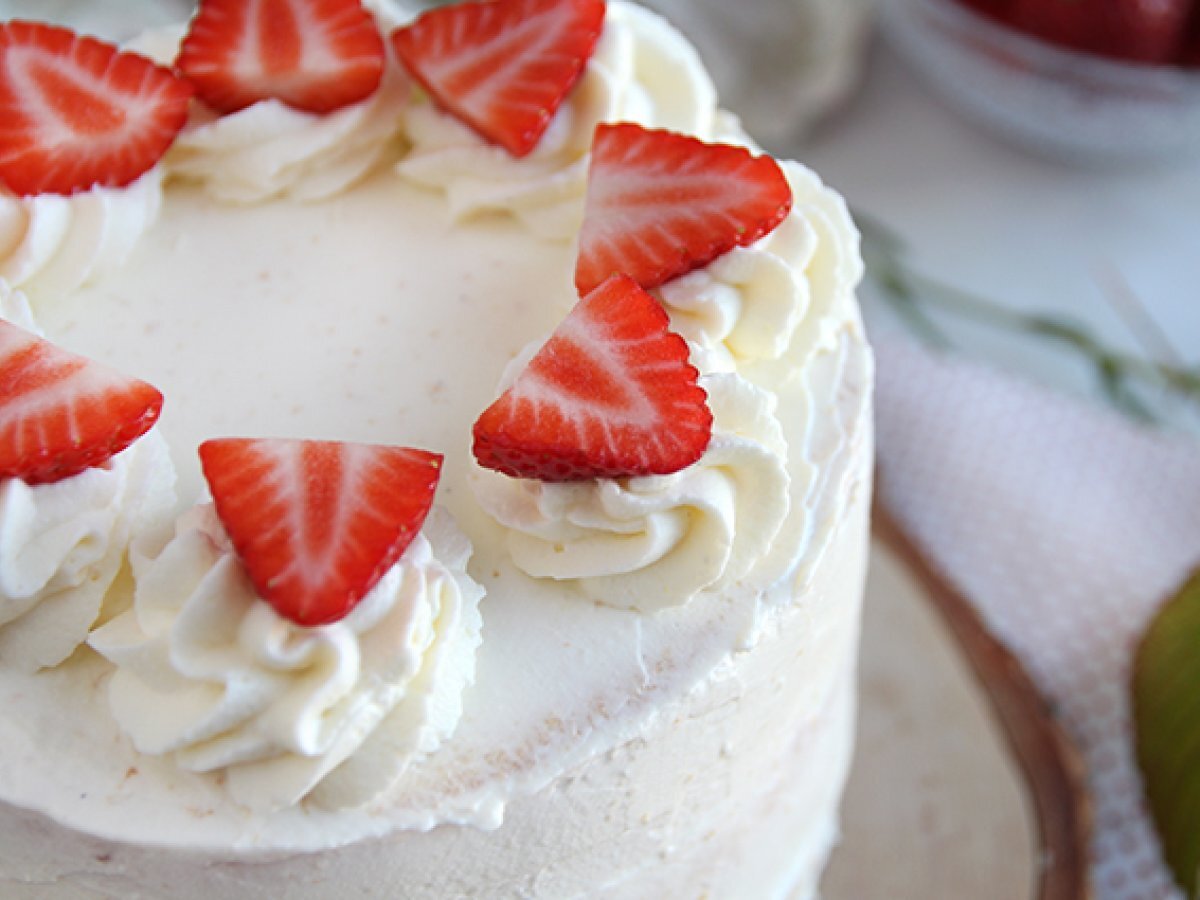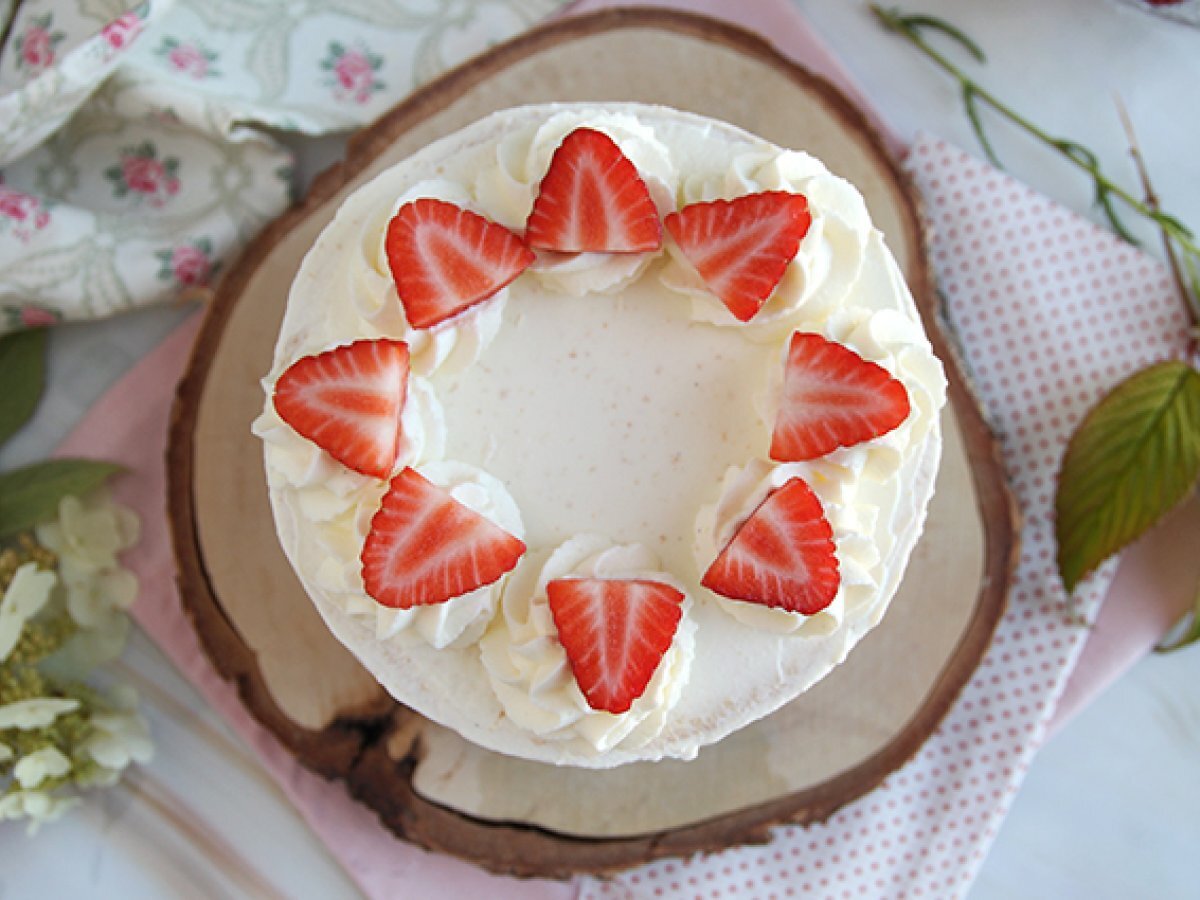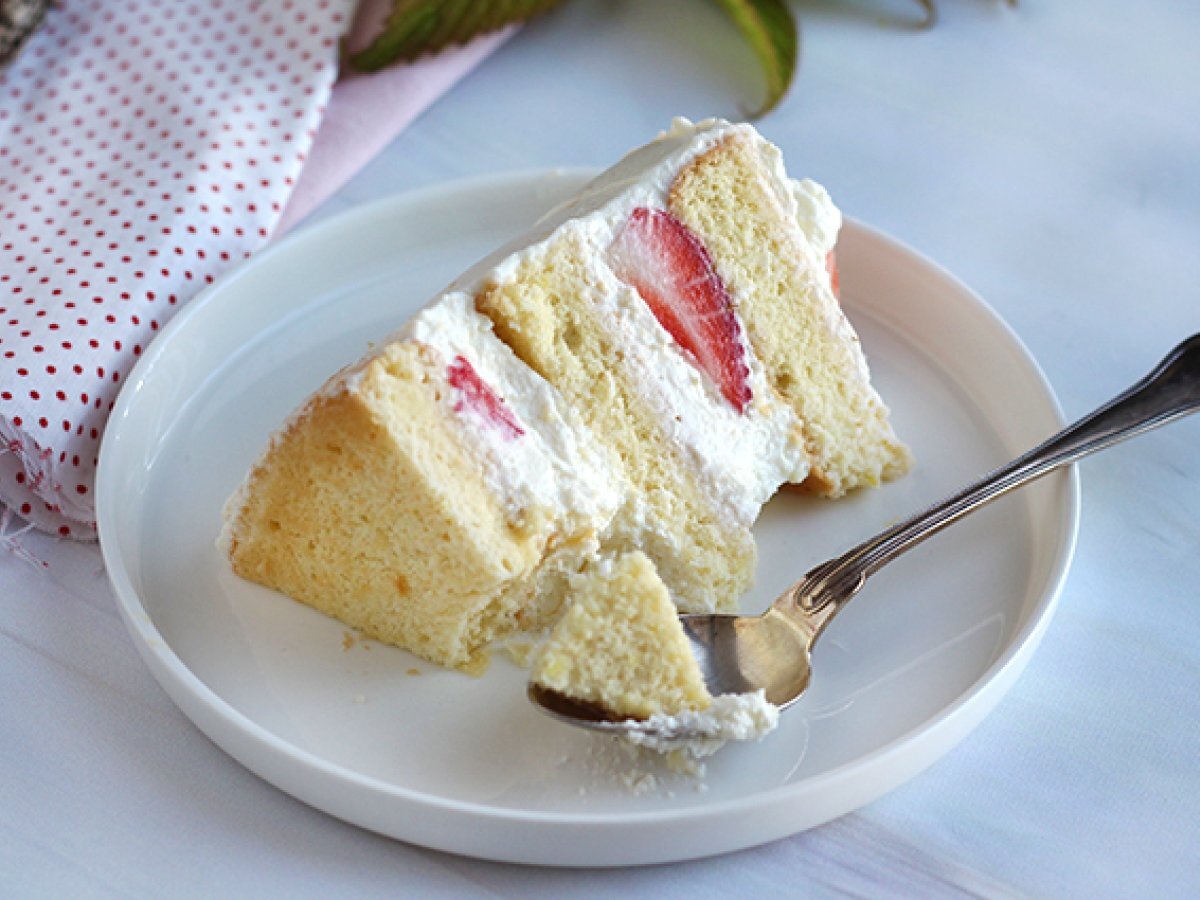 Questions:
You may like
Recipes
Related articles