Layer cake Petit Chef with gum paste - Video recipe !
Layer cake Petit Chef with gum paste - Video recipe !
Who never dreamt to have for a bithday or any celebration a cake with the event colors ? Here is a recipe that will explain step by step how to decorate a cake with gum paste, to make the most wonderful cake ever !
Preparation
First, the cakes :
Mix all dry ingredients together (flour, sugar, baking powder, cocoa)

In another bowl, beat softened butter, then add eggs one by one. Then, add milk and vanilla extract.

Add to this mix the dry ingredients, gently and gradually.

Pour your mix into several cake molds of the same size. For us, it will be three 6 inches diameter molds.
Bake for 25 minutes at 360°F

Then, let's make the ganache :
Heat (but not boil) the heavy cream.

Put the chocolate in it, and mix until it's completely melt down. Let it cool and put into the fridge for at least 40 minutes.

Then, the buttercream :
Beat softened butter with an electric mixer

Add half the icing sugar, then beat. Next, add what's left of the icing sugar and mix again.

Add milk, vanilla extract, then beat at maximal speed for 5 minutes.

Then, the cake assembly.
Cut the top of each cake, trying to be the most straight and parallel as it can be.

On a spinning cake stand, place a slightly larger than 6 inches cake bottom.

Put a sheet of baking paper on it, and use the circle as a model to spread a first layer of frosting (buttercream).

Place your first cake (cut side on the top), and circle it with buttercream with an icing bag.

Pour half the ganache at the center and level it all. Put the second cake on top of it and repeat operation. Then, place the third cake on top of it, cut side at the bottom.

Take your cake bottom bake, and spread some frosting on it. Turn it and put it on the cake. It will help you frost your cake for the next step.

Frost entirely your cake.

Smooth the sides with a bench scraper. Once it's done, put your cake in the fridge for at least 40 minutes.

After having colored your gumpaste according to which cake toppers you want to make, roll out your first color. Put drawing paper with your design on it, and use a pastry knife to mark the drawing.

Then, cut it

Do the same thing with other elements of your toppers.

Use your drawing paper to replace elements : once used, put it back on the "base" piece of gumpast, and gently rub your fingers on it so the paper will mark what your draw before.

Apply a little bit of water so the gumpaste will stick properly.

And place your elements.

For the cake cover, roll out half the gumpaste to make a wide circle ( this step must be quick since gumpaste has a tendency to dry and to wrinkle).

Take the cake out of the fridge and turn it over. Peel off the baking paper sheet.

Put it on a high bracket and cover it with the rolled out gumpaste.

Gently stick the gumpaste to the cake.

Use a cake smoother and cut away the excess gumpaste at the bottom.

Use cake smoother and bench scraper to sharp the edges of the cake.

Still using water as glue, place your toppers on your cake ! There you are !
Don't forget to watch our video if explanations aren't clear enough !
Photos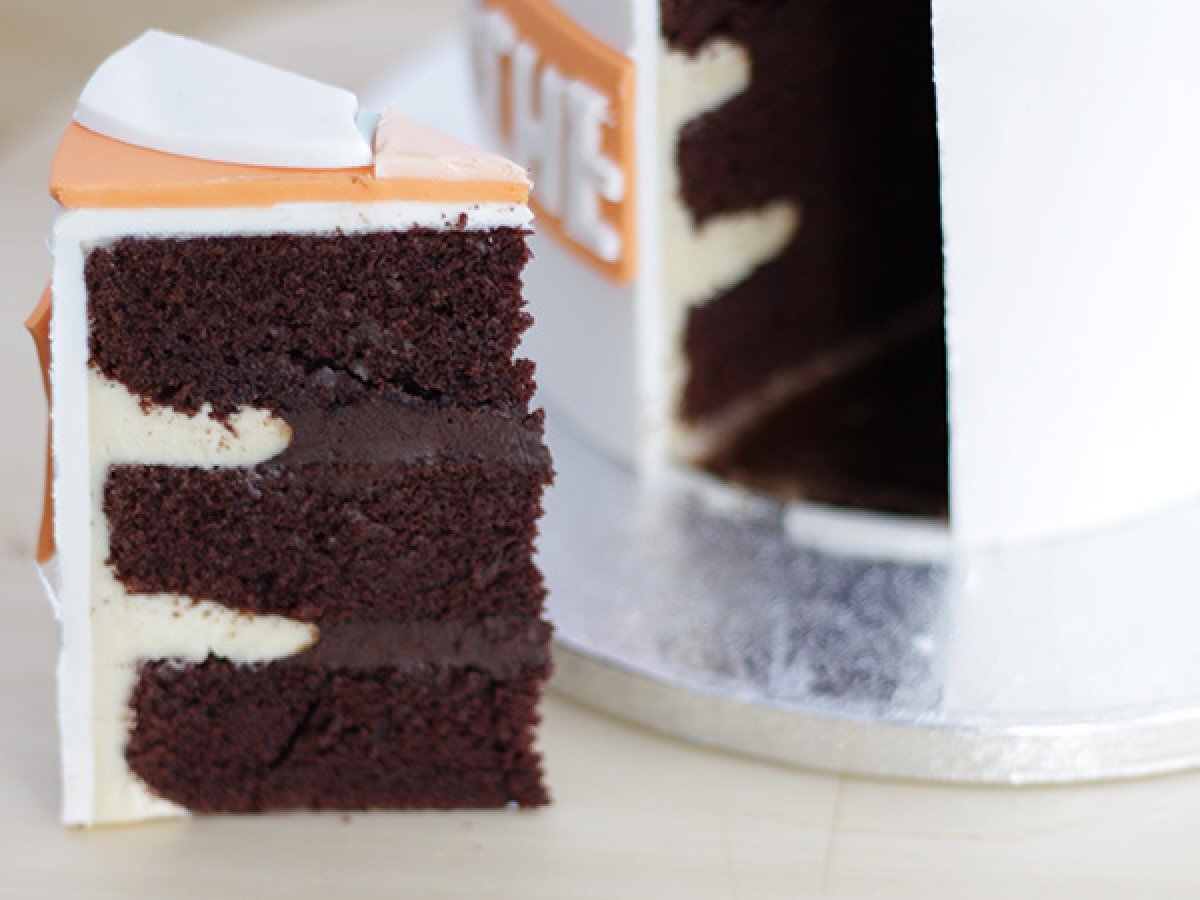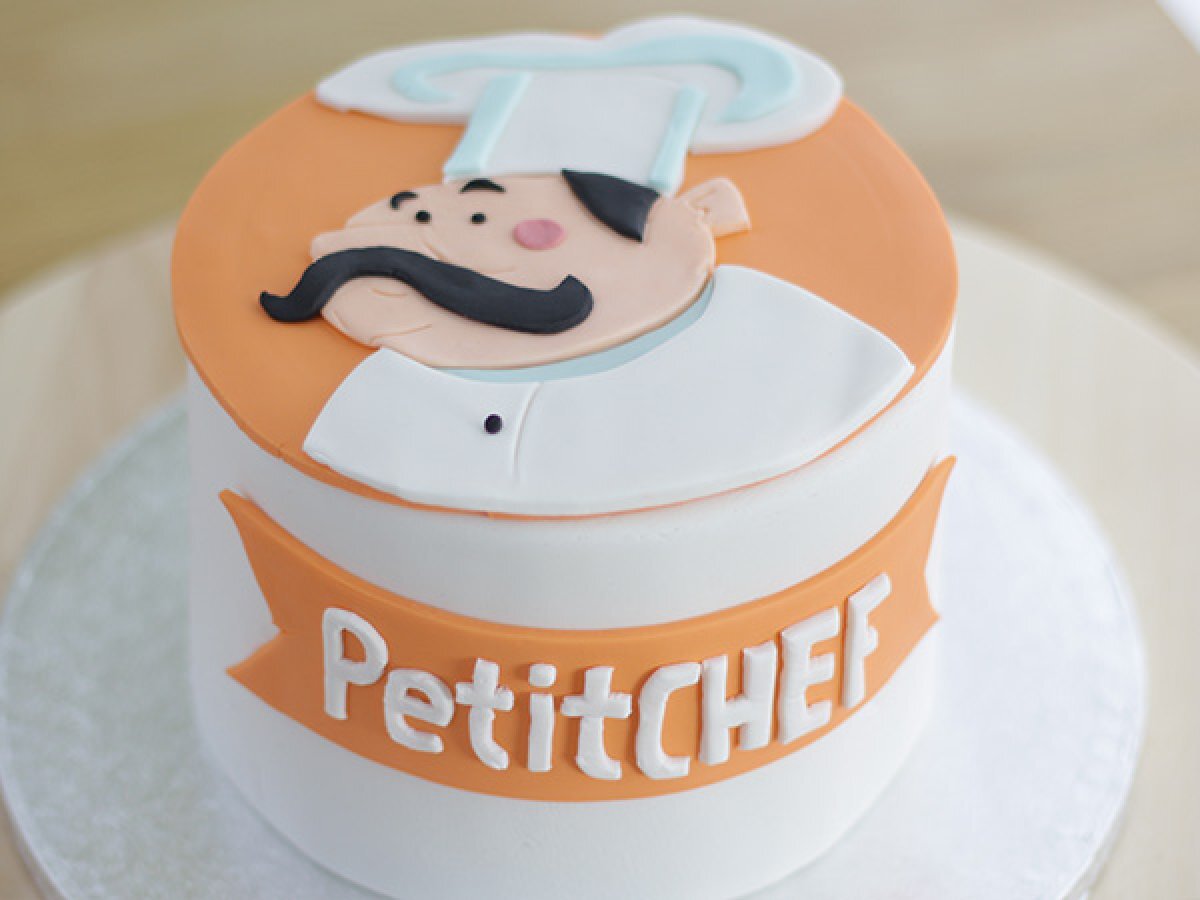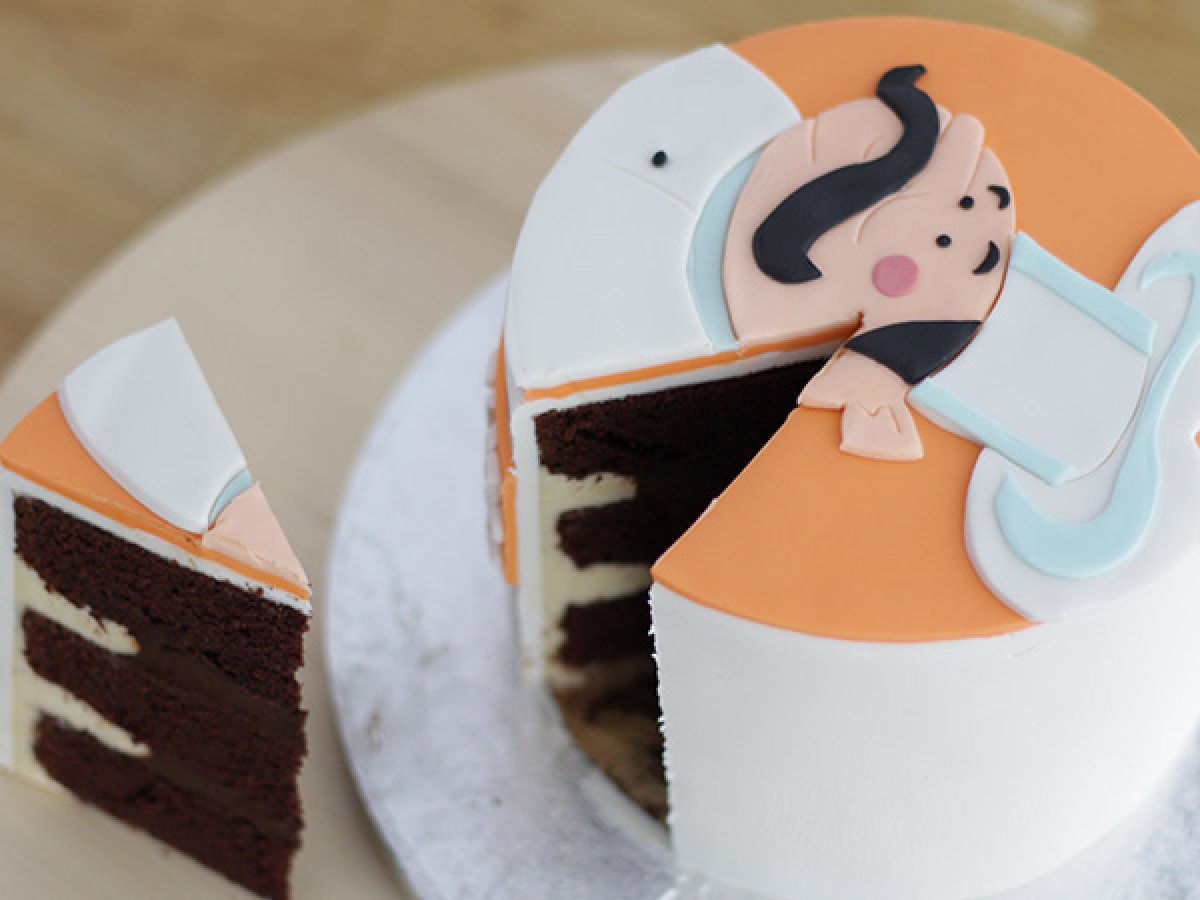 Questions:
You may like
Recipes
Related articles