Spring in action: lemon mascarpone layer cake
Preparation
For lemon curd:
Whisk first 4 ingredients in medium metal bowl. Set bowl over saucepan of simmering water (do not allow bottom of bowl to touch water). Whisk constantly until thickened and instant-read thermometer inserted into mixture registers 160°F, about 10 minutes. Remove bowl from over water. Add butter; whisk until melted. Transfer 1 cup curd to small bowl for spreading on cake layers. Reserve remaining curd for filling. Press plastic wrap directly onto surface of both curds. Chill overnight.
For cake:
Position rack in center of oven and preheat to 375°F. Line bottom of two 9-inch-diameter cake pans with parchment paper. Using electric mixer (hand mixer recommended here since you'll need it for several different items, and a stand mixer with only one bowl would be problematic) beat egg yolks and 7 tablespoons sugar in large bowl until mixture is very thick and slowly dissolving ribbons form when beaters are lifted, about 4 minutes. Using clean and dry beaters, beat whites in another large bowl until soft peaks form, about 3 to 4 minutes. Add remaining 7 tablespoons sugar, 1 tablespoon at a time, beating until stiff and glossy, at least another 4 minutes. Fold half of whites into yolk mixture, then sift half of flour and 1/4 teaspoon salt over and gently fold in until incorporated. Fold in remaining whites, then sift remaining flour over and fold in just until combined, being careful not to deflate batter.
Divide batter between pans; smooth tops. Bake until tester inserted into center of cakes comes out clean, about 10 to 12 minutes. Cool in pans on racks. Run knife around edge of pans to loosen cakes. Invert cakes onto rack, tapping on work surface if necessary to release cakes. Cut each cake horizontally in half (layers will be thin). Peel off parchment and set layers aside while you make the syrup and filling.
For syrup:
Place sugar in small metal bowl. Add 1/3 cup boiling water; stir to dissolve sugar. Stir in lemon juice.
For filling and frosting:
Beat cream and sugar in large bowl until peaks form. Add mascarpone to lemon curd in medium bowl; whisk until well blended. Fold whipped cream into lemon-mascarpone mixture.
Place 1 cake layer, flat side up, on platter. Brush with syrup (do not drench the cake). Spread a thin layer of lemon curd over it, then about 1 cup lemon-mascarpone filling. Top with second cake layer; brush with syrup and spread with lemon curd and 1 cup lemon-mascarpone filling. Repeat with third cake layer, syrup, lemon curd, and filling. Top with fourth cake layer. Brush with syrup, then spread lemon curd over. Spread the lemon-mascarpone filling over the cake top and sides to coat it (like a crumb coat).
Fill pastry bag fitted with 1/4-inch star tip (to be used for rosettes) with filling. Pipe small rosettes of frosting over top of cake, covering completely. Spread remaining lemon-mascarpone filling as a frosting over sides of cake until covered. You may not use all of the filling so keep it for another use if you want. Refrigerate at least 6 hours and up to 1 day.If your filling is too soft to pipe the rosettes, just put the bowl of filling in the refrigerator for about 15 minutes until it firms up a bit.
Remove from refrigerator about 30 minutes before serving.
Photos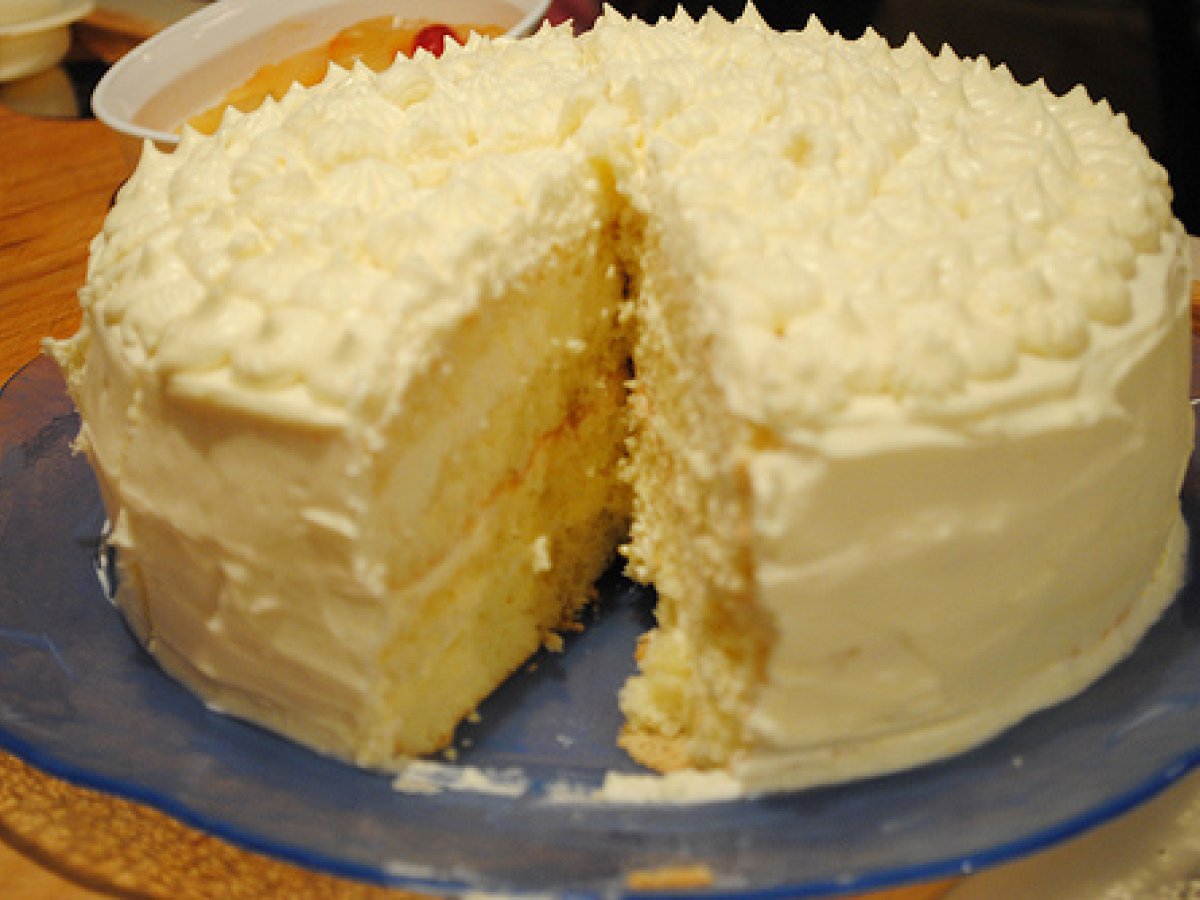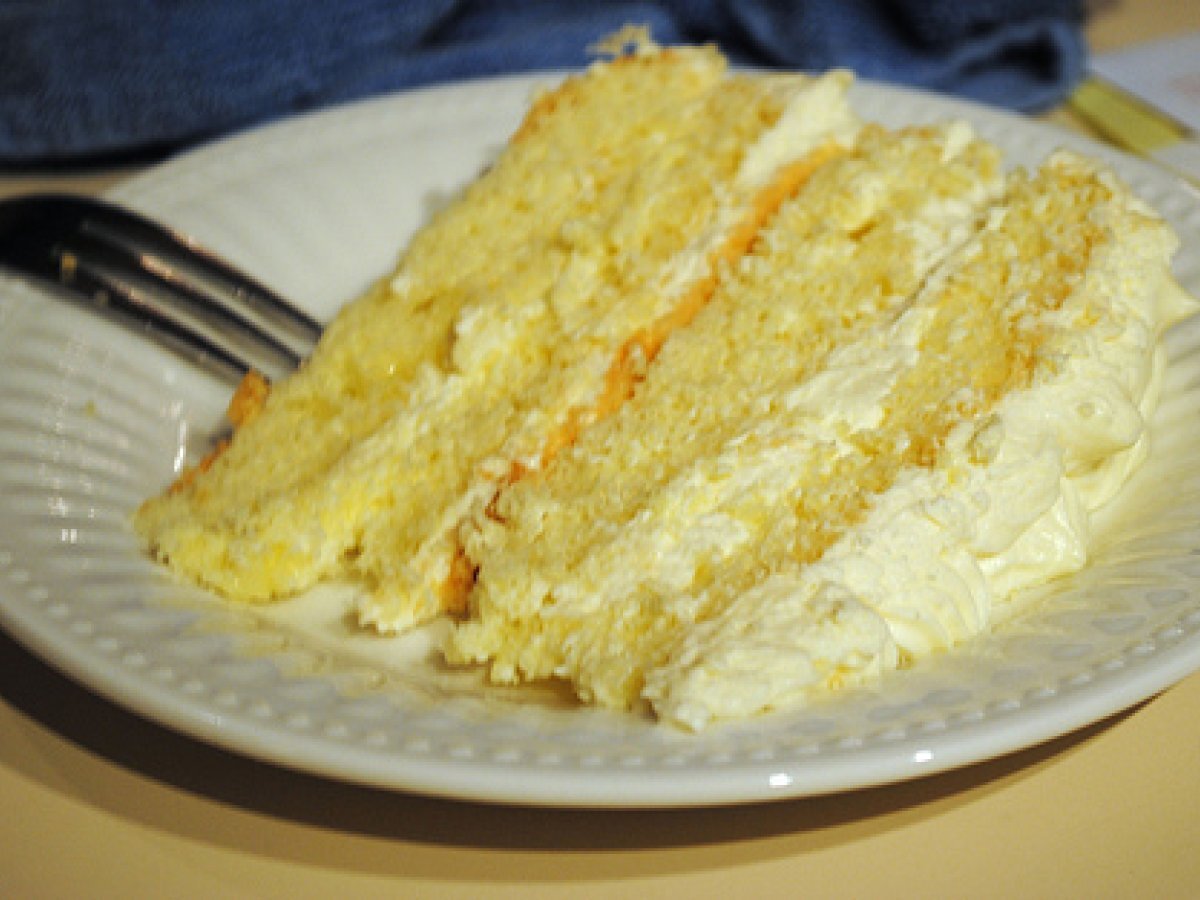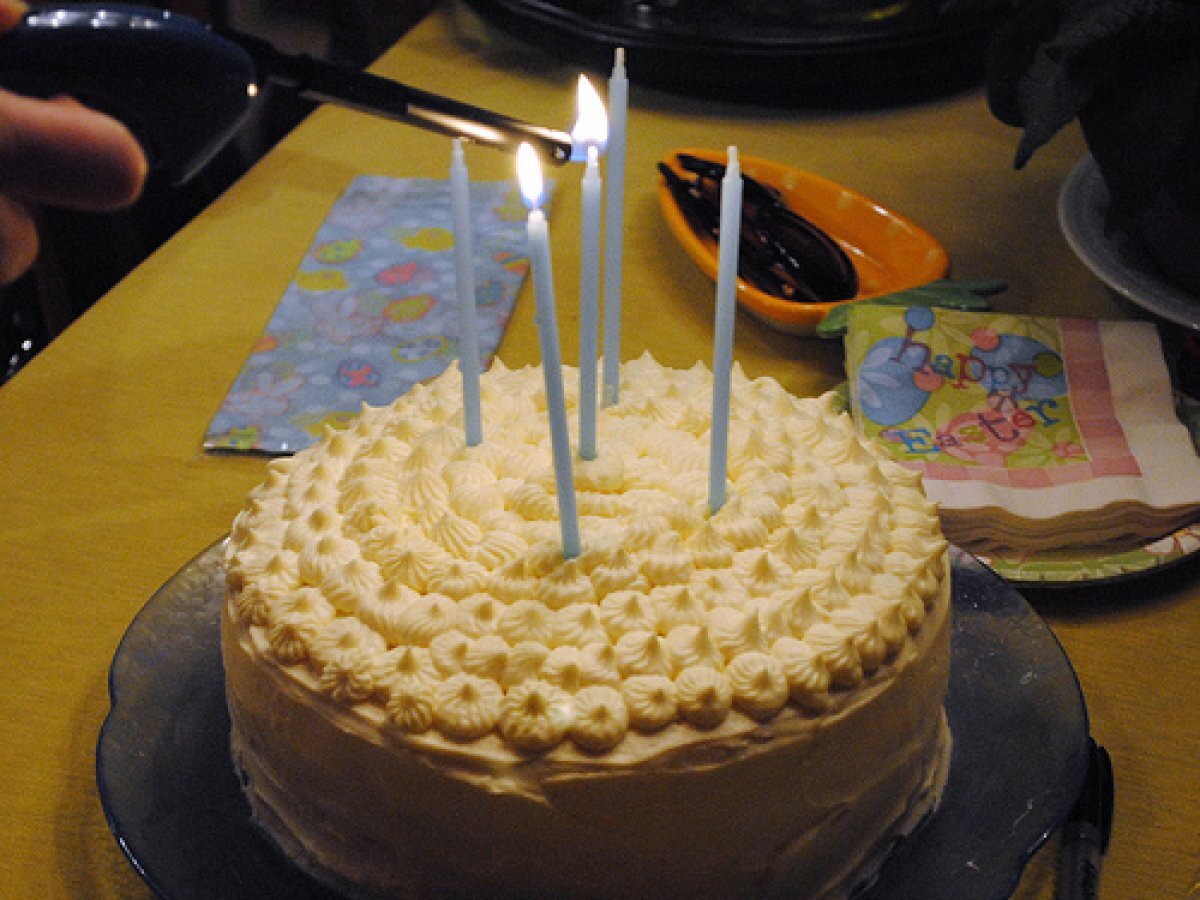 Questions:
You may like
Recipes
Related articles