Strawberry banana cheesecake
Preparation
Note: This recipe was made in an 11" springform pan so if you plan on using an 8" or 9" pan, cut the fillings in half.

For the crust:

Combine the sugar, cinnamon, graham cracker crumbs, and melted butter. Transfer the mixture to a 11" springform pan and press down gently along the bottom and sides. Bake for 8 minutes at 350 Fahrenheit.

Allow the crust to cool a little before you pour the caramel on top. Make sure to spread all along the bottom, and then sprinkle the mixture of walnuts and pecans over top.

For the banana filling:

Mash the bananas and add the teaspoon of lemon juice to the puree. You can process the bananas in a food processor, but I personally liked having the banana chunks run throughout the cake...it made the banana flavor stand out.

Beat together the cream cheese and sugar until smooth. Beat in the eggs, one at a time, and then vanilla until well combined. Gently fold in the banana mixture until the batter is fully mixed and no streaks are present.

Pour the banana batter into the springform pan halfway up the sides. You will probably have some extra batter leftover, but don't be tempted to use it all otherwise you won't have room for the strawberry layer. Place the pan in the freezer for about 10 minutes, allowing the banana layer to firm up a little before pouring the strawberry layer on top.

For the strawberry filling:

To make the puree: There are proper methods to making strawberry puree using fresh or frozen strawberries, but they involve prepping hours ahead of time, and I often don't plan on making the cake until I actually find the time to do it. Therefore, my simple puree method involved roughly cutting up two cups of strawberries, sprinkling two tablespoons of sugar, and heating it up in a small saucepan until the strawberries became soft. I then dumped it all in a blender and pureed the mixture with a tablespoon of lemon juice, leaving it in there to cool while I worked on the rest of the batter.

As with the banana batter, beat together the cream cheese and sugar, then add the eggs in one at a time and then the sour cream and vanilla. Lastly fold in the strawberry puree until the batter is fully combined. Pour the strawberry layer over the banana layer (you will have extra batter) until the batter is about 2 cm from the top.

Bake the cheesecake in a water bath, or with a pan of hot water on the lowest rack, for 50 minutes at 325 Fahrenheit. Without opening the oven door, turn off the oven and let the cake sit there for another 1-1/2 hours before removing. Cool to room temperature and then refrigerate at least 4 hours, though preferably overnight, before serving.
Photos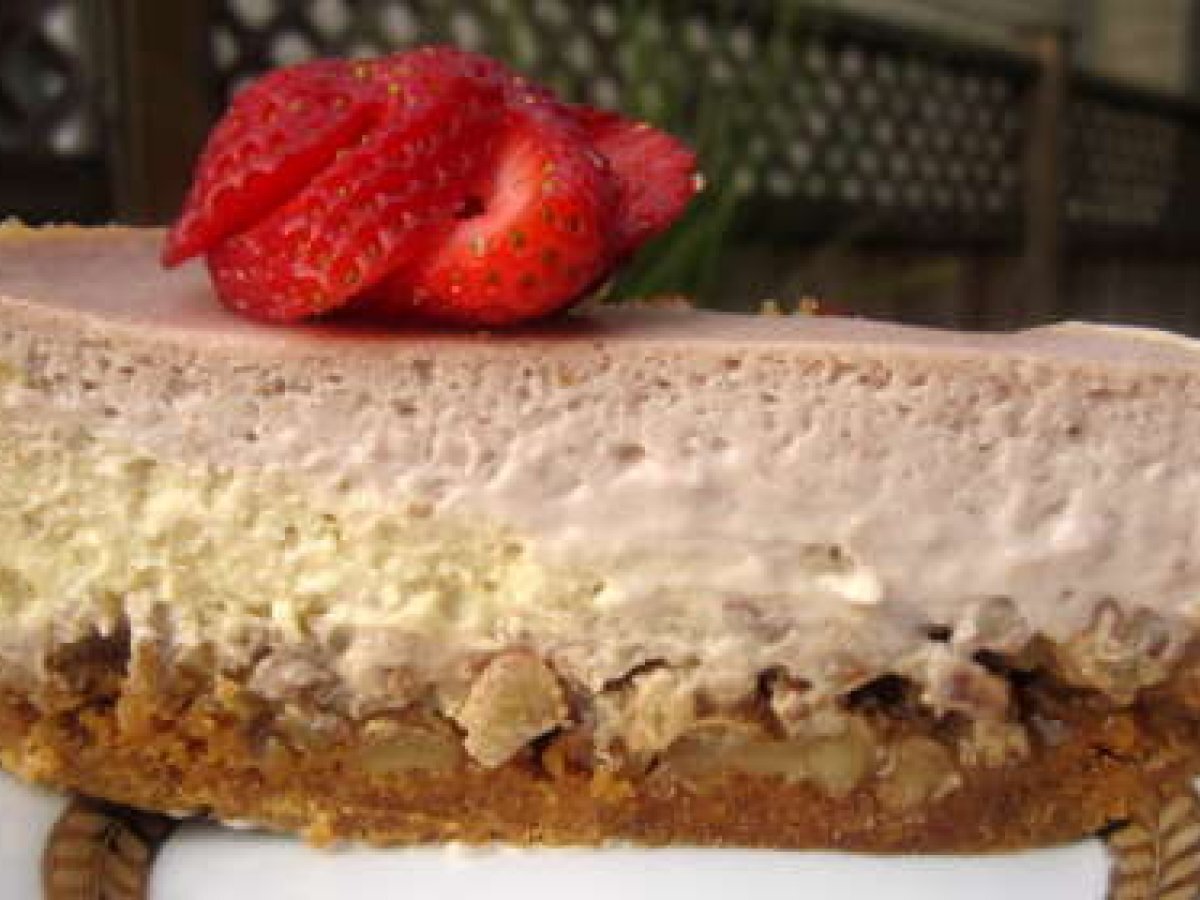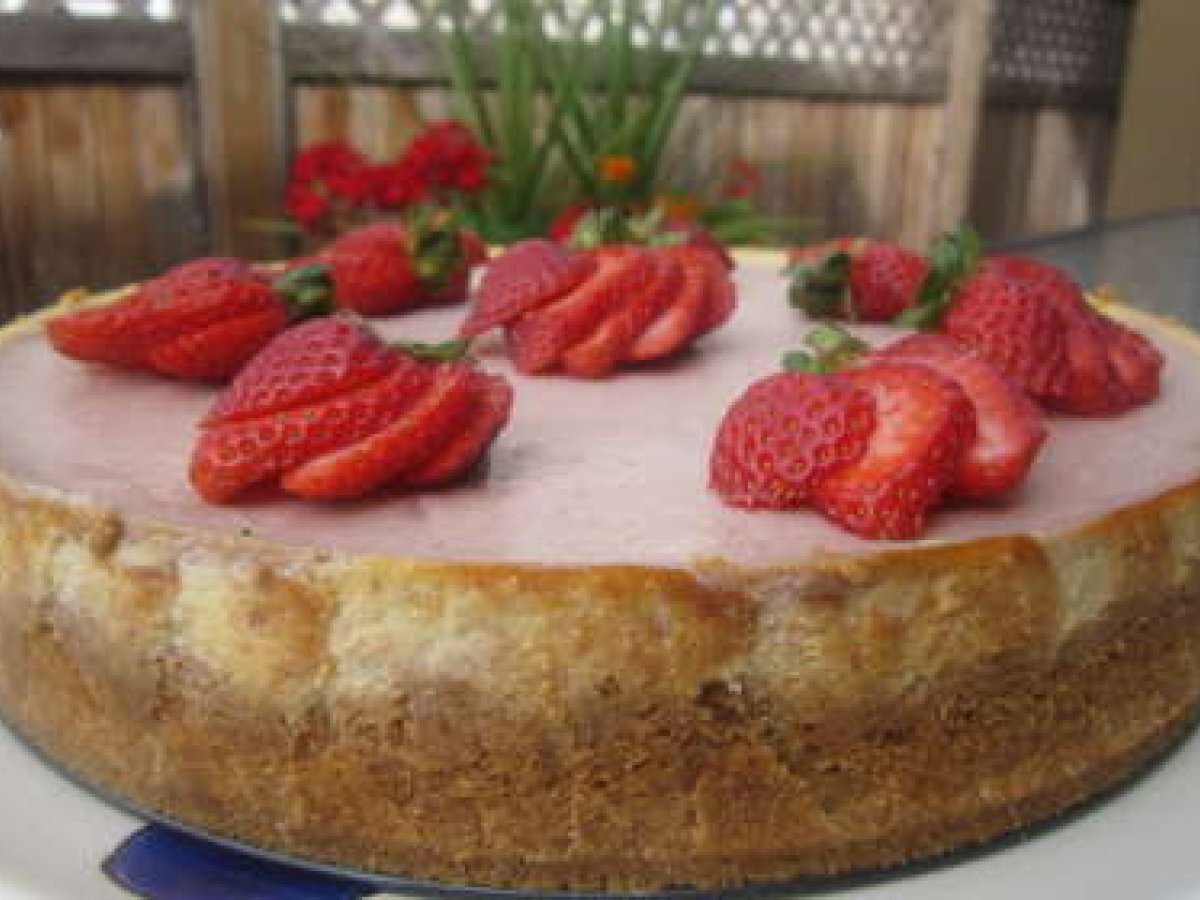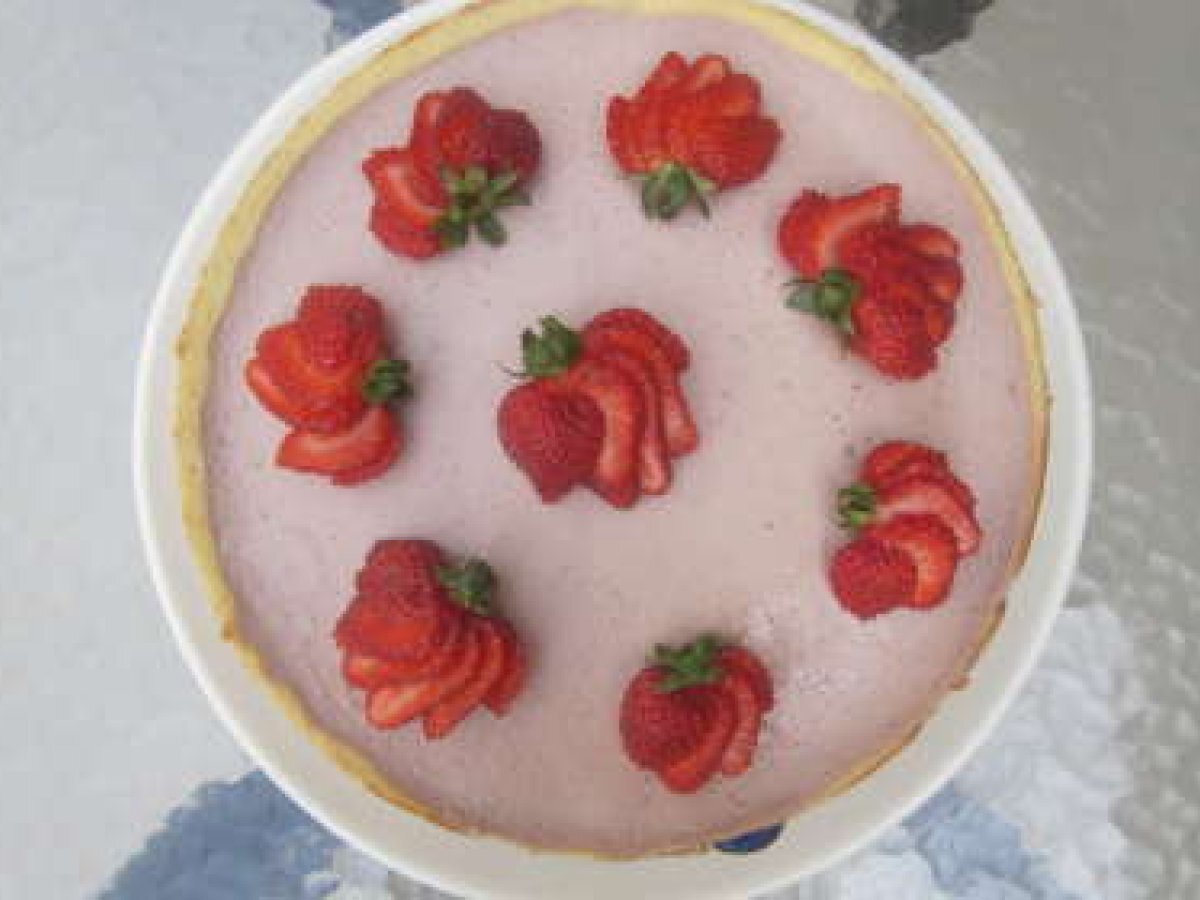 Questions:
You may like
Recipes