Tarte tatin - french apple tart
Tarte tatin - french apple tart
or
Only 3 ingredients to bake this very simple world-famous recipe ! So what are you waiting for to become a real french Petit Chef ?
Preparation
Step 1
Start with the caramel :
Put the sugar in a pot at medium heat and stir until it becomes brown. Then take it off the heat.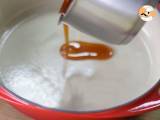 Step 2
Immediatly pour the caramel into a pie mold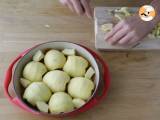 Step 3
Cut 3 to 4 apples in half, remove the seeds, then put them in the mold.
Then, cut chunks and use them to fill the gaps.
Finally, cut the rest into slices and fill the mold to the top.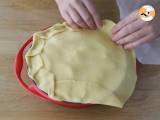 Step 4
Next, use the short pastry sheet to cover the mold. Fold the edges then seal it, but not to well, as the steam has to come out when it is in the oven.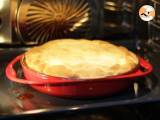 Step 5
Bake for 45 minutes at 180°C / 356°F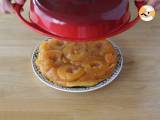 Step 6
Unmold gently.
Et voilà !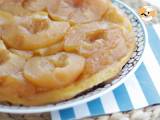 Step 7
Don't hesitate to add a scoop of vanilla ice cream with your slice, and enjoy !
---
---
Related recipes
Recipes
Related articles