Ingredients:-
Rawa/Sooji 1 cup
Maida 1 cup
Rice flour 1 cup
Curd 1-1 1/2 cup
Sugar 1/2 tbsp
Cooking soda 1/4 tsp
Zeera 1/2 tbsp
Curry leaves few
Rai 1/4 tbsp
Salt as per taste
Oil
Method:-
1.Mix rawa+maida+rice flour+curd+sugar+Cooking soda+salt and water.Let it rest for 1 hour.
2.Heat oil in a kadai,add rai+zeera and curry leaves.Once the seasoning is ready,mix it with the batter.
3.Heat a non-stick tawa, rub the tawa with a slice of onion and oil.Take ladle full of batter and spread it on the tawa and put oil around the dosa and flip it once and serve.
********Onion Dosa********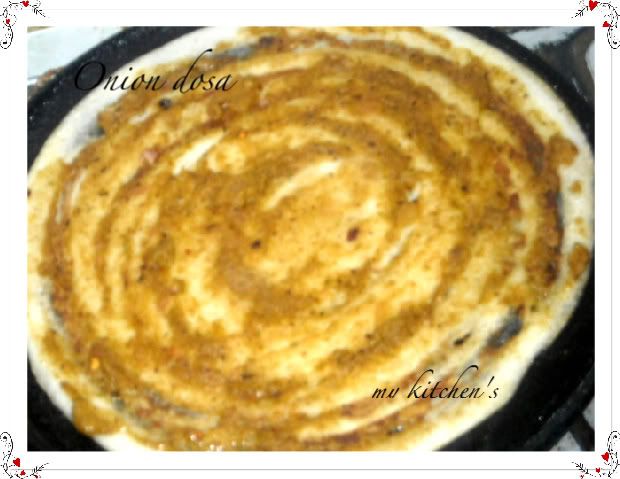 Ingredients
For dosa:
1 cup urad daal
3 cups rice
For Onion Paste:
2 large onions
1/4 tsp jeera powder
1/4 tsp ginger paste
1/4 tsp garlic paste
1 tsp red chili powder
Coriander leaves few
Make paste of all the above and keep aside
Method:-
Soak urad daal and rice preferably overnight and grind to make a smooth paste and let it
marinate over night. Next day morning add salt and mix it thoroughly.
Put dosas on a hot pan and with a tea spoon spread the paste all along the dosa to cover
almost the entire dosa.
*******Moong dal and udad dal dosa*******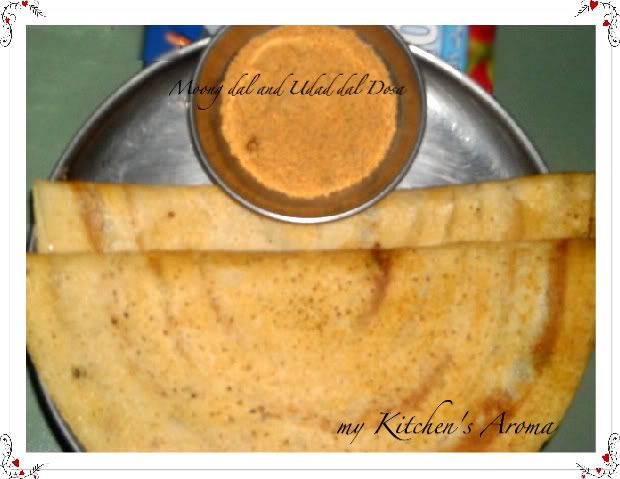 Ingredients
Udad dal 1 cup
Moong dal 1 1/2 cup
Salt as per taste
Oil
Onions chopped finely 1
Green chillies chopped finely 2
Ginger chopped finely 1" pc
Coriander chopped finely.
Method:-
Soak Moong dal and udat dal separately for 3-4 hours.
Grind them together into a smooth batter and this batter doesn't need to be fermented.
Make thick dosa.Spread onions,green chillies,ginger and coriander on the dosa and serve.
*******Karivepaku podi/Curry leaf powder*******
This is my mom's recipe,when she was here she did it and i am posting it now.
Ingredients:-
Curry leaves dried 2 cups
Senaga pappu (channa dal) 4 tbsp
Minappa pappu (udad dal) 2 tbsp
Cumin seeds 1 tbsp
Coriander seeds 1 tbsp
Dried red chillis 6-7
Tamarind 1 small size of a lemon
Salt to taste
Oil 2 tbsp
Method:-
1.Take 1 tbsp of oil in a kadai,add channa dal and udad dal,fry until both changes colour and don't burn them.Remove from the kadai and keep aside.
2.In the same oil add coriender seeds and zeera.Toss them till they are brown in colour.Remove it and keep aside.
3.In the same kadai take the remaining oil and fry red chillies for 2-3 minutes.Keep aside.
4.Add curry leaves and roast till the leaves are crispy.Let all the ingredients cool.
5.Once cool,grind both the dals until coarse,followed by cumin and coriander seeds.
6.Add tamarind and red chillies and grind again.
7.Lastly add curry leaves and salt and grind into smooth powder.
Serve it with hot rice,dosa or idly.

These dosas are going to the event hosted by padma of Padma's recipes