Well I can't think of anything I'd rather have for dinner than the menu we have today. Carol has made a fantastic bistro chicken recipe, Cyndy has a cocktail that will knock your socks off ( I love cherry anything!). I made a braided sweet bread that is sinfully delicious. Are you ready for this...I know I am!
Carol made:
Friday Night Bistro Chicken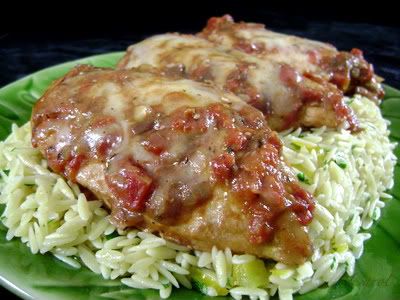 A very sweet lady named Janie and I were talking about chicken dishes a few weeks ago on the Taste of Home board and she told me about a few that were reviewed and loved many times over a while back on the board. She was nice enough to go back, retrieve them and repost them so that I could copy them.
I hadn't seen this recipe when it was first posted by Nancy_NJ and reviewed......I went back and did a search and WOW......so many made it and loved it. I knew I had to try it...and soon!
I FINALLY gathered all the ingredients needed.....canned French Onion Soup isn't something I have in the house and being a creature of habit at the store in the soup aisle, I always reach for the low sodium stuff when I buy soup and very rarely look past that. I retrained my brain and grabbed a can for this dish. The rest of the ingredients are things I always have here in the house.
I only made a couple changes and they're minor. I omit the added salt in the recipe since, for us, the soup has enough salt and I use 1 tsp. of thyme leaves, which is plenty for our taste. Don't feel like you have to go out and buy shallots for this....a lot of the reviewers on Taste of Home said they just used chopped onion in its place. I love shallots and try to keep them at the ready, so that's what I used. My skillet isn't oven ready, so I transfer the browned chicken to a 13x9-inch glass baking dish, pour the sauce over and into the oven it goes. I'm not normally a fan of Swiss cheese, but I have to say, in this dish, it ROCKS!
The chicken is SO nice and moist and the combination of flavors in the sauce....heavenly. I would call the sauce in this recipe an accompaniment to the chicken-there isn't enough to pour over pasta-at least there isn't when I make it...others who have made this say they have plenty of sauce. I think it depends how much juice is in the diced tomatoes you use and how long you reduce them before adding the soup. I spoon some of the sauce over the chicken when I plated it.
I serve this with orzo to which I add sauteed yellow pepper, onion, garlic and some chopped fresh parsley. It works nicely as a side dish.
This would be a wonderful-and EASY-dish to serve dinner guests too. It's so simple to put together, yet so complex in flavor.
I can see why it was given so many rave reviews on the Taste of Home board......it has become a new favorite in this house for sure. I know I'll be making this many times over......oh, and don't wait for a Friday night to make it.....it's a winner ANY night of the week!!!
Carol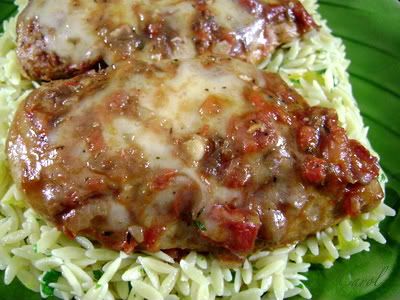 Wanna print just the recipe, click here!
FRIDAY NIGHT BISTRO CHICKEN
(Source: adapted from Recipezaar....posted by Nancy_NJ on Taste of Home)
2 Tbsp. butter
1 Tbsp. olive oil
6 boneless, skinless chicken breast halves
1 tsp. salt (I omit this)
1/2 tsp. freshly ground black pepper
1/2 c. chopped shallots (you can substitute chopped onion if you prefer)
1 (14.5 oz.) can diced tomatoes, with their juices
1-1 1/2 tsp. dried thyme leaves
1 (10 1/2 oz.) can condensed French Onion Soup
1 c. grated Swiss cheese
Preheat the oven to 375 degrees
In a 12-inch ovenproof skillet, melt butter in the olive oil over medium-high heat. Sprinkle chicken breasts with half of the salt and pepper, reserving the rest for the sauce. Pan-fry the chicken until both sides are golden but the chicken is not cooked through.
Remove chicken from skillet; set aside. (I place the chicken into a 13x9-inch baking dish that has been sprayed with nonstick cooking spray.)
Add shallots to skillet; cook, stirring, until softened, 3-4 minutes. Add tomatoes with their juice and thyme; cook until sauce has reduced a bit, 4-5 minutes. Add soup; cook another 4 minutes, seasoning with remaining salt and pepper.
Return chicken to skillet; place in preheated oven and bake, uncovered, for 18-20 minutes or until chicken is cooked through (I pour the sauce over the chicken in the baking dish and place in the oven to bake). Remove from oven; sprinkle chicken with Swiss cheese and return to oven 3-5 minutes more, or until cheese is melted. 6 servings.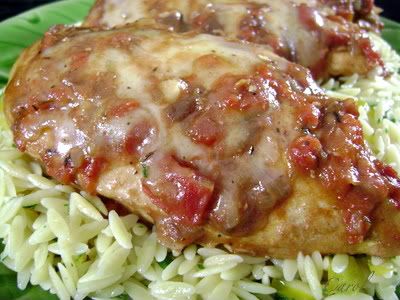 Bunny made:
Russian Chocolate Braid
Russian Chocolate Braid....absolutely outrageous! A little bit of work...yes. But so worth it, I've never had the pleasure of tasting anything like it. And isn't that why we do what we do, to taste the sinfully delicious. I found this recipe on Fine Cooking. The minute I saw it , I knew it had to be mine. George you tempted me with your Bread pudding, it's my turn to get you back. You need this buddy, you need this! The dough recipe is made in the food processor and really only takes minutes to put together. Now don't think for one minute I wasn't intimidated because I was, but I wanted it and that over rode any fear I had. The dough has sour cream,butter and a small mashed up potato in it. Warning , the dough is sticky, so sticky in fact that I really didn't
get to knead it the way the recipe called for. But it was all good!! After the dough is made, you let it rise, then roll it out with a little flour to a rectangle. Ok, now you put the pastry cream you've made on it, yeah pastry cream. Spread a layer all over it, I used all the pastry cream I made. Then you sprinkle mini chocolate chips on it, I didn't have mini , so I used regular. Roll the rectangle up from the wide side jelly roll style. Cut it down the center then make a 2 strand braid, I have to seriously work on my braiding! Let it rise again, then brushed with an egg wash and baked till golden delicious! Seriously just make this once, you have to taste the moist, rich sweet bread with those chocolate chips in it. Unbelievable! I don't know whose sweet little Russian Grandma made this first but I could hug her for it!!
Russian Chocolate Braid
Fine Cooking
Sour Cream and Potato Sweet Dough
Fine Cooking
For the dough:

8 oz. (1-1/2 cups) plus 3 Tbs. unbleached all-purpose flour
1 tsp. instant yeast (Red Star QuickRise, Saf?s Perfect Rise, Fleischmann?s RapidRise, or bread machine yeast)
3 Tbs. water
1 very small potato, peeled, boiled, and sieved (to yield 1/4 cup)
2 large egg yolks
2 tsp. pure vanilla extract
1/4 cup sour cream
3 Tbs. granulated sugar
1/2 tsp. table salt
1-1/2 oz. (3 Tbs.) cold unsalted butter
In a large bowl, mix the 3 Tbs. flour with the yeast and then whisk in the water. Let the mixture sit covered until it has begun to puff, 10 to 15 minutes.
Fit a large-capacity food processor with the metal blade. Put the remaining flour in the workbowl and then add the yeast mixture, potato, egg yolks, vanilla, and sour cream. Process the dough for about 1 min. Remove it from the machine and knead it by hand on an unfloured countertop for 1 minute to redistribute the heat. The dough will be very stiff at this point. Continue this alternating kneading: process for 30 seconds and then knead on the counter for about 30 seconds, until the dough is very smooth (this should take 2 to 3 processing rounds).
Put the dough back in the food processor and add the sugar and salt, kneading again in the processor and then on the counter until the sugar has dissolved (the dough will soften considerably and become very sticky; this is fine).
Finally, return the dough to the processor, add the butter, and do another alternating kneading round until the butter is well incorporated and the dough is very soft and smooth, about 1 minute. The dough won?t clean the bowl at this point. It?s all right if it feels quite soft and warm after processing: kneading the dough on the counter will help it cool down and firm up.
Transfer the dough to a container at least four times its volume (no need to grease the container); seal well. (At this point, the dough can instead be rolled in flour and then sealed in a plastic bag and refrigerated for up to 4 days. If you do mix ahead and chill the dough, pull it out of the fridge 3 to 4 hours before baking.) Let the dough ferment at room temperature for about 3 hours or until it?s expanded to 3 times its volume and an indent remains when you press it with a floured finger.

Pastry Cream
Fine Cooking
1 cup milk
2-inch piece vanilla bean, slashed lengthwise, seeds scraped out, or 1/2 tsp. pure vanilla extract
1/4 cup granulated sugar
3 Tbs. all-purpose flour
1/4 tsp. table salt
2 large egg yolks
Cyndy made:
Cherry Cosmopolitan
A few of my friends and I went out to dinner one night to celebrate another friends retirement. I adore Cosmopolitans and was going to order one when my friend Aida noticed they had Cherry Cosmo's on the menu. OOH had to try it. Boy was it good and strong too. I knew i'd have to try and make it at home. I googled Cherry Cosmo and found lots of ways to make them and settled on this one. No changes here, it's perfect as is!
Wanna print just the recipe, click here!
Cherry Cosmopolitan
barmeister.com
1 1/2 oz Absolut Mandrin Vodka (used Stoli Orange)
1/2 oz Cointreau
1 splash(es) Lime Juice
1 splash(es) Cherry Juice
Chill & strain. Serve in martini glass. Garnish with cherry and lime round.