21-day vegan challenge (day 18) - sri lankan curry powder and chutney
21-day vegan challenge (day 18) - sri lankan curry powder and chutney
Here a receipt which you will surely like!! It is easy but it is a sheer delight! Satisfactory result!
Ingredients
---
---
---
1 tbsp black peppercorns
---
---
1 tbsp dried chilli flakes
---
---
12 cloves
---
2 star anise
---
1 tbsp ground ginger
---
1 tbsp ground turmeric
---
6 green apples
---
2 mangos
---
1 large onion
---
1 fresh red chili pepper
---
1 red bell pepper
---
1/2 cup dried apricots
---
1/4 cup raisins
---
2 tbsp fresh ginger, grated
---
6 star anise
---
1 cinnamon stick
---
1 tbsp Sri Lankan Curry Powder (recipe above) or any other curry powder
---
1/2 tbsp cayenne pepper
---
1/2 tbsp salt
---
1 cup dark brown muscovado sugar
---
1 1/2 white balsamico vinegar
---
1 1/2 fresh orange juice
Preparation
Combine all ingredients in a large saucepan and bring to boil over high heat. Cook the whole thing for about 30 minutes, stirring occasionally.
Once the liquid starts to thicken lower the heat and let cook until thick.
Take off the heat and let cool partially.
Meanwhile clean a few glass jars and boil the lids for a minute in boiling water. Scoop the chutney into the jars, close tightly and turn the jar upside down for a minute (this will sterilise the bottles and keep the chutney from rotting).
Wrap the jars separately in a towel and place under the blanket overnight to let cool down very slowly.
Place in a dark cold place and store for ages. Once opened, the chutney will last for about 6 weeks in the fridge. Enjoy with any curry or rice dish.
Photos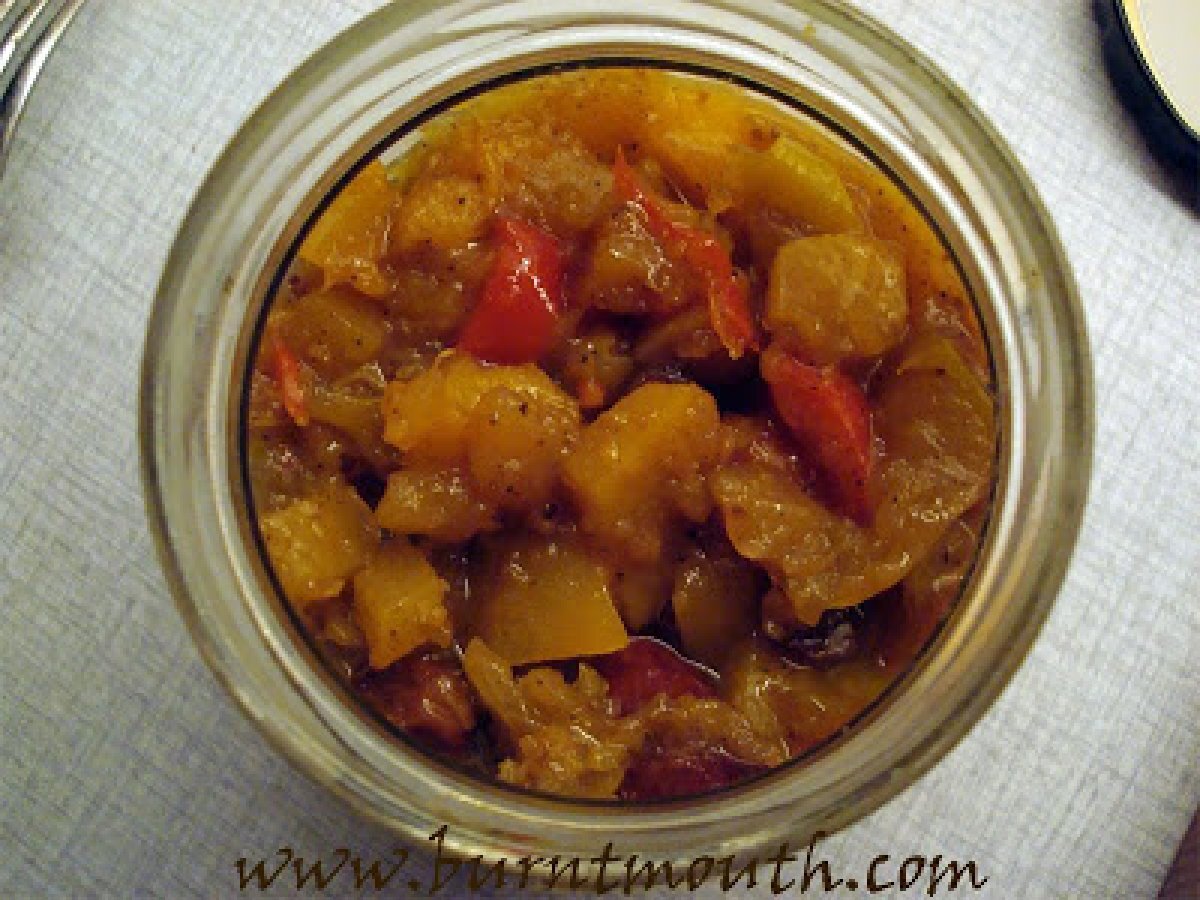 Questions:
Related recipes
Recipes