Aloo gobi - potato cauliflower - fried version
Aloo Gobi - Potato Cauliflower - Fried version
Aloo Gobi (potato & cauliflower dish) is one of the most famous dishes of Indian cuisine & there must be barely anyone who has tasted this dish & not fallen for it.

Since a long time I was contemplating which version of Aloo Gobi should I post first (I cook this dish in few different styles). Finally I went with the most-liked-but-lesser-made version. Lesser because this dish calls for frying your Aloo & Gobi before mixing it with the Masala (dry gravy). Due to the extra oil content (than usual), despit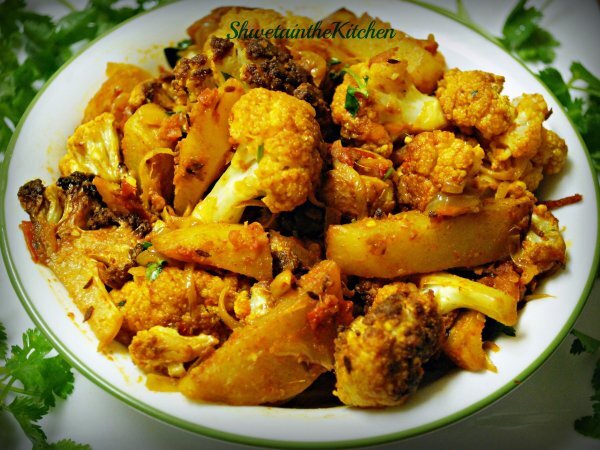 Preparation
In a vessel pour some oil to fry the Aloo & gobi. Rub some salt on Aloo & gobi & once the oil is hot fry them on medium to high flame till they are almost cooked. Drain & remove the fried aloo gobi on a plate lined with tissue paper to soak the excess oil. Keep this aside.
Tip: I like to give the gobi (cauliflower) some brown color by frying it on high heat for 2 mins as it adds to the flavor
Now in another vessel, heat 1-2 tbsp of oil & once hot add the add bay leaf & cumin seeds. Once the cumin seeds start to splutter add the green chilies & onions. Saute it.
Once the onions are translucent, add the tomatoes, ginger paste & salt. Mix well & cook for about 5 mins with lid on till so that the tomatoes become soft.
Now add all the ingredients listed under Masala & saute for 5 mins or till this mixture is well combined and starts giving out some oil from the sides.
Add the fried aloo gobi & mix well. Cover & let this cook with Lid on for about 5 mins.
That's it our Aloo Gobi is ready, garnish with coriander & serve hot with Paratha/Roti/Chapati or any indian bread of your choice.
Questions:
You may like
Recipes