Arem arem bom
Arem Arem Bom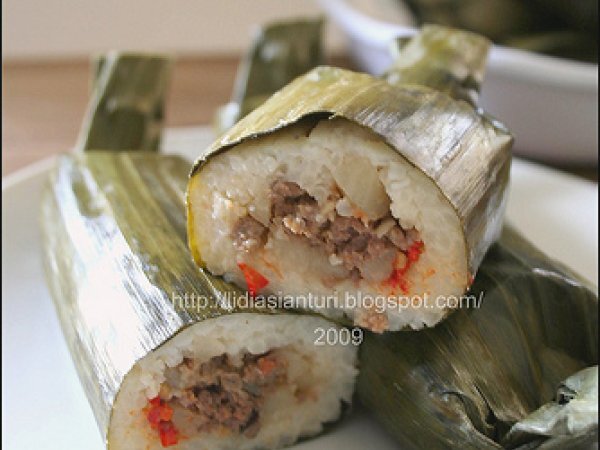 Preparation
Saute the crushed seasoning with the vegetable oil under medium heat until fragrant. Add the ground beef, stir and cook until changing color. Add some thick coconut milk. Boil until the meat tender and the liquid evaporated. Turn off the stove and keep it aside.
Rinse rice and drain. Transfer it into a pot. Add the 1 l coconut milk, salt, bay leaves, kafir lime leaves and pandan leaves. Cook until all the coconut milk immersed and rice is soft enough. Turn off the stove and cool the rice off.
When the rice is warm enough, start to wrap it. Take a piece of banana leaf, scoop out some cooked rice, flat it on the surface about 1cm thickness. Top it up with 1Tbsp of the ground beef filling and then add one chili pepper. Roll the leaf and seal the two ends with tooth picks. Do it over and over until all done. Arrange them in a steamer and steam for app. an hour. Serve it warm.
Questions:
You may like
Recipes