Bak chang - hokkien dumpling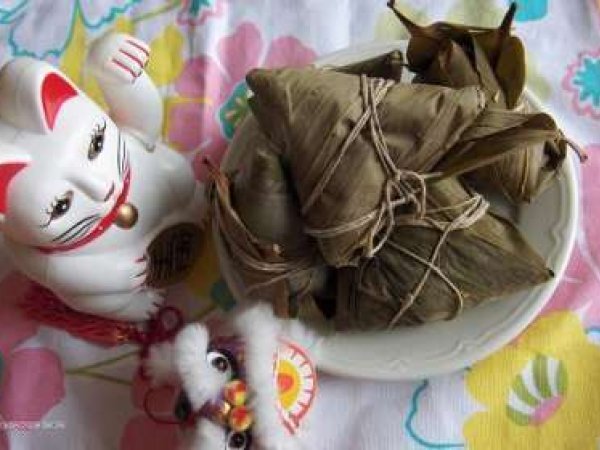 Preparation
Method:
1. Soak bamboo leaves in boiling water overnight. Clean and wipe the leaves with a damp cloth.
2. Saute shallots and garlic until fragrant add in meat, dried prawns, chestnuts, mushrooms and seasoning. Stir well. Add 1/2 cup water and 2 tsp chicken stock granules. When pork is cooked, switch off fire and dish out filling ingredients.
3. Mix glutinous rice with 2 tbsp oil, 1 tbsp five spice powder, 1 tbsp dark soya sauce and 1 tsp salt. Stir thoroughly. Heat kuali and stir-fry seasoned glutinous rice till heated through. Remove to a big basin and stir in split green peas. Mix well.
4. Take two bamboo leaves, make them overlap slightly and fold into a conical shape. Put 1 tbsp rice into the funnel base. Add 1 tbsp filling and a piece of salted egg yolk. Cover with some more rice. Fold leaves over rice to form a triangular prism. Tie with raffia string.
5. Boil a large pot of water and add 2-3 tsp salt. Drop the bundles of dumplings in and boil for 1 1/2 - 2 hours over medium slow fire. Top constantly with boiling water to maintain level of water at all times. When cooked, remove the dumplings and hang to dry.

Notes:
1. You may subtituted blak eye peas in stead of splitted mung beans.
2. My dumpling just need 1 hour to cook, it is depend on how big your dumpling is.
Questions:
You may like
Recipes