Beef tapa and longanisa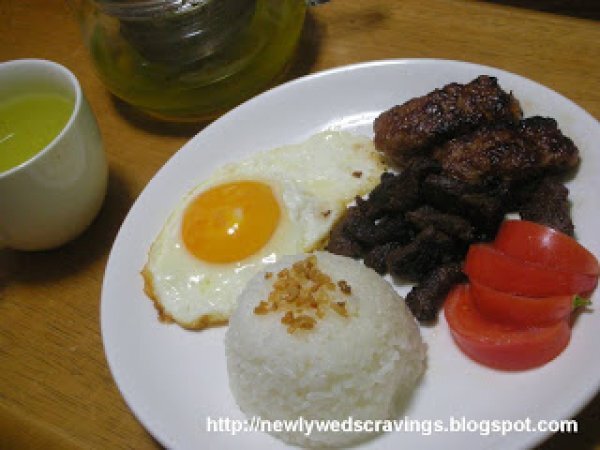 Recipe type:

Main Dish

Number of serving:

4 servings

Preparation:

10 min

Cook time:

40 min

Ready in:

50 min

Difficulty:

Very Easy
Ingredients
Beef
Tapa
- 450-500 g beef sirloin, cut in strips, (size of your pinky finger)
- 6 tablespoons soy sauce
- 4 tablespoons vinegar
- 10
cloves
garlic, smashed
- 1/2 teaspoon pepper
- dash of
salt
Skinless Longanisa/ Longanisa Nuggets:
- 350 g ground
pork
- 7 tablespoons soy sauce
- 1/2 teaspoon salt
- 5 cloves garlic, smashed and minced
- 1 tablespoon vinegar
- 1 tablespoon Mirin (sweet rice wine) (optional, or Worshteshire sauce)
- 1 teaspoon ground pepper
- 2 tablespoons sugar
Preparation
Step 1
Beef Tapa:
Combine all ingredients in a pot, let it simmer until the beef is tender and the marinade is well absorbed.
Step 2
Fry the beef using oil until it turns dark brown, serve it with garlic-chili-vinegar.
Step 3
Skinless Longanisa/ Longanisa Nuggets:
Mix all ingredients
Step 4
Scoop a mixture using a tablespoon, put it into the wax paper/cling wrap and roll the wrap and shape it like a sausage, mini sausage.The wrap will serve as a the longanisa cover and to separate one from the other, and it should be removed before frying.
Step 5
OR if you want to eat it immediately, scoop a mixture, shaped it like a sausage or any shape you want, then fry them.
Step 6
Store longanisa in the freezer (2 to 3 days), when you want to eat them, boil a little water (4 tablespoons) and put your longanisa (unwrapped) , cover it for 5 minutes, remove longanisa and fry them. serve with garlic-chili-vinegar.
Questions:
---
---
Related video
Related recipes
Recipes
Related articles
Quintessentially British traditional and tasty fish and chips