Bibimbap, the traditional korean dish
Bibimbap, the traditional Korean dish
Don't panic when you see all the ingredients and the steps of the bibimbap, with a little organization you will see that there is nothing easier! :-)
The name bibimbap comes from the Korean "bibim" which means "mixed", and "bap" which evokes "rice". Imagine a colorful and tasty bowl, where rice, fresh vegetables, tender meat and egg will make the PERFECT mix for a healthy and gourmet meal! And to season it all, nothing better than a delicious Korean sauce made from Gochujang (this is fermented chili paste) to spice up your dish and give it a delicious spicy flavor. The best thing about Bibimbap? You can garnish it according to your desires with seasonal vegetables, replace the meat with fish, anything is possible! So, shall we get started?
Materials
1 airtight container (or bowl + cling film)
Paper towel (or kitchen towel)
1 knife
1 peeler
1 cutting board
1 pan
1 sauce pan
2 soup plates
Preparation
Marinade:
Mix the soy sauce, rice vinegar, crushed garlic clove and fresh ginger.

Cut the meat into strips and place in an airtight container. Pour the marinade, mix and close the container. Refrigerate for 1 hour.

Veggies:
Peel and cut the carrot and onion into julienne. Peel and cut the zucchini into half rounds.

Wash the shiitake mushrooms with a damp cloth or paper towel and cut them into strips. Wash the mung bean sprouts and spinach sprouts. Cut the garlic clove into small pieces.

Sauce:
Mix soy sauce, sesame oil, Gochujang, sugar and golden sesame seeds.

Rice:
Pour the rice and water into a saucepan and cover. Bring to the boil and cook for 10 minutes covered over low/medium heat.

Veggies:
Cook vegetables 1 by 1. Pour a little sesame oil into a frying pan, add a little chopped garlic and fry the vegetables quickly over medium/high heat before deglazing them with soy sauce.

Onions and spinach will need to be cooked a little longer. They should be tender.

Eggs:
Cook 1 fried egg per person in sesame oil. You can also make a soft-boiled egg by cooking it for 6 minutes in boiling water.

Meat:
Quickly brown the meat and its marinade in a skillet over high heat.

Plating:
Place the rice in the bottom of the plate. Arrange the vegetables and the meat next to each other on the rice, leaving a space in the middle.

Add bibimbap sauce to the center of the plate then place the fried egg.
Decorate with sesame seeds and chopped chives.

There you are, your Bibimbap is ready! Enjoy!
You tried this recipe ?
Mention @petitchef_en and tag #petitchef
Cookware
Observations:
Storage of the bibimbap:
We advise you to eat the bibimbap directly. Vegetables, meat and eggs are cooked just before tasting and will not taste the same if reheated.
You can still keep it for up to 3 days in the fridge in an airtight container if you need to store it. To reheat the dish, we recommend that you sauté the meat a little and cook a fried egg just before eating.

How to serve bibimbap?
There are two types of bibimbap. The classic served in a soup plate and the dolsot bibimbap, served in a hot stone bowl. In dolsot bibimbap, the meat or fish is cooked directly on the plate.

Banchan: Bibimbap (as well as other typical dishes of Korean cuisine) is traditionally served with side dishes called "banchan". It can be kimchi (chili fermented vegetables), seasoned steamed vegetables, or other accompaniments. Meals are very convivial in Korea, the tables are full and it is customary to use the different banchan spread around the dishes during the meal.

Meat or fish? You can serve bibimbap with marinated meat or fish or even tartare or raw fish. There are several variations of this dish.

The bibimbap sauce: You can pour it directly into the dish or place it next to the plate in a small bowl and add it little by little to your plate.

Chopsticks: Koreans traditionally eat with metal chopsticks and a matching round spoon. However, you can use bamboo or plastic chopsticks with no problem.

What vegetables to use in a bibimbap?
Feel free to use seasonal vegetables and replace those we have used with other vegetables that you prefer or that you already have at home. Bibimbap is a perfect non-wasting dish!

Which rice to use in bibimbap?
We used basmati rice but you can also use black rice.

The Egg:
You can decorate your bibimbap with a fried egg or a soft-boiled egg, but also a tomago egg. Generally eaten in Japan, it is a soft-boiled egg then marinated overnight in soy sauce and mirin (it is a sake-based sauce).

Can we make a vegetarian bibimbap?
Totally, you can marinate tofu instead of meat, for example, or simply remove meat.

Is bibimbap gluten-free?
Be careful, the bibimbap may seem gluten-free but the soy sauce contains gluten. Do not hesitate to replace it with tamari sauce which does not contain it. Some industrial gochujang may also contain gluten, so check the packaging.

What is gochujang and where can I find it?
Gochujang is a spicy fermented chili paste with sweet and savory notes that is used as a condiment in Korean cuisine. It is widely used in sauces that accompany the most popular Korean dishes. You will find some in Asian grocery stores and even in the world section of your supermarket if it is well supplied!
Photos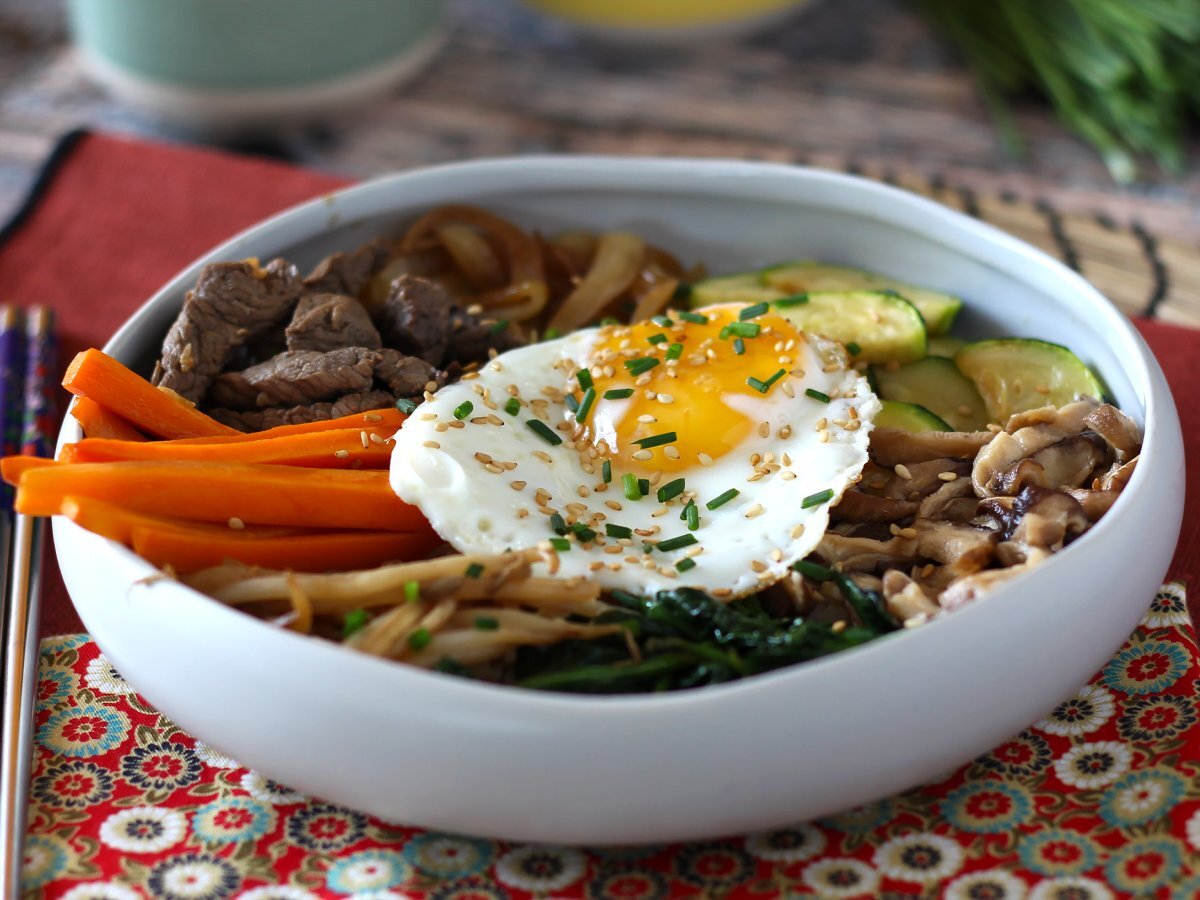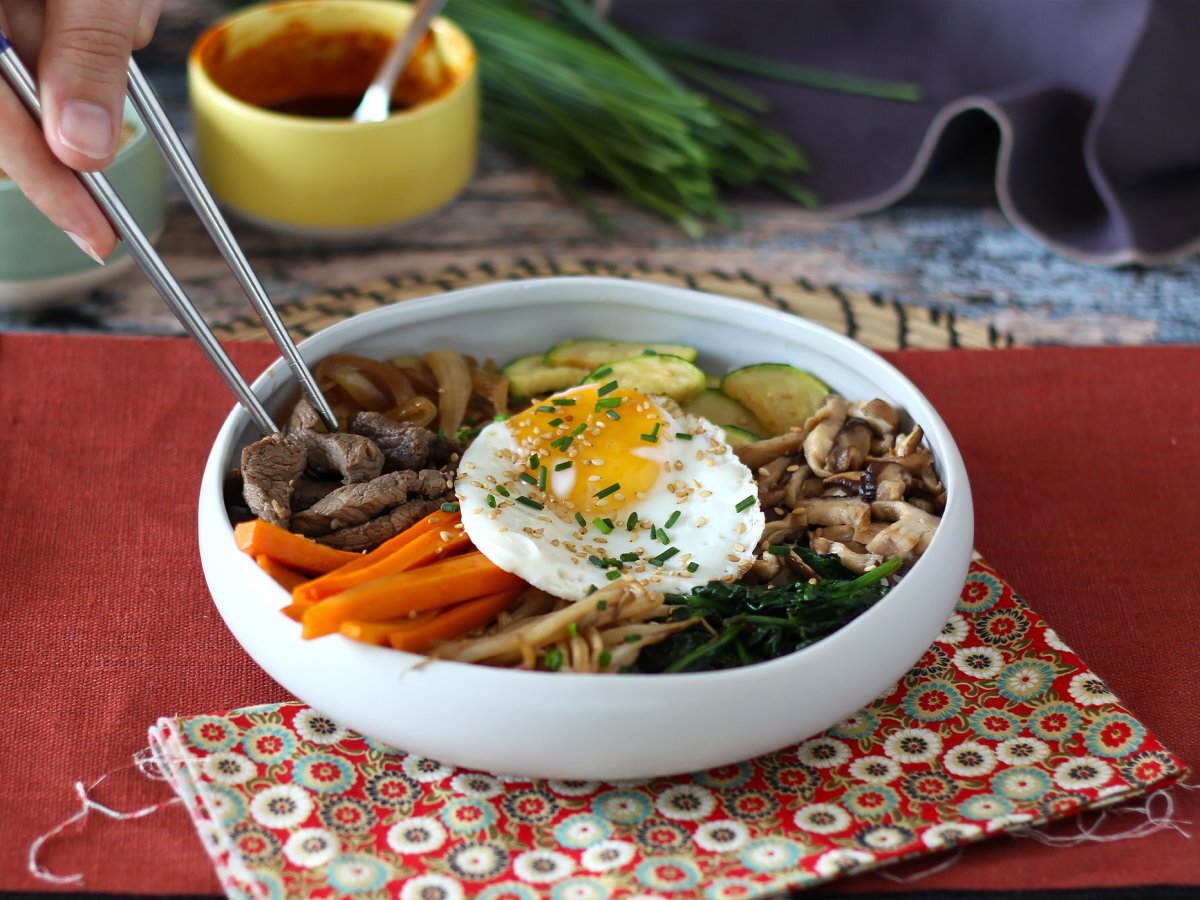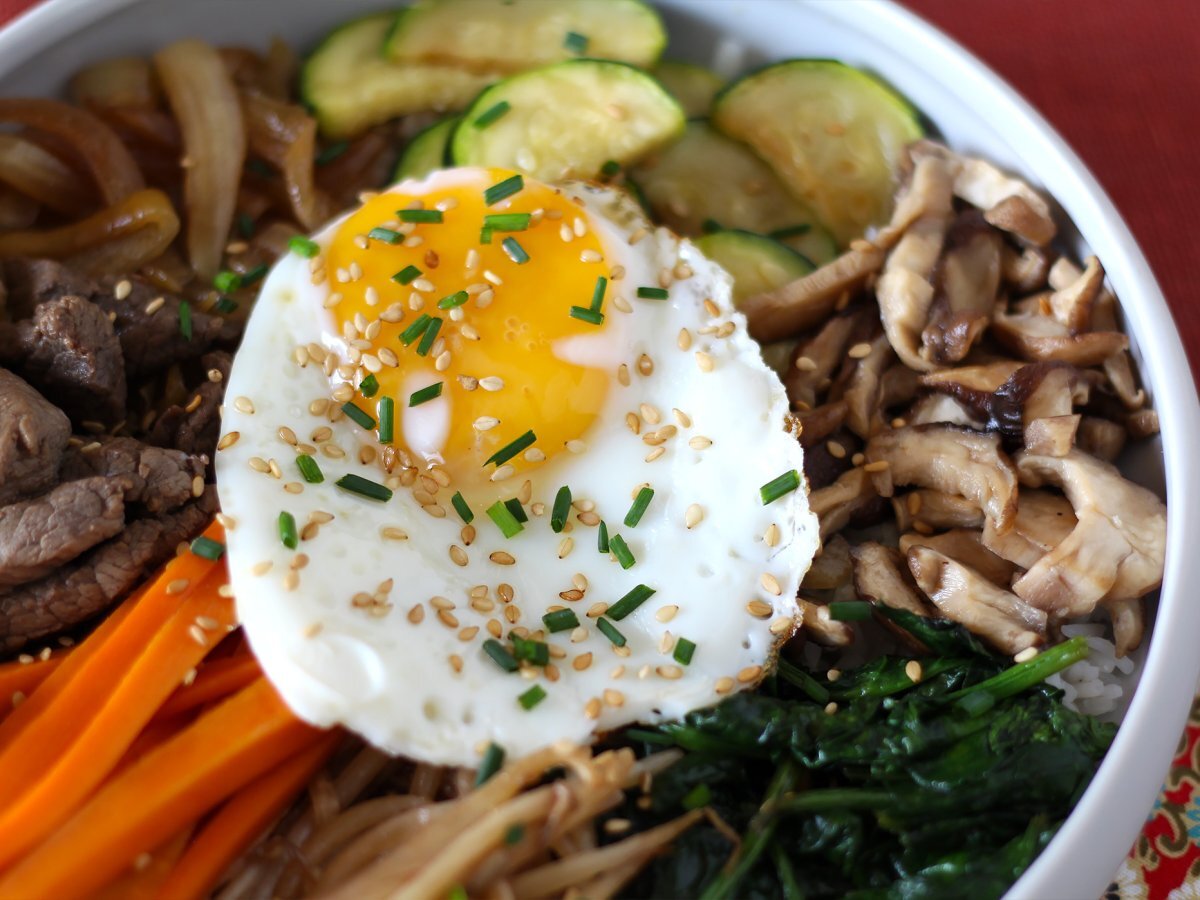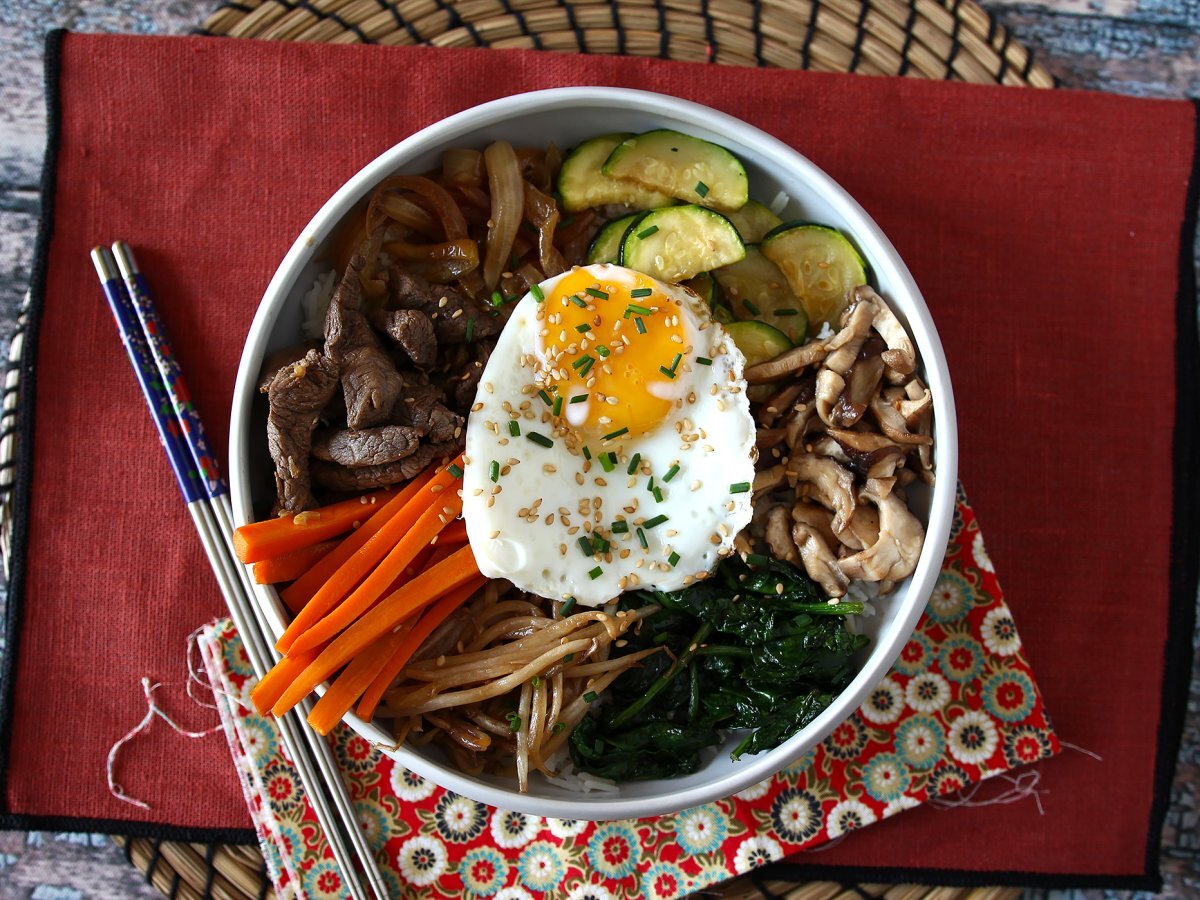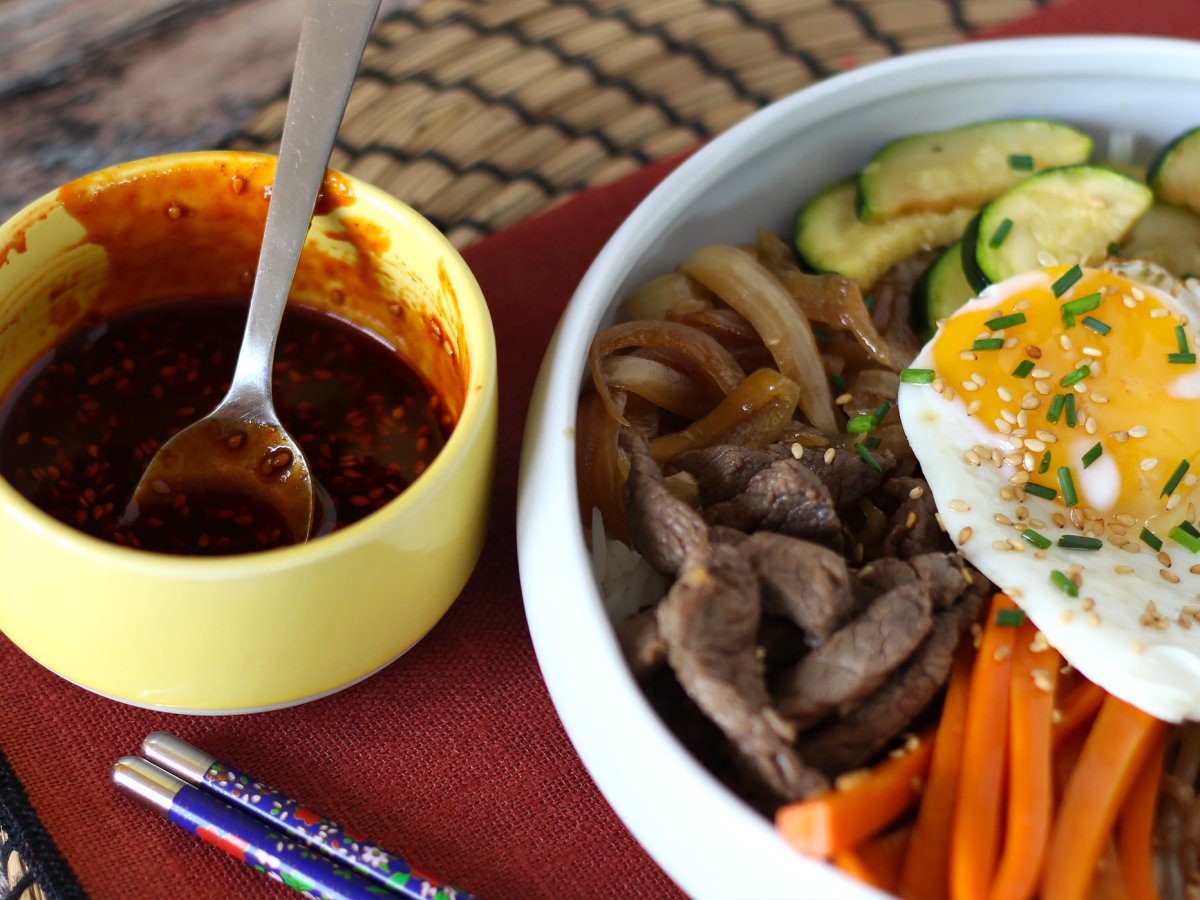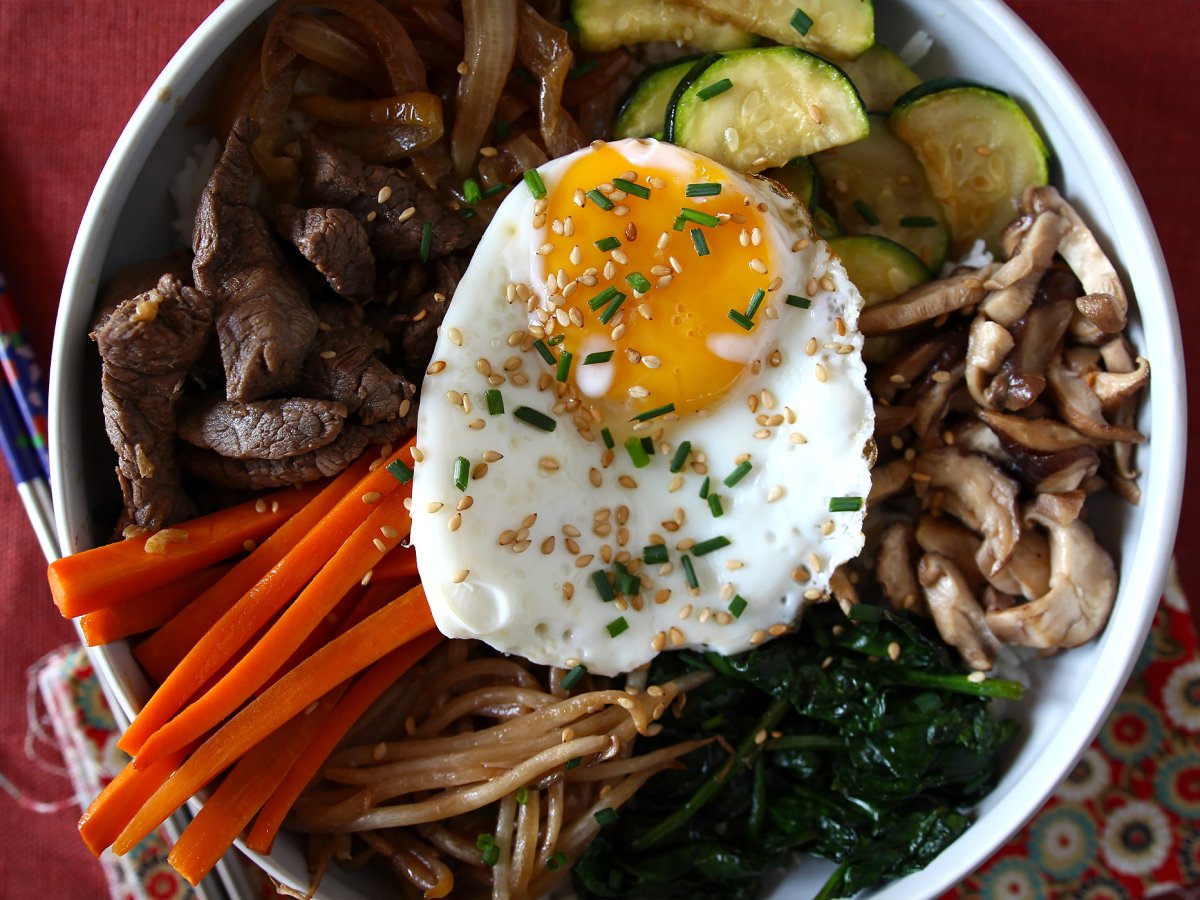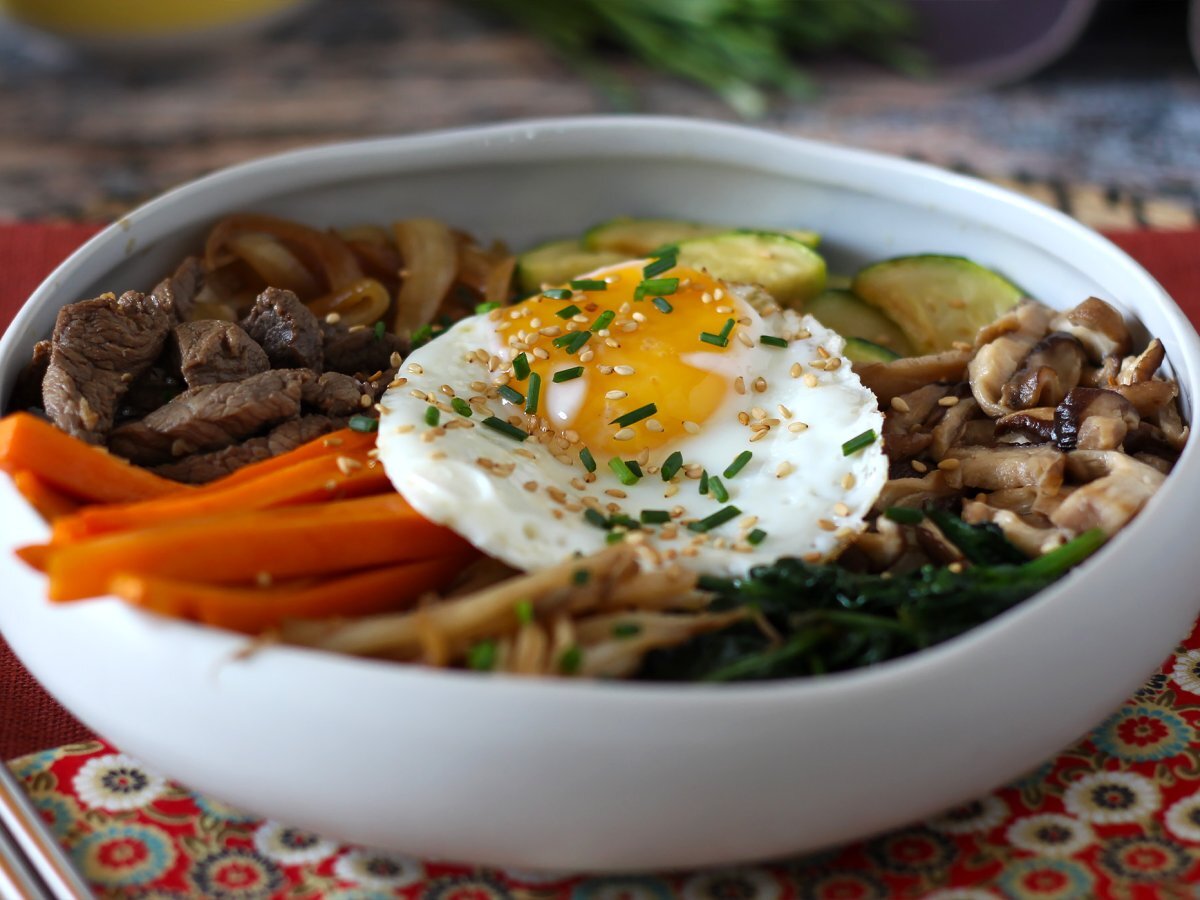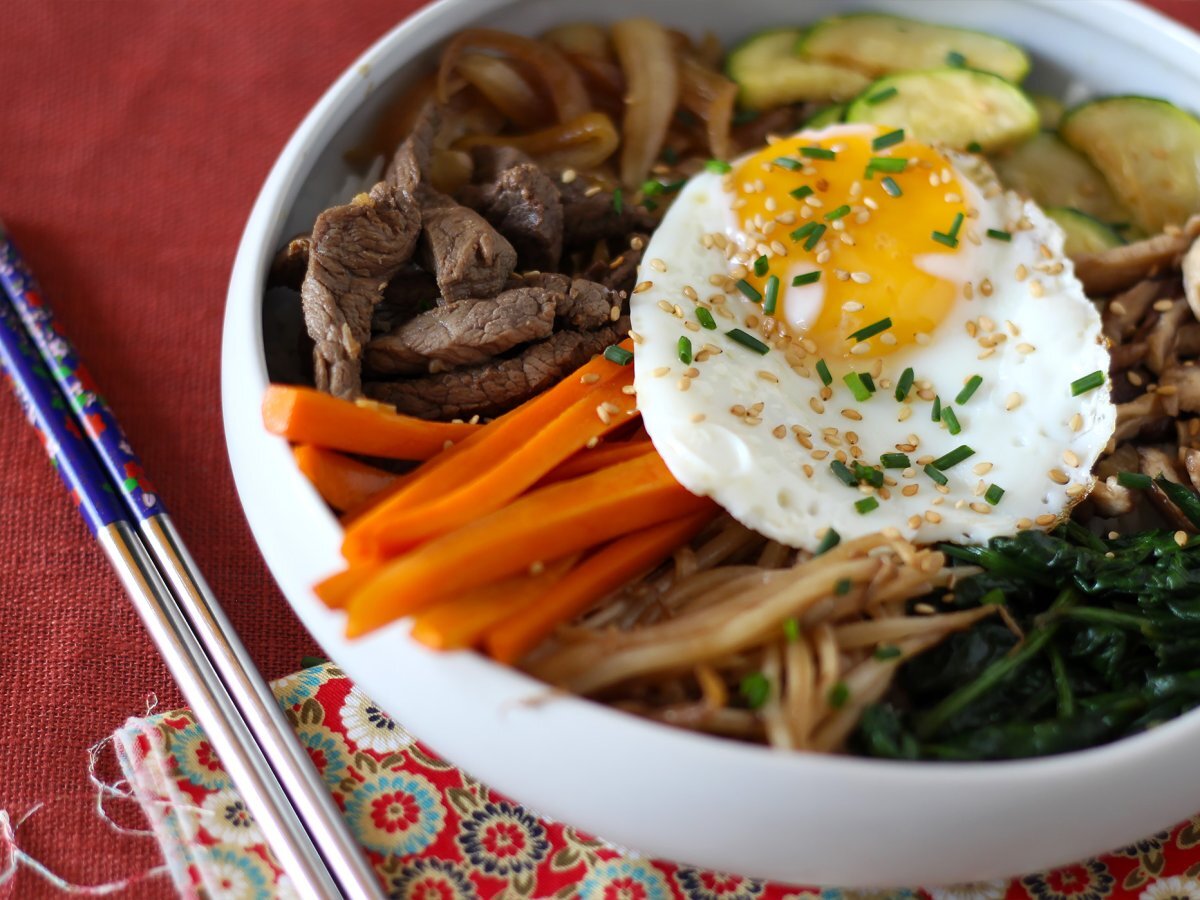 Questions:
You may like
Recipes
Related articles
Quintessentially British traditional and tasty fish and chips

<! -- HB slmads - AD akcelo-->