Cauliflower casserole
Cauliflower casserole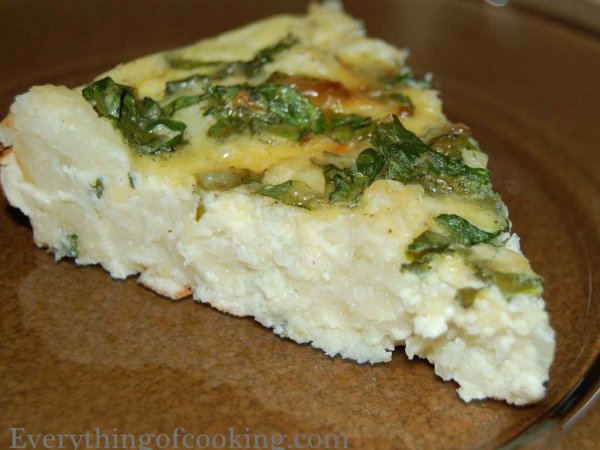 Cauliflower casserole with cheese and sour cream.
Ingredients
---
---
100 g cheese (3 ½ oz ; Gouda or Parmesan)
---
---
5 table spoons flour
---
---
---
1 ½ teaspoons salt
---
Black pepper (to taste)
Preparation
Pour 8 cups water in a medium-sized pan, add 1 teaspoon salt and bring it to boil.
Divide the cauliflower head into florets and send them to the boiling water.
Boil the cauliflower for 2 minutes.
Drain and let it cool.
Meanwhile beat the eggs in a large bowl.
Grate the cheese using fine grater.
Chop the spinach and basil.
Mix the sour cream with the eggs.
Add the cheese, flour and the greens.
Add the half teaspoon salt and black pepper to taste.
Stir the pastry well, put aside.
Put the cauliflower onto the bottom of a greased, deep roasting tin (about 9 inch in diameter), spread evenly.
Pour the pastry over the cauliflower and send the casserole into pre-heated oven.
Bake at 350 ºF (180 ºC) for 20-30 minutes.
Cool the cauliflower casserole before serving.
Questions:
Related recipes
Recipes