Chicken fajitas
Chicken fajitas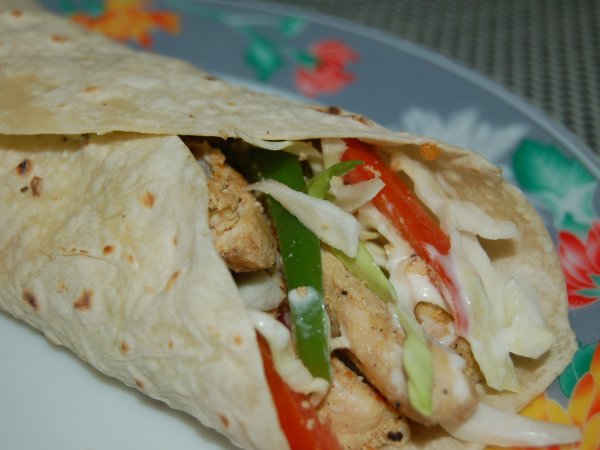 Another showstopper on our dinner table, this is something that I just love to make again and again. I remember I got the first taste of them in a restaurant and since then have just been hooked to them.
Its an absolutely no-fuss food which is really simple to make and can actually be put together in a jiffy. The fresh vegetables and the stir fried chicken in the wrap makes it a really healthy choice even more so when the wraps are served with a low fat fresh yogurt sauce. The tortillas too are made fro
Ingredients
2
chicken
breasts cut into small strips
---
---
---
---
s&p to taste
---
1 cup All purpose flour (maida)
---
1 cup wheat flour (atta)
---
2 Tbsp oil
---
---
water for kneading
---
1 cup chopped tomatoes
---
1/2 cup thinly sliced capsicum
---
1 cup shredded cabbage / lettuce
---
1 onion, thinly sliced
---
For the yogurt sauce
---
2 cups hung curd
---
1 tsp garlic paste
---
3 tbsp mayonnaise
---
1/2 tsp oregano
---
s&p to taste
Preparation
Marinate chicken in garlic paste, thyme,salt, pepper and lemon juice. Cover and refrigerate for a couple of hours.
Heat 1 tbsp oil in a large pan. Put in the chicken and cook till brown all over. Keep aside to cool.
Combine all the ingredients for the tortillas together.Then knead for a couple of minutes until the dough is soft and pliable and becomes a little less sticky. Make small equal balls. With the help of a rolling pin, roll the ball into a thin round tortillas.
Heat a skillet and cook the tortillas till browned on both the sides.
N a small bowl, mix the hung curd, garlic paste, oregano, mayonnaise, salt and pepper. To assemble the fajitas: (The way I like to make mine)
Take a tortilla and smooth a spoonful of the yogurt sauce on it. Top it up with some peppers, lettuce, onions, chicken and tomato in the center of the tortilla.
Fold it tightly from one end to enclose the filling.
Questions:
Related recipes
Recipes