Chicken galantine
Chicken galantine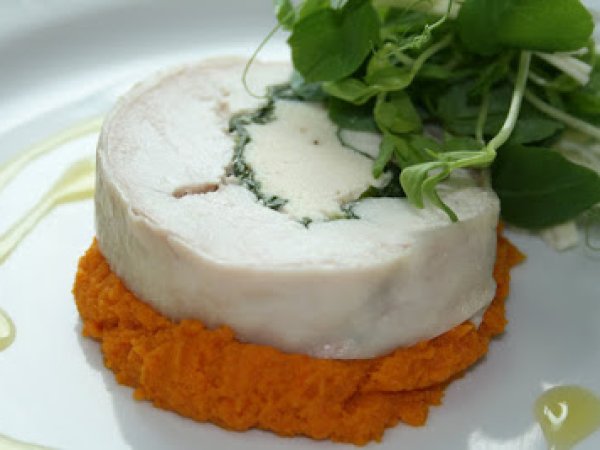 The galantine is the queen of terrines, some might say it is a bit out dated, but it is still beautiful to eat.
Preparation
Puree chicken breast in food processor and pass through drum sieve. Make sure it stays nice and cold. Work in ice cold cream and season and add chopped pistachio nuts.

Debone the chicken like on the photo......yes not that easy but just to explain it as simply as possible: Start cutting the chicken from the back and follow the bones with a very sharp knife. Like this you will be able to debone the chicken without cutting the skin.

Careful with the legs and wing bones, one can cut though nicely where the bones are attached to the body. Be especially careful when coming to the breast, that there is no cut into the skin. The one has to carefully debone the legs.

When the chicken is deboned, lay it flat on som plastic wrap, enough that you can roll it tightly together. Lay the blanched spinach on the chicken pipe in mousse roll chicken in plastic so as each person gets a piece of breast and leg i.e. roll head to tail.

Poach in salted water submerged till internal temperature is 65 degrees approx 1 hour and 10 minutes at 80 degrees once cooked let cool in its own liquid. Toss the celeriac in remoulade sauce and garnish with fine herbs sit the galantine on the carrot puree season well and drizzle pistachio oil on plate.
Carrot Puree :Chop carrots finely reserve two carrots and juice?sweat eschalots and leek at carrots and sweat no colour add sugar and juice cook till very soft process adding more carrot juice to desired consistency if required season.
Place the vinegar the egg yolk, horse radish relish Dijon mustard and anchovy in a food processor blitz the mixture. Slowly trickle the oil into the machine while running. Chop the herbs. Transfer to a bowl; add the rest of the ingredients.
Questions:
You may like
Recipes