Chicken ramen: the easy version of this iconic asian dish!
Chicken ramen: the easy version of this iconic Asian dish!
When we talk about comforting Asian recipe, we immediately think of Ramen! A very hot broth that we decided to garnish here with ramen noodles, chicken and mushrooms. Not forgetting the soft-boiled egg which will bring that irresistible touch to your dish. A recipe where you will have several preparations to plan but rest assured, everything will be extremely easy to make. Enjoy your food !
Preparation
For the chicken:
In a skillet over high heat, brown the chicken breasts for 2 minutes on each side.
Add the salty and sweet soy sauce and sauté for about 5 minutes on each side over low/medium heat.
Once your chicken breasts are cooked, set them aside.
For the broth:
In the same pan, brown the chopped green onion, the mushrooms and the minced garlic for a few minutes with the sesame oil and the ginger.
Add the vegetable broth.
Mix, bring to a boil then simmer for 8-10 minutes.
For the eggs:
Bring a pot of water to a boil then add the eggs. Let them cook for 6 minutes then place them in a bowl of cold water to stop the cooking. Peel them and set aside.
For the noodles:
Cook the ramen noodles in boiling water according to the instructions on your package.
Let's put everything together !
In a deep dish, pour the broth. Add a chicken breast cut into strips then an egg cut in half. Sprinkle with chopped cilantro.
Do the same on the other plate.
And There you are! Enjoy your food !
You tried this recipe ?
Mention @petitchef_en and tag #petitchef
Observations:
What type of noodles for a Japanese ramen?
You can put several types of noodles in your ramen:
* Ramen noodles, which are wavy and yellow/white in color, made from wheat flour, yeast and eggs.
* Sōmen noodles, Japanese noodles made from very fine white flour.
* Soba noodles, made from buckwheat flour and a hint of wheat to ensure their good elasticity.
* Udon noodles, white and rather thick, made with wheat flour.

How to eat ramen?
If you're capable to eat with chopsticks, it's up to you to eat the food in your Ramen with it! You will drink the broth at the end, and don't worry, it doesn't matter if you make noise while sucking the noodles ;-) Otherwise, nothing will replace a good fork (and we promise we won't say anything ;-) ) .

What can I substitute for chicken in my ramen?
You can replace the chicken with another meat (turkey, beef, etc.) or with shrimps.

Is it possible to make vegetarian ramen?
No problem ! All you need to do is replace the chicken with vegetables and/or pan-fried tofu.

What vegetables should I put in my ramen?
Have fun! Here we have chosen mushrooms but you can also add carrots, leeks or bok choy (Chinese cabbage also known as "bok choy").

How long does a ramen last?
If you have leftover ramen, store it in an airtight container in the fridge for up to 1 day.

Can you freeze ramen?
Unfortunately, we do not advise you to freeze ready-made ramen. You can freeze the preparations that make it up independently (cooked chicken, mushrooms and broth separately) then combine everything on D-Day by cooking your soft-boiled egg.
Photos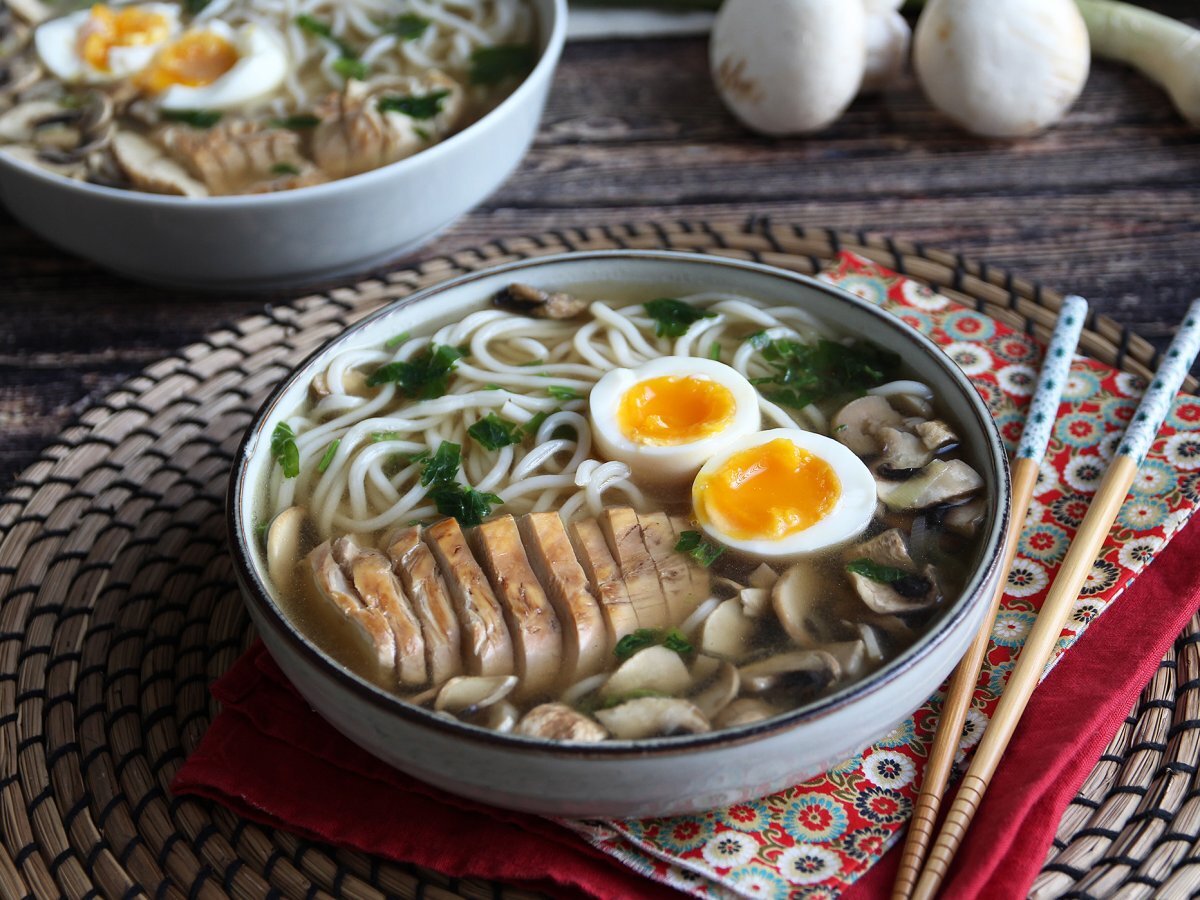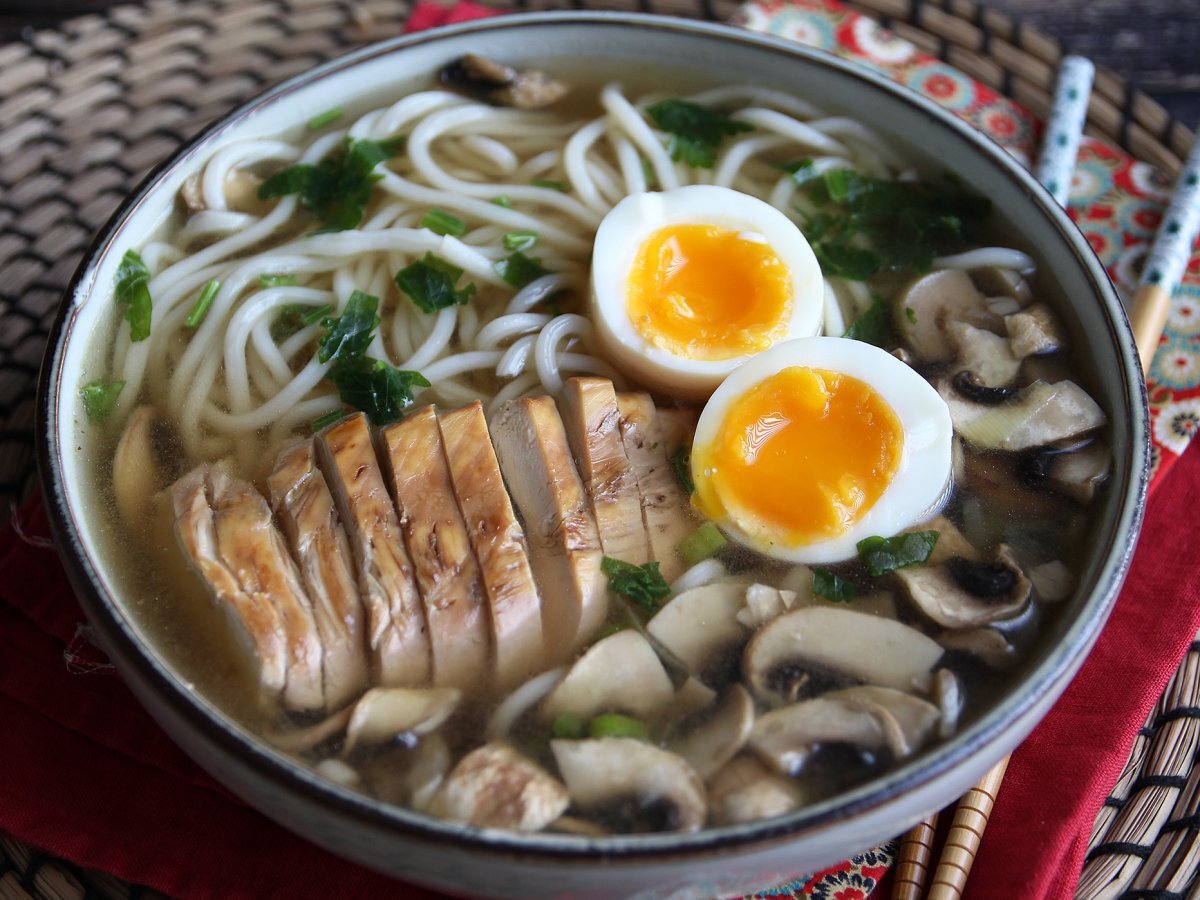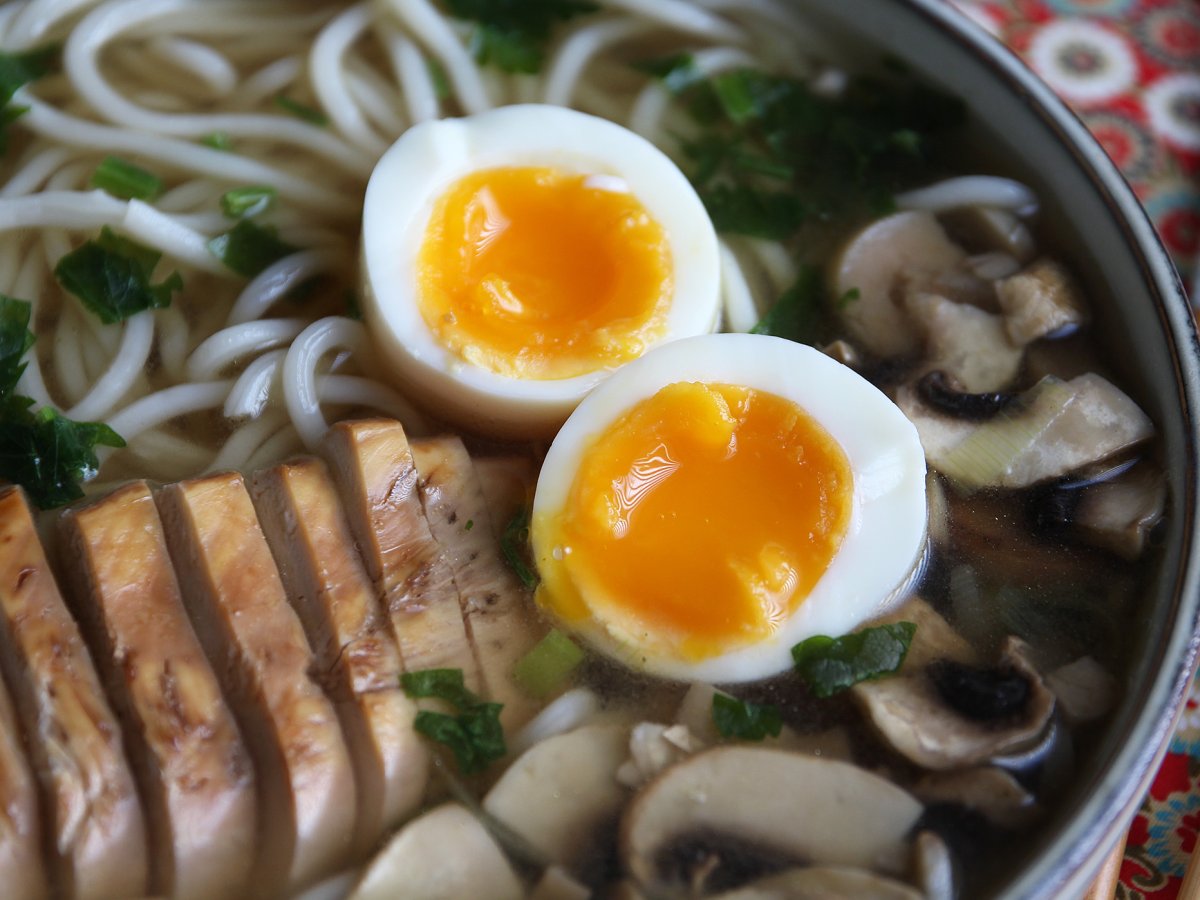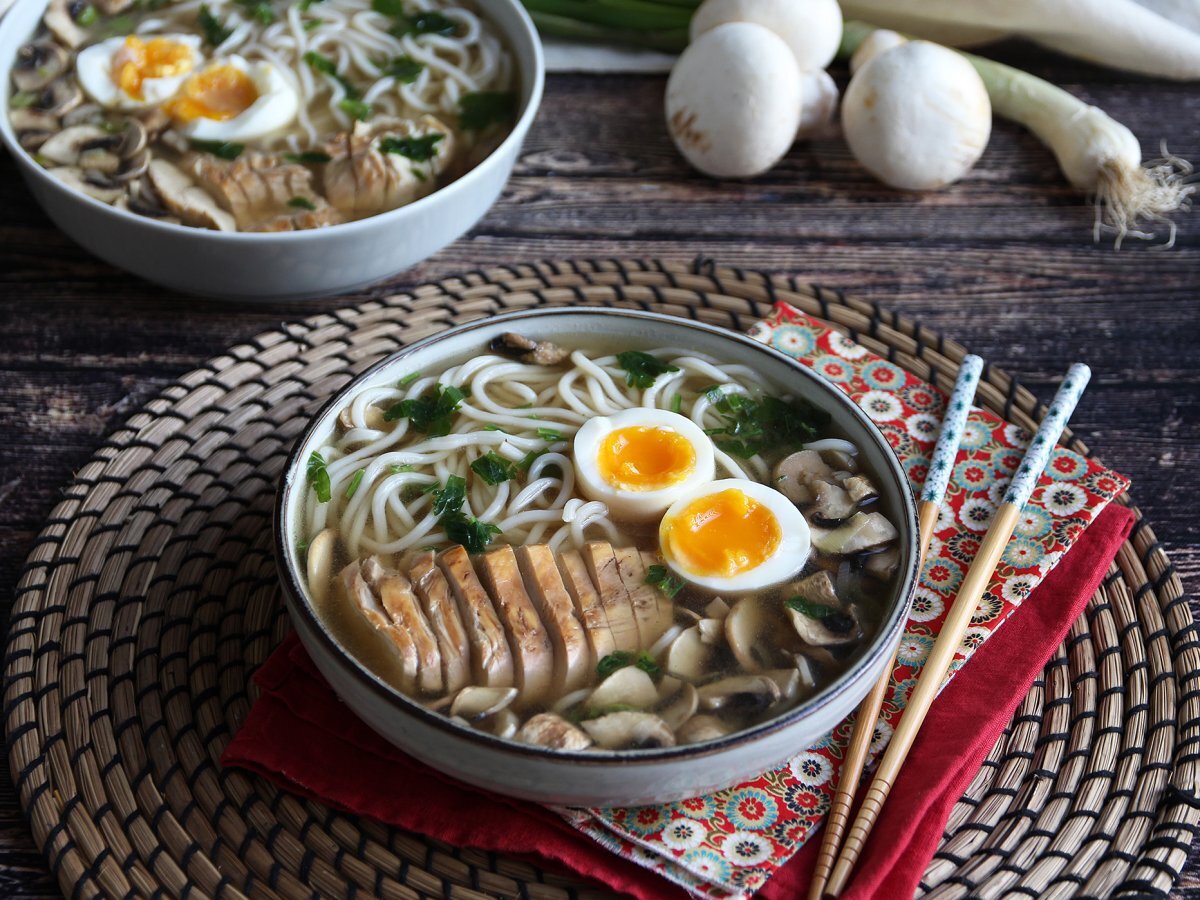 Questions:
You may like
Recipes
Related articles