Food finds: zucchini squash blossoms
By
dgorniak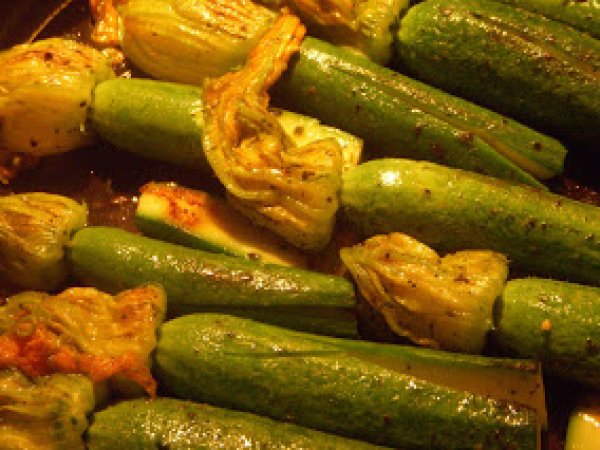 Recipe type:

Main Dish

Number of serving:

4 servings

Preparation:

25 min

Cook time:

30 min

Ready in:

55 min

Difficulty:

Very Easy
Ingredients
- 6 to 8
Zucchini
with Blossoms Attached, or Petite - Zucchini, Patty pan or Summer Squash and Squash Blossoms
- 1 to 2 Tablespoons Extra Virgin Olive Oil
- Kosher Salt and Freshly Ground Black Pepper
- 1 Tablespoon Dried Italian Seasonings
Equipment:
- Non-Stick Saute Pan
- Tongs or Spatula
Preparation
Step 1
Wash the zucchini and squash and blossoms gently in cold water and pat dry. If the squash is thicker than an inch around, slice them up the center, splitting the squash in two halves, but stopping just before you reach the end.
Step 2
Heat 1 tablespoon of extra virgin olive oil in a non-stick saute pan over medium-high heat until the oil begins to shimmer.
Step 3
Work in batches and gently add to the pan the squash and brown on one side about 2-3 minutes. Carefully turn the squash and brown on all sides another 2-3 minutes.
Step 4
Continue cooking the next batch of squash and blossoms in this manner, adding more olive oil as needed.
Step 5
Before removing the squash and blossoms from the pan, season with the dried Italian seasonings, salt and freshly ground pepper. Serve hot immediately.
Related recipes
Questions:
By
dgorniak

---
---
Related video
Recipes