Greek traditional pasta beef casserole (giouvetsi)
Greek traditional pasta beef casserole (giouvetsi)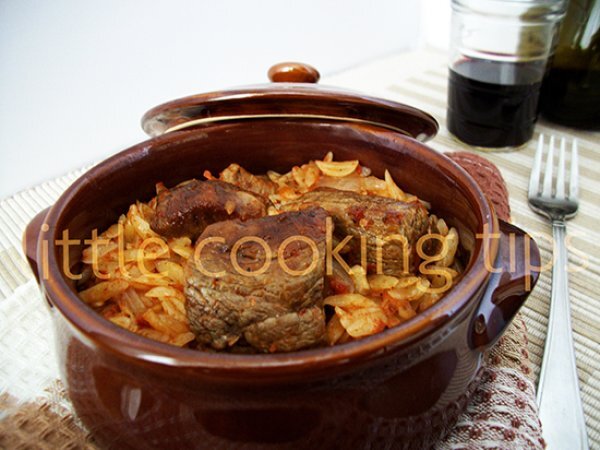 Giouvetsi is one of the most popular Greek traditional dishes. It's an oven-baked dish, made with pasta and meat (beef, chicken or lamb), usually baked in a ceramic or pyrex baking dish. The most commonly used pasta for this type of recipe is orzo (called kritharaki in Greek).
Ingredients
600gr (21oz)
beef
(chuck/neck), cut in thick pieces (4 5cm/1.5 2in)
---
250gr (8.8oz) orzo
---
300gr (10.6oz) fresh
tomato
, grated (or canned)
---
120gr (4.2oz) (1 medium sized)
onion
finely chopped
---
3 garlic
cloves
, finely chopped
---
---
125ml (1/2 cup) white wine
---
300ml (1 1/4 cup) water
---
2 bay leaves
---
3 tablespoons tomato paste (70gr/2.5oz)
---
1 pinch of cinammon
---
salt and pepper
Preparation
We put the olive oil in a medium sized non-stick frying pan and put it on medium to high heat.Once the oil is hot, we add the beef and the onion and saute for 4 minutes (we give it a vigorous stir).
We empty the pan contents into a pyrex or ceramic medium sized baking dish (34cm / 13in). Make sure to include the oil from the pan.

We add the garlic, the tomato, the tomato paste, the wine, the bay leaves and the water, stir and cover the baking dish with aluminum foil.
We put it in a preheated oven, at 180 degrees Celsius (350 Fahrenheit) on the middle rack and bake for 1 hour and 15 minutes.

Then, we remove the foil from the baking dish , add the orzo, stir and then put it back in the oven (without the foil). We bake for 20 more minutes.
Serve with fresh bread and feta cheese on the side (or you can sprinkle some grated feta on top). Kali oreksi!
Tips:

1. Besides beef, we can also use other types of meat, like chicken, lamb, goat or even pork. In the Greek islands, this dish is also made with seafood, like octopus and it's also amazing! Naturally, according to the meat we will use, we must adjust the cooking time, as the chicken for example needs less time to be cooked, and the lamb takes more time.

2. Instead of white wine, we can also use red wine, resulting a slightly different and intense taste.

3. If we don't have orzo, we can also use any small type of pasta.

4. Feta is probably the best cheese for this dish, but we can also serve it with anthotyros or mizithra which are Greek types of Ricotta and Pecorino respectively.

5. If we prefer our casseroles with a cheesy crust, then we can add some grated Dubliner or any othe suitable melting cheese before we finish baking. However, since this is a traditional dish, adding some grated feta when serving it, is more than enough!
Questions:
Related recipes
Recipes