Homemade pizza hut original pan pizza & homemade ranch dressing with breadsticks
Homemade pizza hut original pan pizza & homemade ranch dressing with breadsticks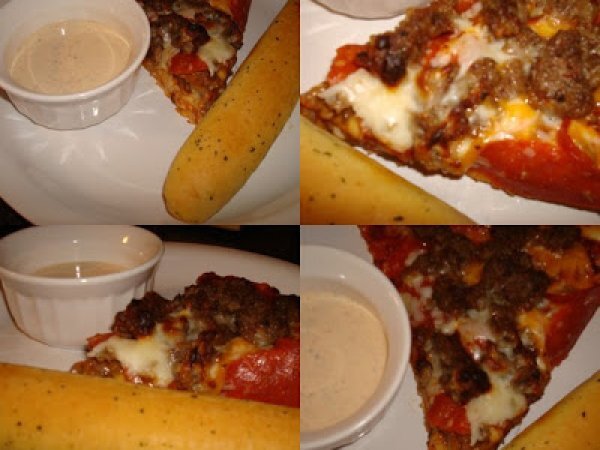 So yummy and delicious recipe! Well worth the work!
Ingredients
1 1/3 C Warm water (105F)
---
---
---
4 C Flour
---
---
1 pk Dry yeast
---
2 Table spoon Vegetable oil (for dough)
---
9 Oz Vegetable oil (3 oz. per pan)
---
---
1 8 Oz Can Tomato Sauce
---
---
1/2 tea spoon Marjoram
---
1/2 tea spoon Dry Basil
---
1/2 tea spoon Garlic salt
---
1 tea spoon Hidden Valley Buttermilk recipe ranch Salad Dressing Mix
---
1 C Helman's Mayonnaise
---
1/2 C Buttermilk
---
1/4 tea spoon coarse grind Black Pepper
---
1/8 tea spoon Paprika
---
1/8 tea spoon Garlic Powder
---
1/8 tea spoon Cayenne Pepper
Preparation
1) Dough:
Put yeast, sugar, salt, and dry milk in a large (2 qt.) bowl. Add water and stir to mix well. Allow to sit for two minutes. Add oil and stir again. Add flour and stir until dough forms and flour is absorbed. Turn out on to a flat surface and knead for about 10 minutes. Divide dough into three balls. In three 9" cake pans, put 3 Oz of oil in each making sure it is spread evenly. Using a rolling pin, roll out each dough ball to about a 9" circle. Place in cake pans. Spray the outer edge of dough with Pam. Cover with a plate. Place in warm area and allow to rise for 1 to 1 1/2 hours.
2) Sauce:
Combine and let sit for 1 hour.
3) For Each Nine Inch Pizza:
Combine all ingredients in a medium bowl. Mix well. Cover bowl and chill for at least 30 minutes before serving.
Questions:
Related recipes
Recipes
Related articles