Kadala parippu prathaman/chana dal payasam/ chana dal jaggery pudding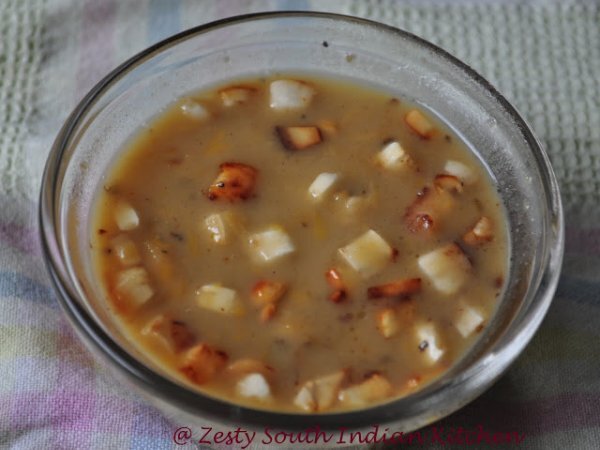 Recipe type:

Main Dish

Number of serving:

4 servings

Preparation:

35 min

Cook time:

25 min

Ready in:

1 hour

Difficulty:

Very Easy
Ingredients
Preparation
Step 1
Wash and soak chana dal/ kadala parippu and sabudana/ tapioca pearls in water for 30 minutes.
Step 2
Cook chana dal with 1 ½ cup water in pressure cooker until 2 visil or 20 minutes and switch of flame and keep aside.
Step 3
In the mean time cook saubdana in 1/8 cup of water in small pan until they become translucent. It takes about 5-6 minutes. Switch off the flame and let it cool.
Step 4
In a medium sauce pan add ¼ cup of water and jaggery let jaggery melt itself and drain using a strainer to remove the impurities.
Step 5
In the same pan add cook chana dal , sabudana and jaggery syrup cook for 5 minutes and add ¼ cup of coconut milk and 1/3 cup of water. After 5 minutes add ¼ cup of coconut milk along with crushed cardamom pods, ground ginger and let it boil for another 5 minutes . Switch of the flame and keep aside.
Step 6
Heat ghee in a small pan add cashew and fry until brown it takes about 2 minutes, remove them and keep aside. Same pan add chopped coconut and fry until they become slightly brown. It takes about 3-4 minutes.Garnish the kadala parippu payasam with ghee roasted cashews and chopped coconuts.
Related recipes
Questions:
---
---
Related video
Recipes