Kathal kofta (jackfruit dumplings in red gravy)
Kathal kofta (jackfruit dumplings in red gravy)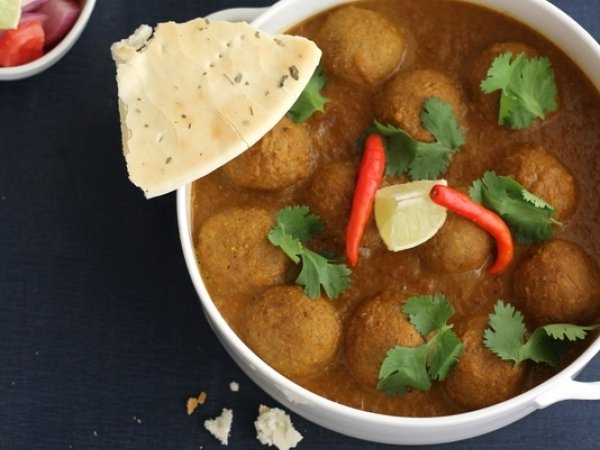 A unique kofta curry that tastes as great with rice as with chapati
Ingredients
250 grams jack-fruit (peeled and chopped in chunks)
---
A pinch asafoetida
---
---
---
1/2 tsp garam masala powder
---
3/4 cup besan (ground bengal gram)
---
A generous pinch of fruit salt (I use Eno)
---
Salt & Red Chili to taste (I used 1/2 tsp of salt and 1/4 tsp chili)
---
Oil for frying
---
11/2 - 2 tbsp oil
---
1 pinch asafoetida
---
---
---
1 tsp ginger garlic paste
---
1 medium
tomato
(grated or finely chopped)
---
1/2 tsp red chili powder
---
1/4 tsp turmeric powder
---
1 tsp coriander powder
---
1/2 tsp garam masala powder
---
Salt to taste
---
2 cups water
---
2 tsp fresh chopped coriander (for garnish)
Preparation
For Koftas:
Boil the jack-fruit with half a tsp of salt and asafoetida till it is tender. (I pressure cooked them till one whistle escaped)

Grind it to a coarse paste using minimal amount of water in a mixer-grinder. (I added water by 1 tsp at a time and approximately used 1 tbsp in all)
In a wok, on low heat, roast the besan till it starts emanating aroma and starts to change the colour (approx. 7-10 minutes).
Cool and add the besan along with the rest of the kofta ingredients to the jack-fruit With a spoon or hands gently mix everything together.

Make balls and keep them aside on a greased plate.
Heat oil and add asafoetida. Add the kofta balls in batches and fry them on a medium low heat till golden brown.

Remove on a kitchen towel and keep aside.
(This amount of batter yielded approx. 16 koftas)
For Gravy:
Heat the oil and add asafoetida and cumin seeds. Once they crackle, add the onions and on medium heat fry till they turn goldenish brown.
Add 2-3 tbsp of water and add the ginger garlic paste. Fry till the masala becomes aromatic and brownish again.
Add the tomato and rest of the gravy ingredients. Fry them on low heat till the oil separates.
Add water and let the masala come to a boil. Add koftas and cook further for 3-5 minutes on medium low heat.

Garnish with chopped fresh coriander and serve hot with chapatti or rice.
Questions:
Related recipes
Recipes