Lentil biryani
Lentil biryani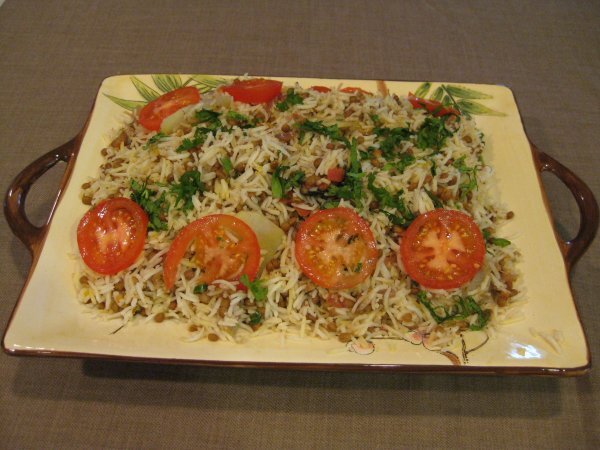 Preparation
Dissolve saffron in warm milk. Rinse and soak rice for 15 minutes. In a heavy bottomed pot, boil 4 cups of water with salt, cumin, bay leaf and cardamom. Drain water from rice and add it to the boiling water. Bring it to boil again. Reduce heat to medium. Cover and simmer till the rice is 85% cooked. It will take 5 minutes to reach that point. Drain rice in a sieve and keep aside. Remove bay leaf and cardamom shells. Add olive oil in the same pot used to boil rice back on heat. Add cumin, clove, cardamom. Fry for 30 seconds. Add sliced onion. saute until translucent. Add chopped ginger and garlic. Cook for another 1 minute. Now add chopped tomato and mint leaves till it gets soft. Beat yogurt until smooth. Add biryani masala, yogurt and lentils to the onion tomato masala. Mix gently and turn off the heat.

Remove to dish and reserve. Put a layer of sliced potatoes in the pot.
Top it with half of the lentil mixture and half of the rice.

Repeat lentil and rice layer. You can add one more layer of potato if you want. Pour saffron milk over rice.
Heat a cast iron griddle and place the pot on it. Cook covered on medium heat for 10 minutes. Remove from heat and let it stay covered for 15 minutes. Remove lid and mix with light hand.Transfer in a serving dish. Garnish with sliced tomatoes and cilantro. Serve with raita and mint chutney.
Questions:
You may like
Recipes