Lumpia or lumpiang prito or lumpiang gulay (vegetable spring roll)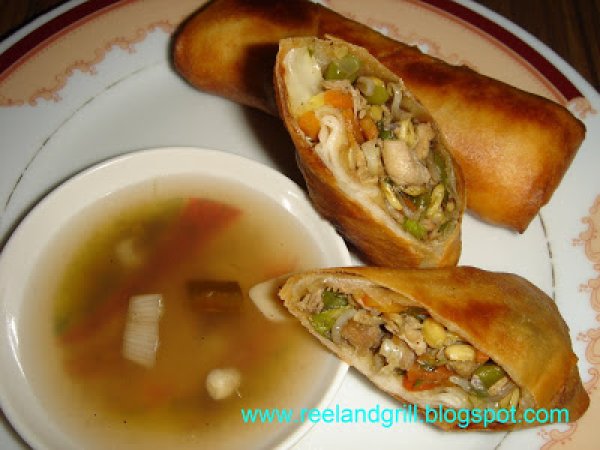 Preparation
In a large wok or pan, heat the oil. Fry garlic and onion. Add in pork and continue frying. Add the fish sauce and continue sautéing until the pungent smell escapes. Add carrots and green beans and continue sautéing.
When the carrots and beans are partially cooked through, add leek, coriander and chicken. Add in soy sauce and ground pepper and continue sautéing.
Add the cabbage and cook for several minutes more. Taste and adjust saltiness by adding salt if it is still necessary. You can also add some more ground pepper if you like.
Transfer in large bowl and allow cooling. Remove the excess liquid that will accumulate in the bottom and set aside.
Now, prepare the lumpia. Continue wrapping until the filling is all used up or you have enough lumpia and want to reserve some for next time. Wrap everything and freeze the excess lumpia for easy cooking next time.
In a small frying pan or sauce pan, heat about 1½ cups oil. Fry the lumpia in batches. Cook each batch in moderate heat until golden brown. Flip over to cook the underside.
Maintaining the correct temperature of the oil is essential to attain good results. Too hot and it will burn the wrapper, not enough heat and oil will enter the roll. Drain excess oil from the cooked lumpia using table napkin.
Serve warm and crispy accompanied with a dipping sauce of natural vinegar heavily spiced with garlic, onion, salt, sugar, ground pepper and lots of chilies and fermented for several days.
Questions:
You may like
Recipes