Minced Beef Wellington - a Jamie Oliver favourite.
Minced Beef Wellington - a Jamie Oliver favourite.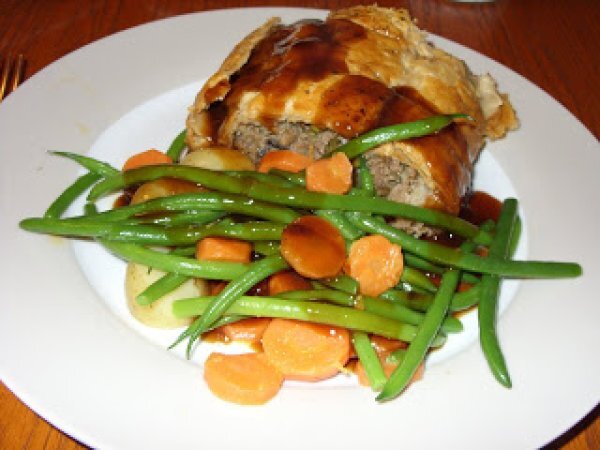 A new take on an old - and much more expensive - favourite.
Preparation
Peel and chop the onion, carrot, celery and potato into 1cm sized dice and finely chop the garlic.
Clean and roughly chop the mushrooms so they're about 1 cm dice and place all vegetables into a frying pan with olive oil.
Pick the rosemary leaves off the woody stalks, chop and add to the pan with the Worcestershire sauce.
Fry and stir for about 8 mins or until the vegetables soften and colour.
Add frozen peas and cook for another minute, then put vegetables into large bowl to cool completely.
When cool, preheat oven to 180 deg C/Gas 4. Whisk the egg lightly in a cup.
All combined and ready to go into pastry. Add the minced beef to the bowl with salt and pepper and half the egg. Scrunch together.
Roll out pastry to size of small tea towel and place mince mix along one long side, in a sausage shape.
Brush edges of pastry with egg and roll pastry to cover mince completely. Tuck any escapees into either end, then fold the ends together and squeeze the joins so that they hold.
Flip the Wellington over so that the pastry join is underneath and transfer to a baking tray that has been lined with either non-stick silver foil or baking parchment.

Use a knife to cut a couple of holes in the top to let any steam escape, then brush with egg.

Bake for approximately one hour (I'd check it after 30 minutes and turn it to ensure an even bake) until golden.

Serve with steamed vegetables and gravy.
Questions:
You may like
Recipes