Morel mushroom stuffed teriyaki burgers and morel tater tots, with roasted garlic
Morel mushroom stuffed teriyaki burgers and morel tater tots, with roasted garlic
A very delicious dishes with morels. Simple and tastes is there.
Ingredients
4 oz. dried morels, rehydrated in water (reserve 1 cup of the water)
---
5 oz. Gimme Lean Ground
Beef
Style Veggie Protein
---
---
---
1/2 teaspoon mirin cooking wine
---
---
1/4 can thinly sliced yellow
onion
, lightly coated with unbleached all purpose flour and a pinch of - salt
---
extra virgin olive oil (for cooking)
---
canola or vegetable oil for deep frying
---
whole wheat bun, toasted
---
4 oz. morel mushrooms, rehydrated and finely chopped
---
1 large russett potato, peeled and grated
---
1 teaspoon corn starch
---
1 tablespoon extra virgin olive oil
---
1 teaspoon water
---
salt & pepper
---
oil spray
Preparation
1) After rehydrating the morels for an hour or more, remove 1 cup of the morel water and pour into a sauce pan. Add brown sugar, soy sauce, and mirin, and simmer until reduced to a syrup.
In a large mixing bowl, break up the Gimme Lean and add cracked pepper. Add the syrup and mix well to incorporate evenly. Form into two thin patties (about 1/4 inch thick each). Chop half of the mushrooms and spread evenly between the patties. Squeeze the patties together to form one big patty.
In a flat skillet, add the olive oil and cook each side of the patty for a few minutes, covering with a smaller metal lid before and after flipping. For the other half of the morels, cut them into large pieces. Saute them in olive oil and garlic until softened and edges are golden brown. Season with salt and pepper.
For the onion straws, shake off excess flour and deep fry onions until golden and crisp. Drain on a paper towel or bag. Transfer the patty onto the toasted whole wheat bun. Top with a layer of fried onions, followed by a pile of sauted morels. Spread some of the garlic aioli onto the top bun, if desired.
Wrap the grated potato in a tea towel or clean cloth, and wring out as much water as possible. In a bowl, mix together with morels. Next, make a slurry of corn starch, olive oil, water and seasoning. Mix together well, then press the mixture into the muffin cups to about 1 inch thick.
Make sure you press them tightly! Bake in a 450 degree oven for 8-10 minutes or until golden. To give extra color to the tops, broil them on low for a few minutes. Remove from oven and allow to cool for 5-10 minutes before popping out. You may need to loosen some with a small knife.
The Roasted Garlic Aioli was simple- Add chopped roasted garlic to some Vegenaise (vegan mayo of choice). A tip to make this less fatty and just as flavorful- do one part silken Mori-Nu tofu blended with one part Vegenaise.
Photos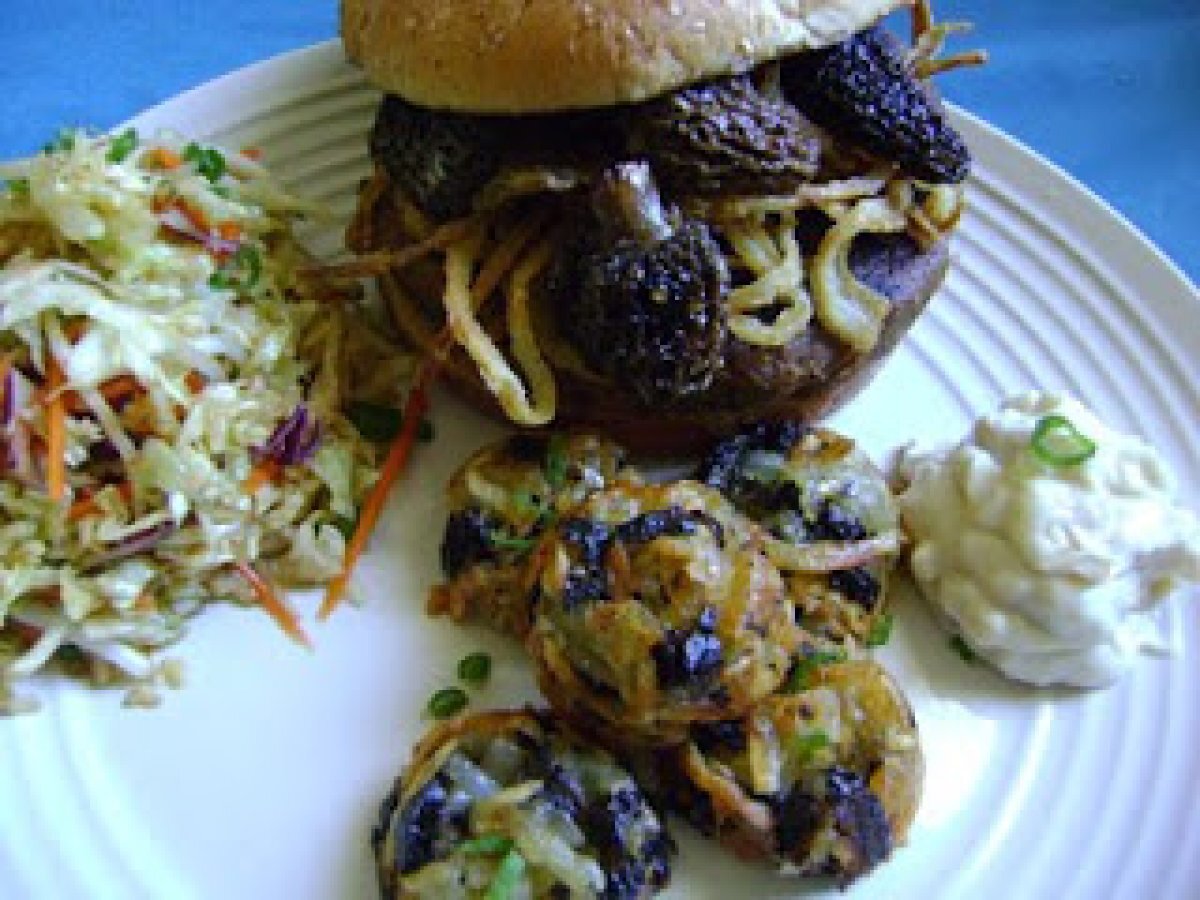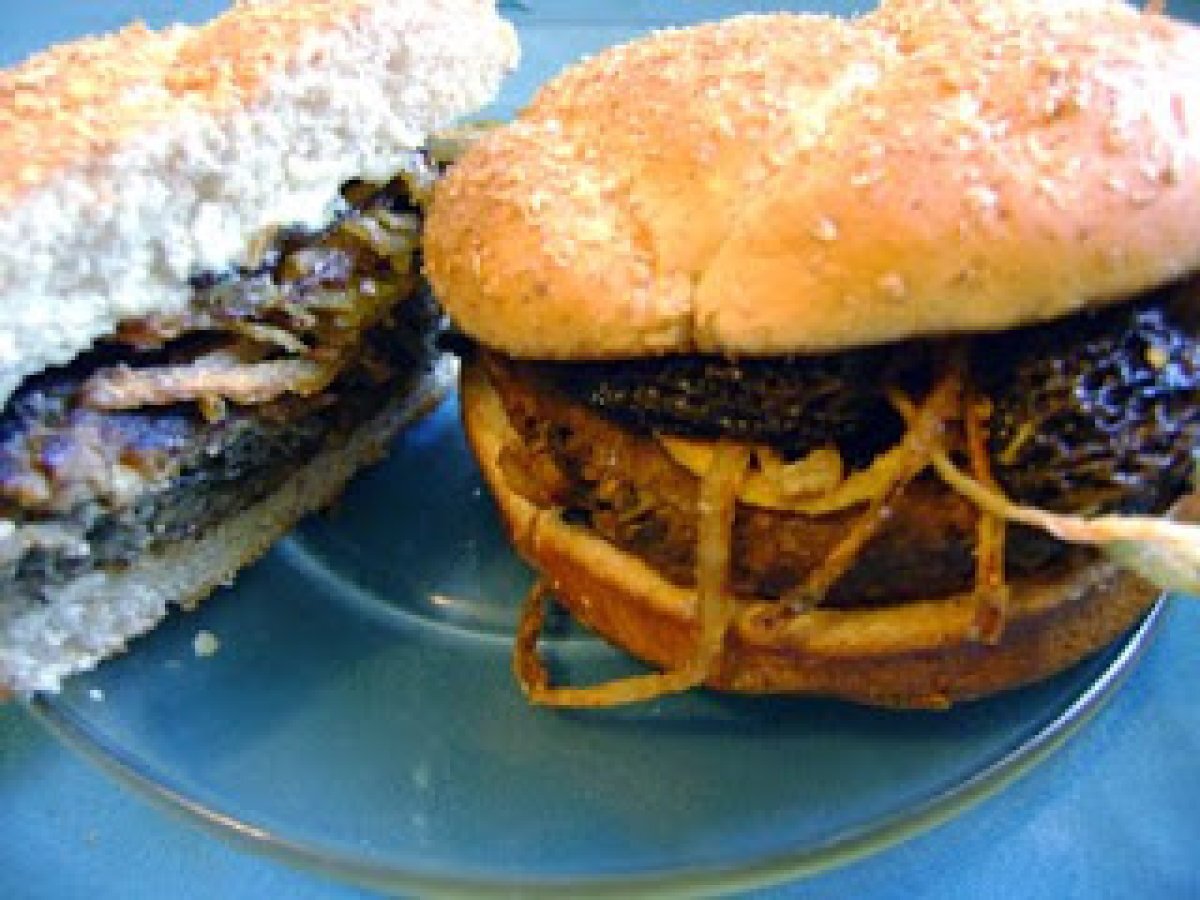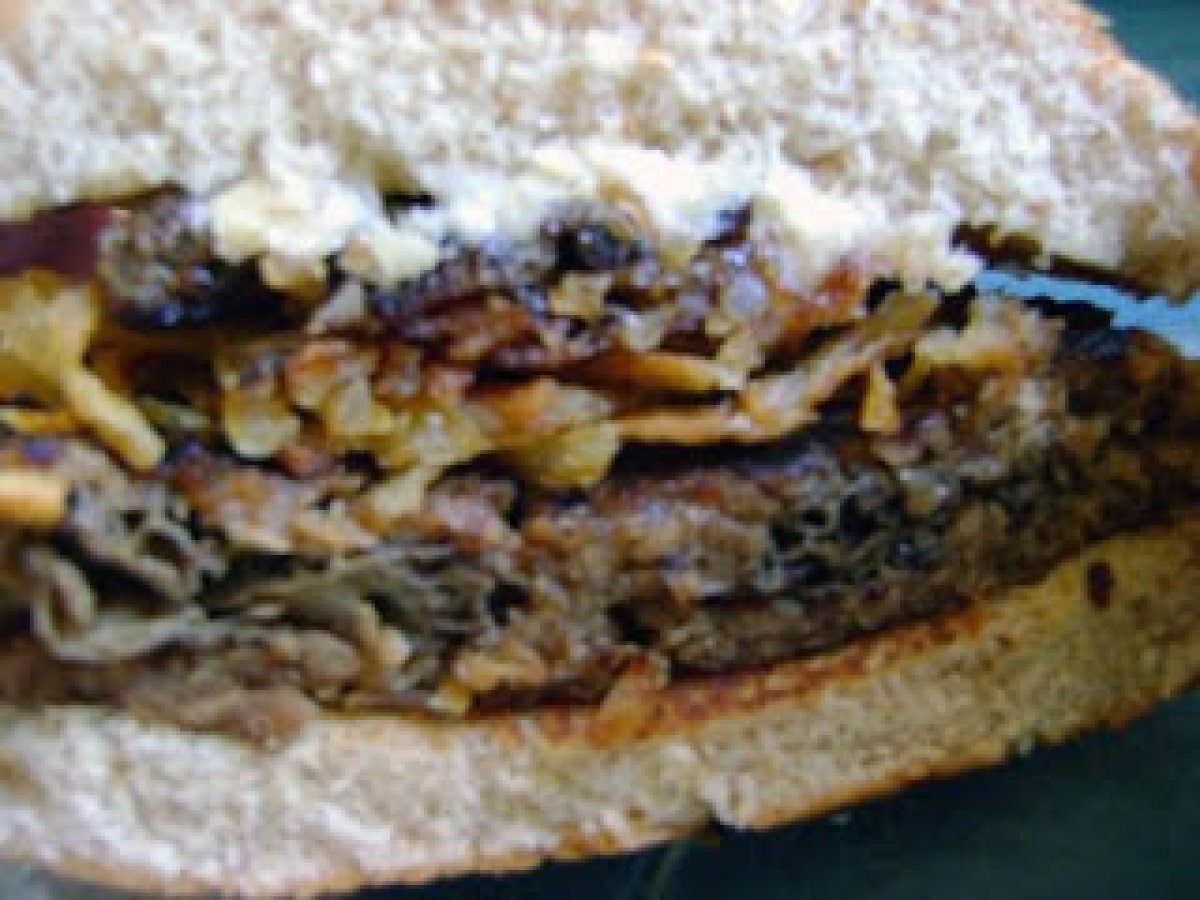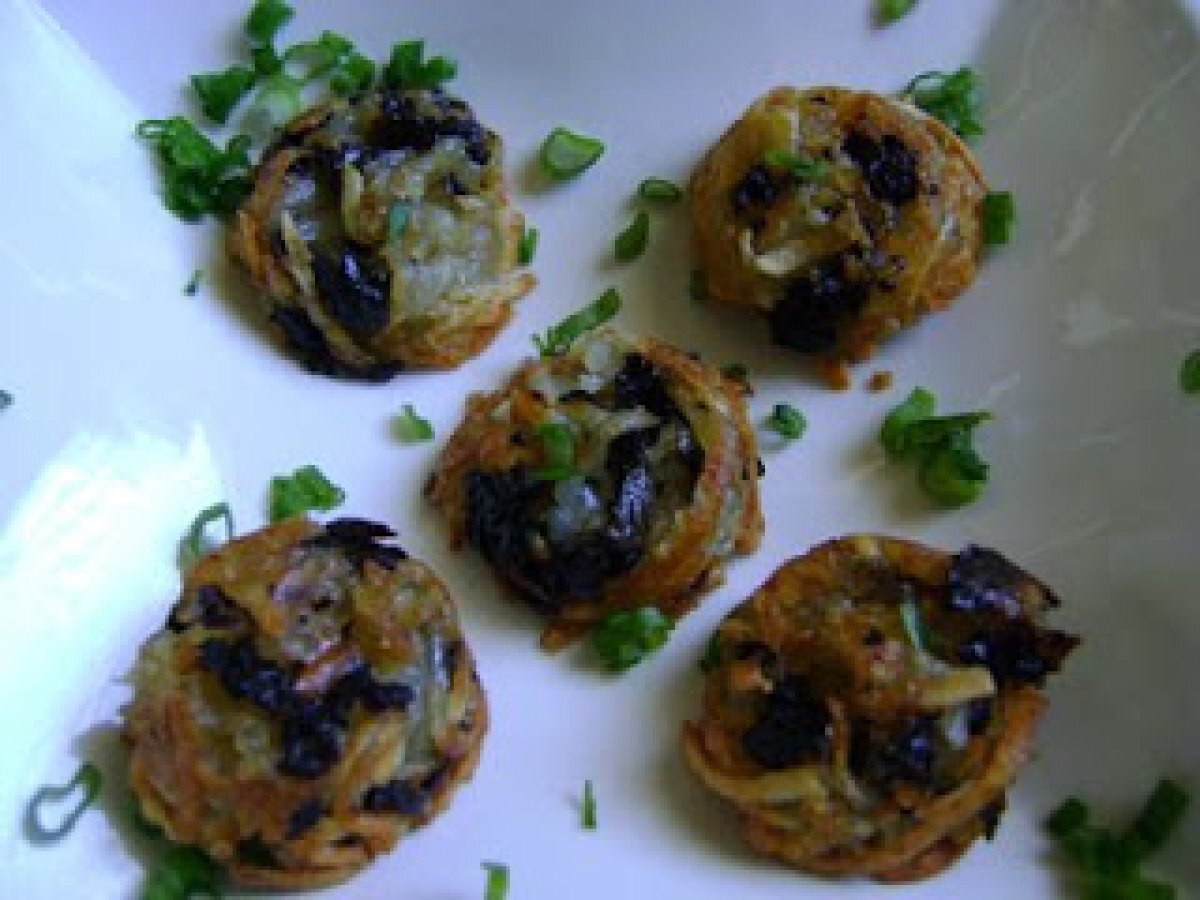 Questions:
Related recipes
Recipes