Plank-grilled salmon with dill sauce (visit site)
Plank-grilled salmon with dill sauce (visit site)
Delicious plank-grilled salmon, brushed with a maple-bourbon glaze, served with a goat cheese dill sauce and lemon wedges! Divine! Boiled red potatoes are perfect on the side!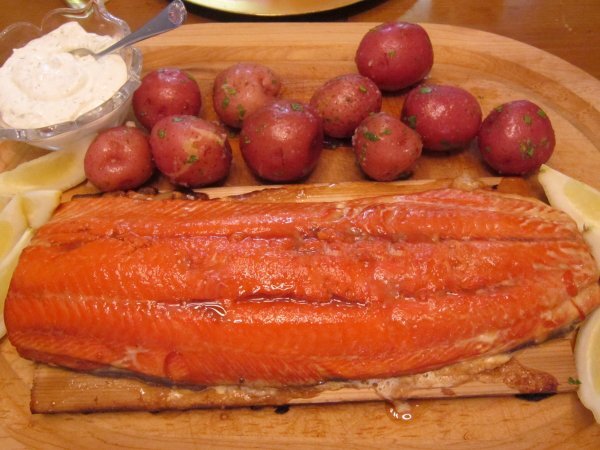 Preparation
For the Dill Sauce
In a small bowl, combine the goat cheese, sour cream, dill, garlic, and salt and white pepper to taste and mix well. Cover and refrigerate until serving.
For the Bourbon-Maple Glaze
In a bowl, stir together the maple syrup, bourbon, and white pepper to taste. Set aside.
For the Salmon
Prepare a charcoal or gas grill for direct grilling (meaning directly on top of the coals) over medium-high heat (375 degrees F or 190 degrees C). Brush the salmon thickly on both sides with the glaze. Center the salmon, skin side down, on the plank, using additional planks, if necessary.
Cover the grill and cook, brushing occasionally with the remaining glaze, until the fish is opaque throughout and flakes when prodded with a fork, about 8-12 minutes. The plank will char slightly. Using heavy-duty pot holders, remove the salmon, still on the plank, from the grill and set it on a serving platter or cutting board. Serve the salmon hot or warm. To serve, cut the salmon through the flesh into individual portions. Pass the dill sauce and lemon wedges at the table.
Questions:
You may like
Recipes