Fettuccine with morel mushrooms and country ham (visit site!)
Fettuccine with morel mushrooms and country ham (visit site!)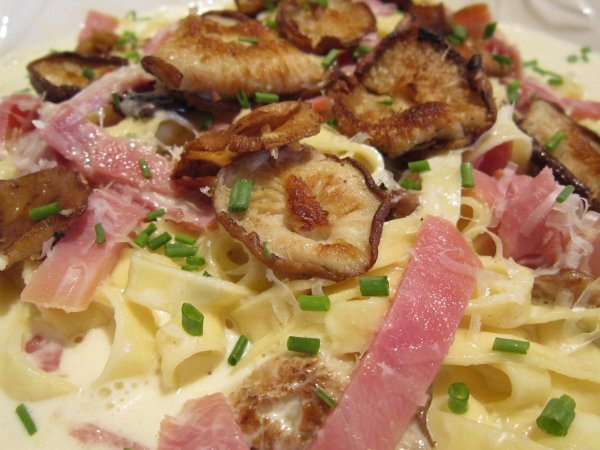 This recipe for "Fettuccine with Morel Mushrooms and Country Ham" exemplifies the rich indulgences offered at The Inn at Little Washington. Unfortunately, morel mushrooms are not available now, so I used Shiitake (stems discarded), but any fresh wild mushrooms will produce excellent results! It's so delicious, you'll love it!
Preparation
Bring 4 quarts of water to a rolling boil and add the 1 teaspoon of salt. Cook the fettuccine until just barely al dente. Drain in a colander and toss with 1 tablespoon of the oil. Keep warm.
In a 10" saute pan, melt the butter and the remaining 1 tablespoon oil over high heat. Add the morels just as the butter begins to color. Saute rapidly until the mushrooms begin to crisp around the edges. Add the shallot and garlic and saute for 1 minute more. Remove from the heat.
In a 4-quart saucepan, bring the cream to a boil. Reduce the heat and add half of the sauteed mushrooms/shallot/garlic mixture. Reserve the other half for garnish. Cook until the cream thickens enough to coat the back of a spoon, about 5 minutes. Stir in the cheese. Add the nutmeg and season with salt and pepper. Add the fettuccine to the sauce and toss well to combine.
To serve: Using tongs, place a mound of fettuccine in each of four warm serving bowls and pour a bit of the remaining sauce over the noodles. Place the reserved mushrooms on top of the fettuccine and divide the ham evenly among the bowls. Garnish with the chives.
Questions:
You may like
Recipes
Related articles