Stuffed mushroom caps (visit site!)
Stuffed mushroom caps (visit site!)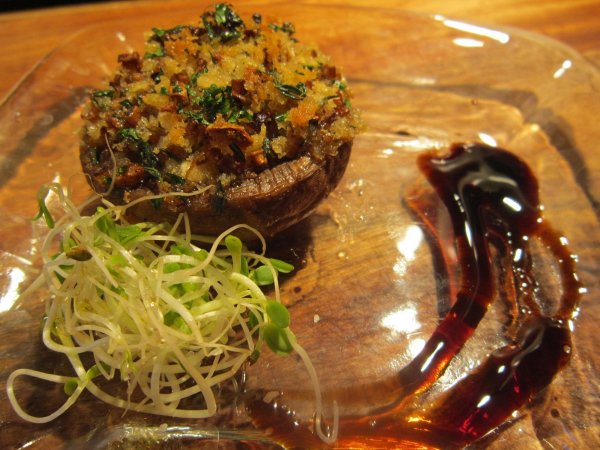 This delightful version of stuffed mushrooms, stuffed with fresh goat cheese, sauteed mushroom stems, thyme, and shallots, garnished with fairy-size sprouts and a swirl of balsamic glaze really allow the mushrooms to shine! How enchanting!
Ingredients
6 hockey-puck-sized button mushrooms
---
---
---
1 shallot, minced
---
---
1/4 teaspoon crushed red chili pepper
---
2 teaspoons chopped fresh
thyme
---
3-4 tablespoons fresh bread crumbs (Panko works well, too.)
---
---
Salt and freshly ground black pepper
---
About 4 ounces fresh chevre (goat cheese)
---
Watercress or other sprouts, for serving
---
Balsamic glaze, for serving (can be purchased at most grocers)
Preparation
Heat the oven to 375 degrees. Carefully remove and finely chop the mushroom stems, set aside. Set the caps, holes downwards, on a baking sheet, rub with a little olive oil, and bake 10 minutes to shrink slightly.
Meanwhile, melt the butter in a saute pan over medium heat, and gently fry the shallot until slightly soft, about 3 minutes. Add the mushroom stems, and cook until soft, about 5 more minutes. Add the garlic, chili pepper, and thyme, saute 1 more minute. Stir through all but a spoonful of the breadcrumbs. Remove from the heat, taste, and season with salt and pepper. In a small bowl, stir together the parsley and remaining bread crumbs.
Pull the mushrooms from the oven, and turn them holes skywards. Season with salt and pepper. Divide the cheese evenly among them, pile on the filling, then scatter the parsley mixture evenly over the top. Drizzle with olive oil, and bake until the tops are golden and the filling very hot, about 20 minutes. Serve with watercress or sprouts, lightly dressed with olive oil and salt, on the side and a generous swirl of balsamic glaze. How pretty!
Questions:
Related recipes
Recipes