Butternut squash tortellini with brown butter sauce (visit site!)
Butternut squash tortellini with brown butter sauce (visit site!)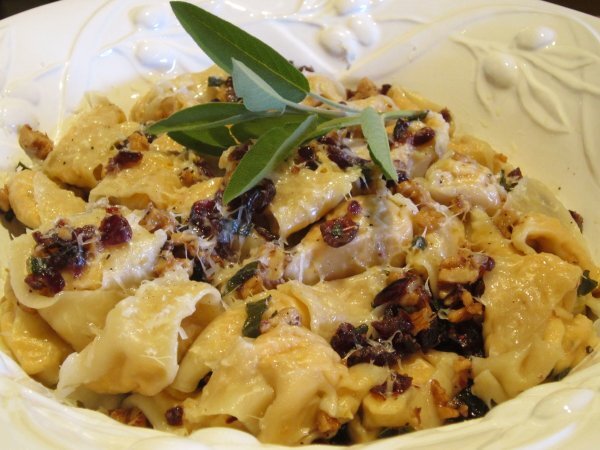 Sweet and savory butternut squash tortellini with brown butter sauce, sage, walnuts, and dried cranberries! Yum!
Preparation
For the Tortellini
Preheat the oven to 375 degrees. On a foil-lined baking sheet, toss together the butternut squash, 2 tablespoons olive oil, herbs de Provence, salt, and pepper. Bake in the oven until soft and golden, about 25 minutes. Meanwhile, heat the olive oil in a small saute pan over medium heat and cook the shallots and garlic until lightly golden, about 3 minutes.
In a food processor, combine the butternut squash mixture, the shallot mixture, and the ricotta cheese and pulse a few times to blend. Add the crushed amaretti cookies, the nutmeg, and sprinkle generously with salt and pepper. Pulse until smooth. The tortellini filling can be made one day ahead.
To make the tortellini, lay out 6 wonton skins, keeping the remaining skins inside the package and under a very lightly dampened paper towel. Place about a tablespoon of the squash mixture in the middle of each skin. Dip a pastry brush in a little water and wet the edges of the skin. Gently fold the square wrapper into a triangle, making sure the edges are securely closed and there are no air bubbles inside. Dampen the two bottom corners of the longest side of the triangle and gently bring them together, pressing lightly to secure.
Place the formed tortellini on a baking sheet and cover with plastic wrap. Before laying out another 6 wonton skins, be careful to dry the work surface. This will help keep the tortellini from sticking to the baking sheet. Continue until all the butternut squash mixture is used. Place the baking sheet in the freezer to freeze the tortellini. (The tortellini can be formed, frozen on the baking sheet, transferred to a tightly sealed plastic bag or container and stored for up to six months! To cook, simply toss the frozen ravioli into salted boiling water for 4 minutes!)
Finishing the Dish
Bring a large pot of salted water to a boil. Meanwhile, melt the butter in a large, heavy skillet over medium heat. Add the sage, walnuts, and cranberries to the butter, and let cook until the butter starts to brown, about 3 minutes. Turn the heat off and season with salt and pepper.
Gently place the frozen tortellini in the boiling water and gently stir. When they begin to float they are done, about 3 minutes. Using a slotted spoon, gently spoon the tortellini onto a serving platter or bowl, and top with the brown butter sauce. Sprinkle with the Parmesan cheese and serve.
Questions:
You may like
Recipes
Related articles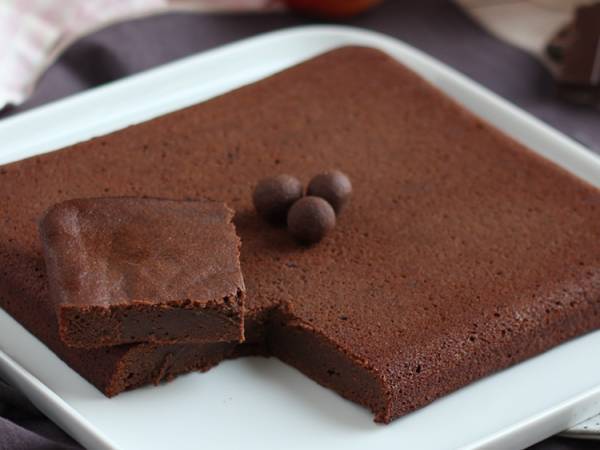 Easy and tasty butter free desserts!