Pritong pork chop (filipino fried pork chop)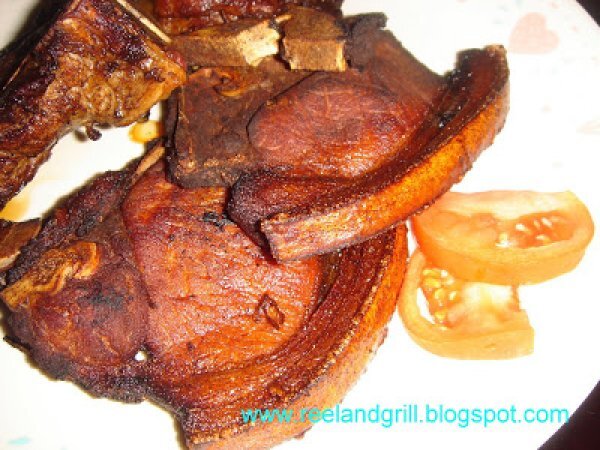 Preparation
It could be simply seasoned with salt and pepper and carefully marinated with several seasonings and spices and then either grilled or barbecue usually prepared fried.
Basically, pork chop cut in the Philippine market comes from the pork rib roast or pork loin or pork loin center cut pieces of the United States.
Instead of roasting or cooking whole, however, it is further cut to more parts between the ribs and cooked and served individually.
To cook the dish we need about 500g of pork chop, about four slices. Meat should be thoroughly washed and drained.
Soy sauce 3 teaspoons, 2 teaspoons Calamansi or calamondin or extract of lemon juice, 1/2 teaspoon pepper, 2 garlic gloves, chopped and brown sugar 1/2 teaspoon. In addition, we will need about 1 cup vegetable oil for frying.
This is not easy flat fuzz. In a bowl instead of mixing pork chop pieces properly washed and drained.
Add all marinade ingredients and mix until well coated meat is with all the ingredients.
Place the refrigerator and marinate for at least an hour during the night if you have time for the best outcome.
Turn the meat several times during the process to ensure the same infusion chops in the marinade.
Heat about 1 cup vegetable oil in a medium saucepan. When the oil is already hot, cook the pork chops marinated in two batches.
Fry each side until golden brown and the edge are slightly crispy but still juicy inside.
Continue frying the last batch. Drain properly cooked meat in paper towels and transfer to a serving dish.
Serve with lots of cooked steamed rice and some tomato slices on the side.
Questions:
You may like
Recipes