Recipe - salmon with turmeric rice (salmão com arroz de açafrão-da-terra)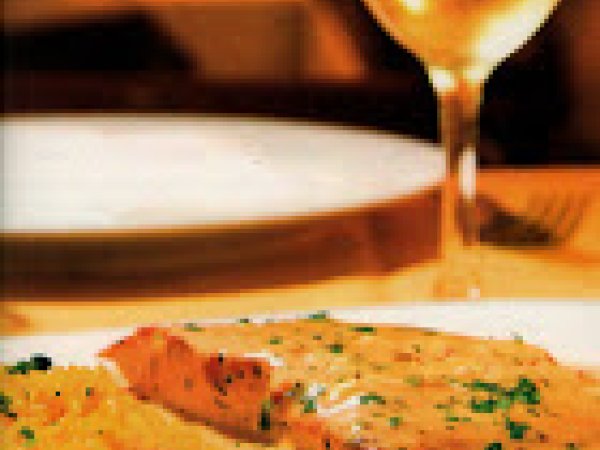 Recipe type:

Main Dish

Number of serving:

4 servings

Preparation:

25 min

Cook time:

20 min

Ready in:

45 min

Difficulty:

Very Easy
Ingredients
- 2 tablespoons extra-virgin olive oil
- 1 medium onion
- 2 cups long-grain white
rice
- 2 cups water
- 1.5 cup light
chicken
stock
- 1/2 teaspoon
turmeric
-
salt
to taste
- 1 medium
salmon
fillet
- 1/3 cup extra-virgin olive oil
- 1 small onion
- 2 cloves garlic
- 2/3 cup white wine
- 1/4 cup whipping cream
- 1 tablespoon tomato paste
- 2 tablespoons Italian parsley
Preparation
Step 1
In a heavy, medium saucepan heat the oil over medium heat. Add the chopped onion and fry until translucent but not browned. Add the rice and cook for 1 or 2 minutes, until the rice is coated with oil and becoming transparent.
Step 2
Add the water, chicken stock and turmeric, adjusting salt if necessary. Bring to a boil, then reduce heat to low. Cover the pan and cook for 20 minutes, undisturbed. Remove from heat and let stand, without uncovering, for 10 minutes. Reserve.
Step 3
Heat a heavy non-stick frying pan or grill pan over medium heat. Add 2 Tbsp. of the olive oil and cook the salmon, skin side down first, for about 5-7 minutes per side, depending on the thickness of the fish.
Step 4
Meanwhile, in a medium pan heat the remaining olive oil, and saute the onion and garlic until the onion is transparent but not browned. Add the white wine ,whipping cream, tomato paste and 1 Tbsp. parsley. Cook, stirring frequently, until the sauce has cooked down and thickened, approximately 5 minutes.
Step 5
Pool some sauce on a plate, top with a salmon fillet, then drizzle additional sauce over. Add a mound of rice to the side of the fish, then sprinkle the additional chopped parsley over all. Serve immediately.
Questions:
---
---
Related video
Related recipes
Recipes
Related articles