Rice noodles with lentils and vegetables
Rice noodles with lentils and vegetables
By
balvinder

A simple noodle dish with lentils and vegetables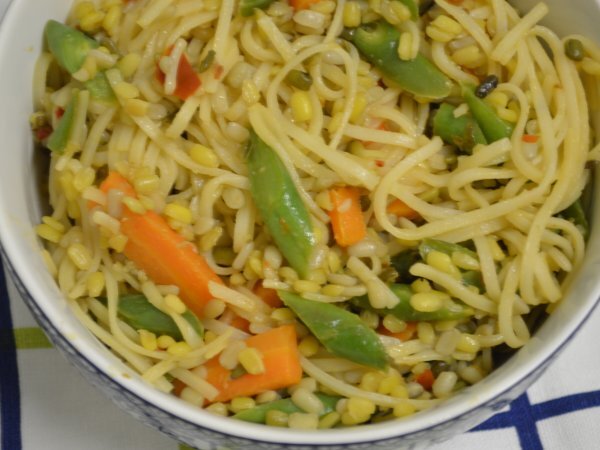 Recipe type:

Main Dish

Number of serving:

3 servings

Preparation:

10 min

Cook time:

20 min

Ready in:

30 min

Difficulty:

Very Easy
Ingredients
170 g rice
noodles
170 g
green beans
1
carrot
weighing 100 g
1 tbsp or more tamari
1 tbsp sambal olek
1 tbsp rice wine vinegar
4 tbsp oil
3/4 cup split mung daal or mix of mung and urad
salt
to taste
Preparation
Step 1
String the beans, peel carrot and cut them in fine strips or any shape. Mix tamari, sambal olek and rice wine vinegar in a small bowl. Set aside.
Step 2
Sift through the mung daal quickly for any unwanted stones ( usually the split ones have it). Wash and drain.
Step 3
Place lentils, water and salt in a saucepan and bring it to boil on medium heat.In another bowl or pot soak rice noodles in hot water for 5 minutes and then drain or cook as directed on the packet.
Step 4
Let the lentils boil gently with a lid on the pot for 12- 15 minutes or until they are tender and not mushy (you will see the skin separating out).
Step 5
Immediately drain lentils in a colander and run cold water for 2-3 minutes to prevent cooking further. Discard the skin as much as you can by rinsing out in water. Transfer lentils to a bowl and set aside.
Step 6
Heat oil in a pan or wok. Stir fry carrots and beans until tender and slightly crisp. Add the seasoning mixture to the vegetables. Give a quick stir.
Step 7
Add noodles, lentils and salt to taste. Mix well and serve hot.
Questions:
By
balvinder

---
---
Related video
Related recipes
Recipes
Related articles