Rice noodles with mushrooms and their soft-boiled egg!
Rice noodles with mushrooms and their soft-boiled egg!
Not sure what to do with your rice noodles? Here is a recipe that should save your meal! Because yes, it is easy but also very quick to do ;-) And on the garnish side, we play it simple with mushrooms, a sauce based on soy sauce and a soft-boiled egg for an extra melting and fluffy effect. It's up to you to play with our detailed steps below ↓
Preparation
Noodles :
Plunge the rice noodles into a large quantity of warm-hot water.
Follow the instructions on the package and check the cooking, they must be well softened but not too much!
Soft-boiled egg:
Boil water in a saucepan and drop the egg in it. Cook for 6 minutes. Transfer the egg directly into a bowl of ice water to stop it cooking.
The mushrooms :
Cut the mushrooms into thin slices. Fry the slices in a hot skillet with a drizzle of sesame oil.
The sauce :
Mix sesame oil, soy sauce, ginger (fresh or) powder, sesame seeds and honey (or agave syrup).
Drain the noodles when ready and transfer them to the pan with the mushrooms. Pour the sauce and mix everything. Sauté for a few minutes.
Serve in a deep plate with more sesame seeds, chopped parsley (or chopped cilantro) and the soft-boiled egg cut in half.
And eat with chopsticks of course ;-) Enjoy!
You tried this recipe ?
Mention @petitchef_en and tag #petitchef
Observations:
Is this dish gluten free?
It is almost completely gluten-free! It will be necessary to replace the soy sauce with gluten-free soy sauce (called "tamari").

Is this dish vegetarian?
Yes, this dish is vegetarian. It does not contain meat or fish.

Is this dish vegan?
No, this dish is not vegan, but you can replace the egg with tofu for example to keep a protein in this dish. It will also be necessary to replace the honey with another sweetening food such as brown sugar, agave syrup, etc.

What can I substitute for the egg?
You can replace the egg with tofu as mentioned above, chicken, minced meat (or vegetable mince).
Photos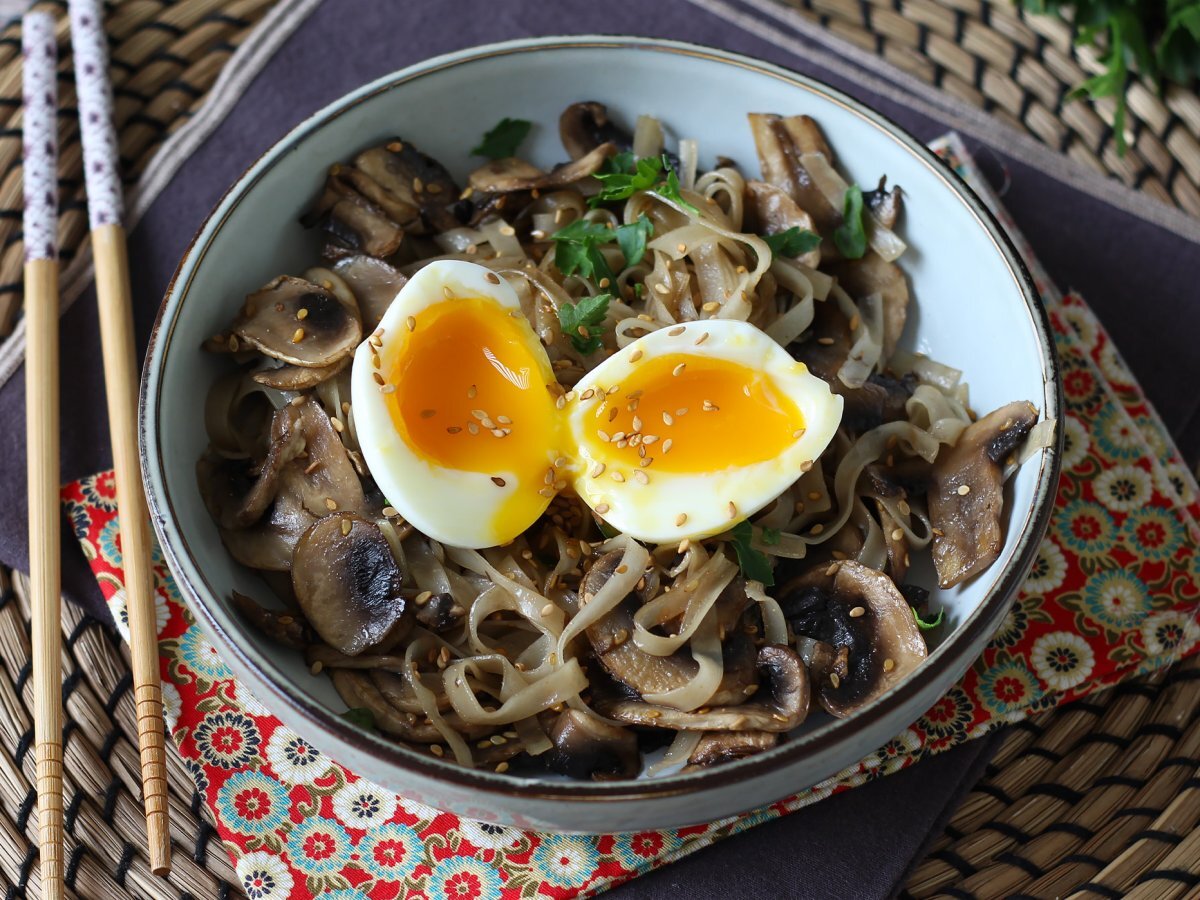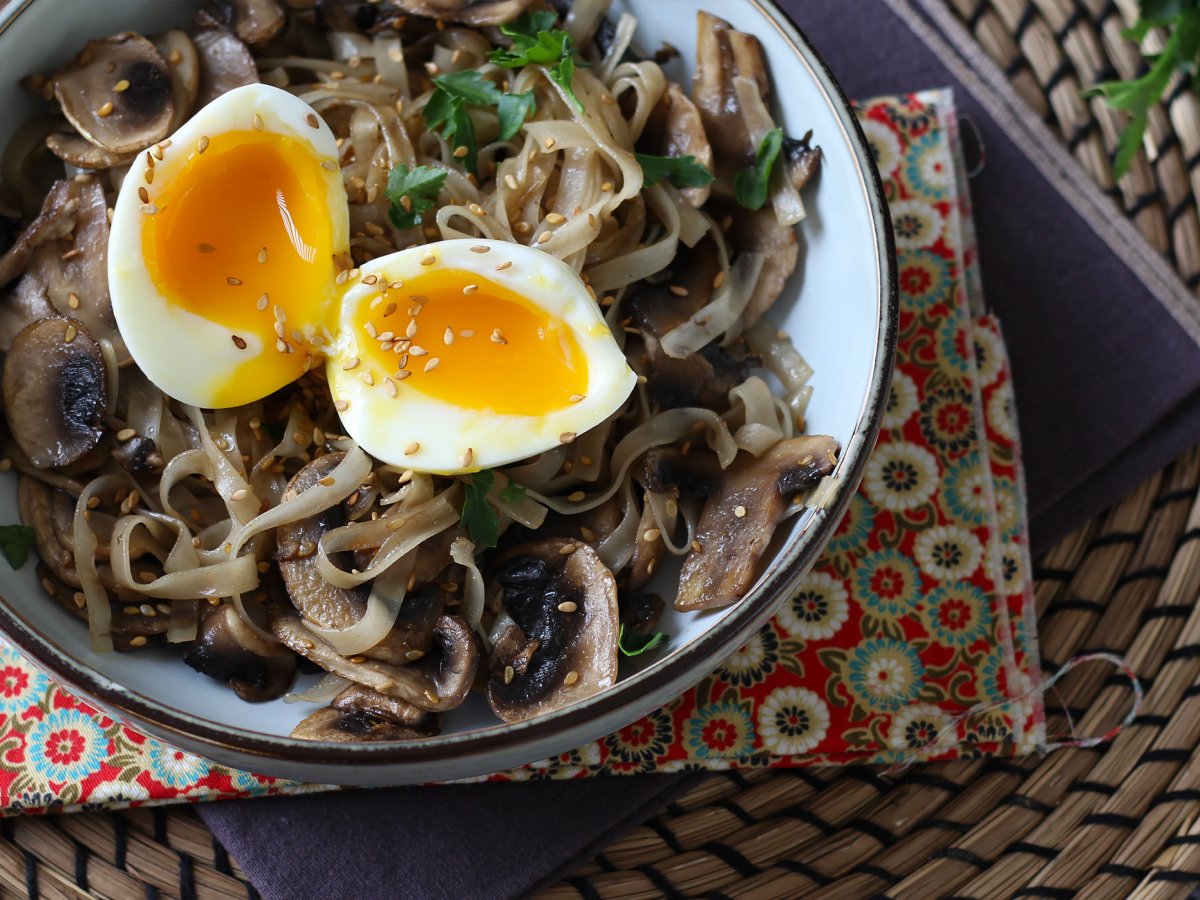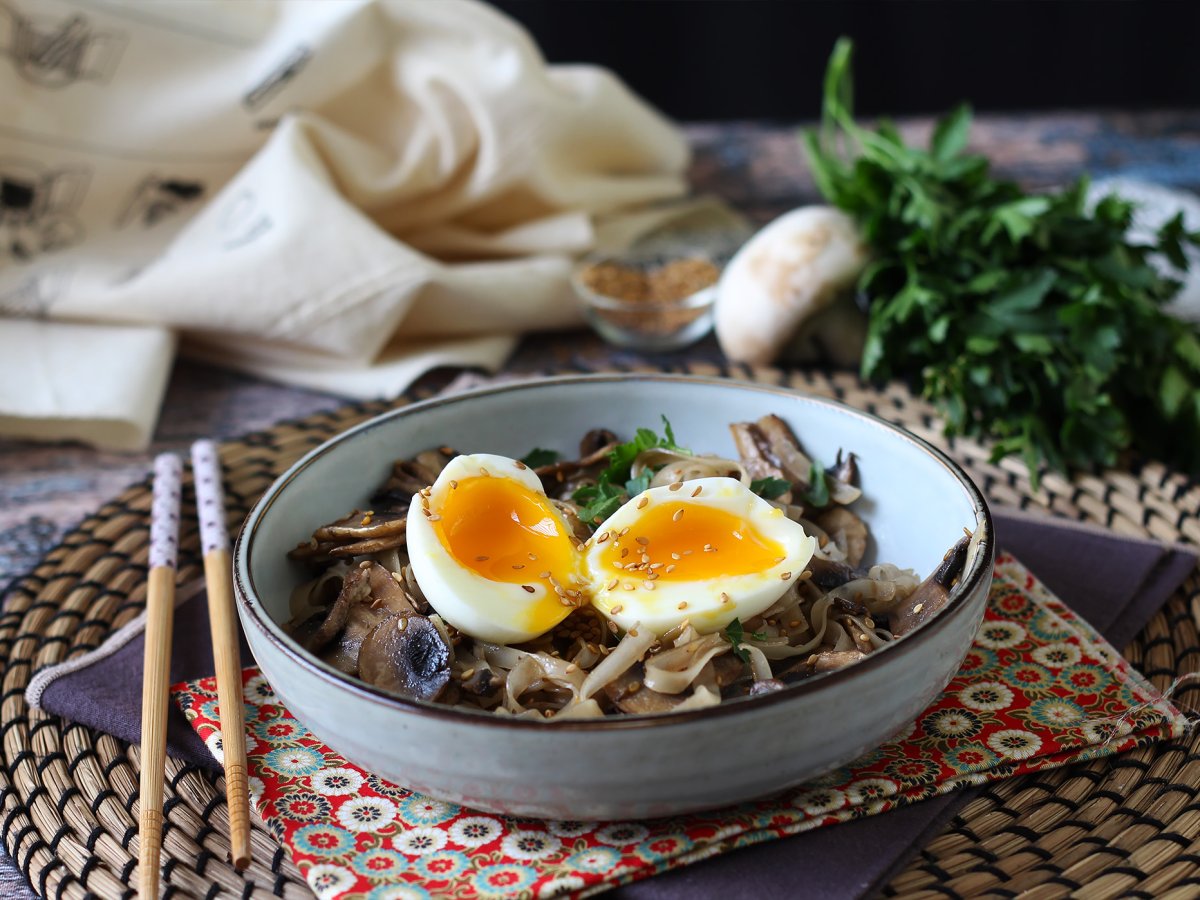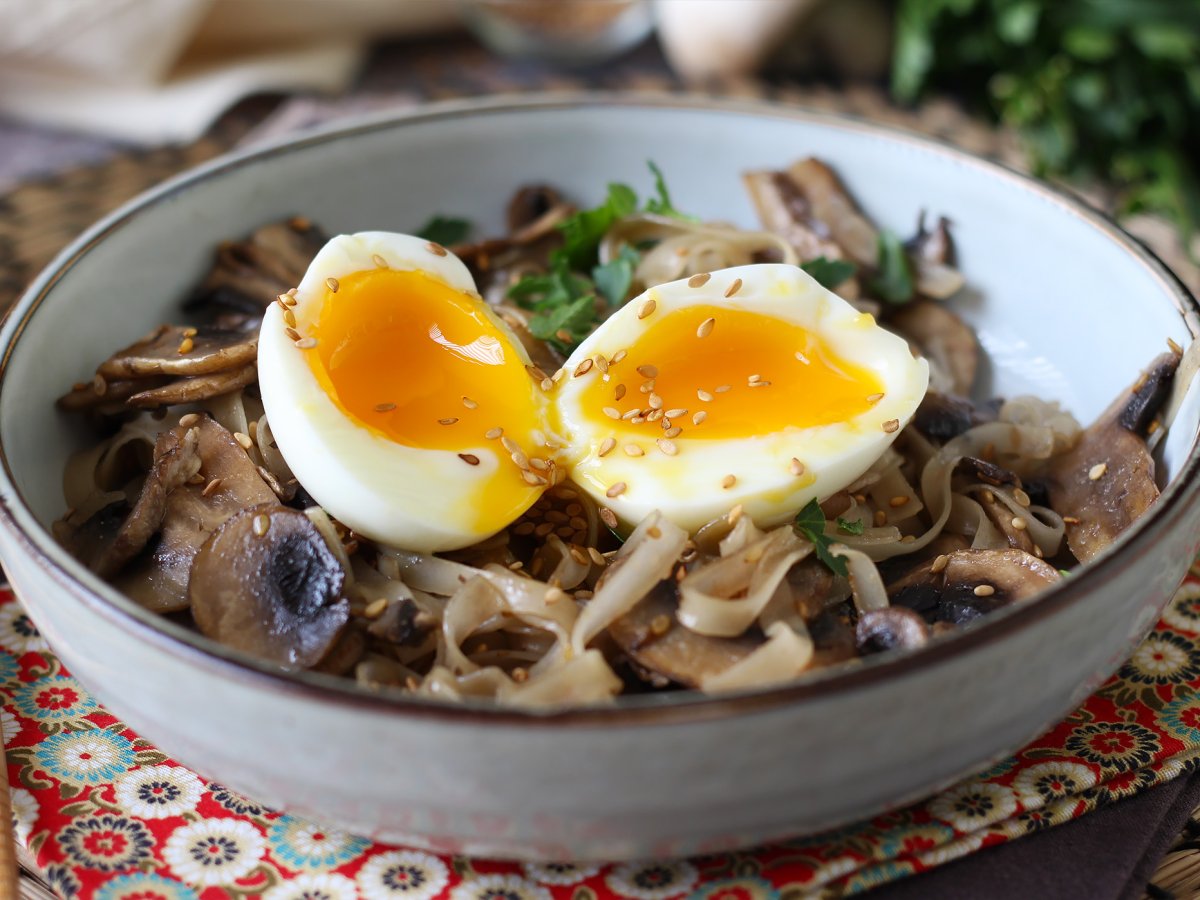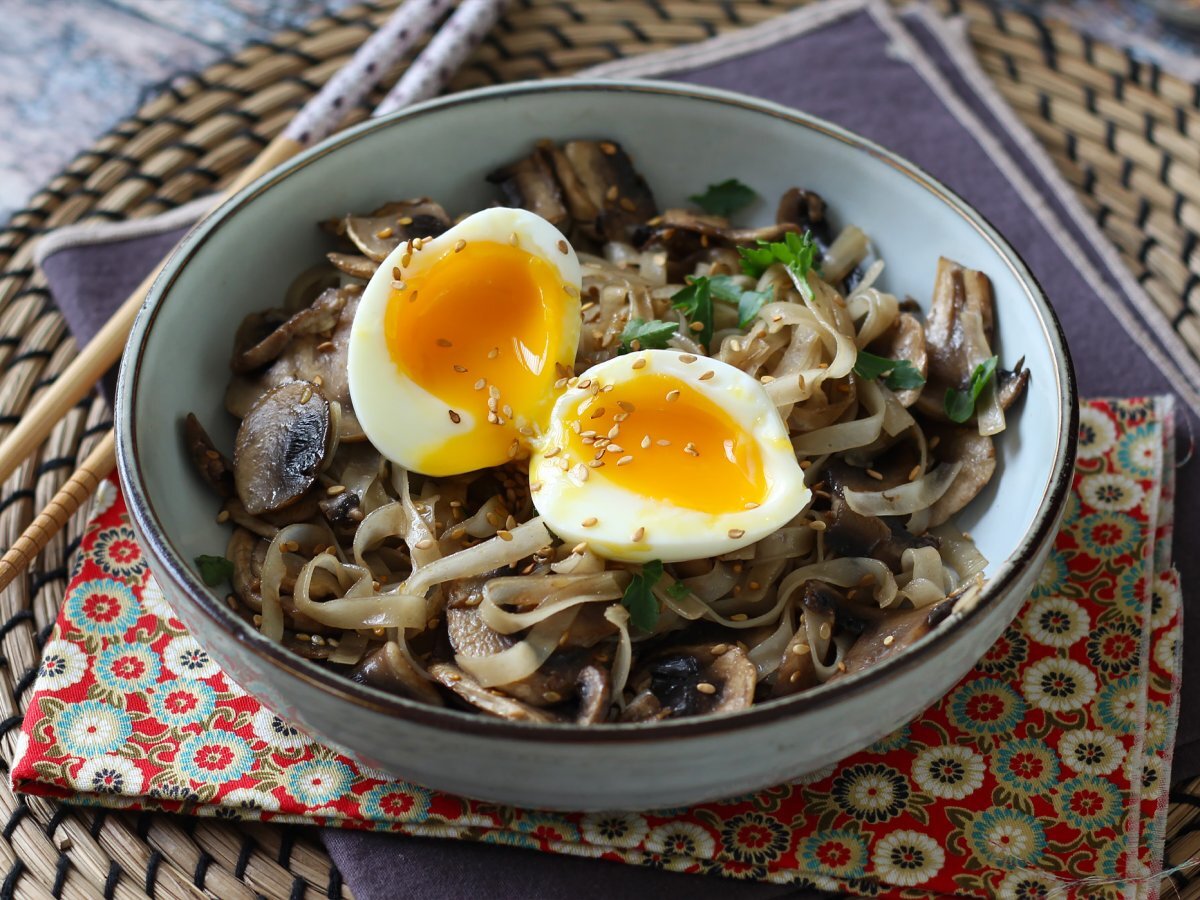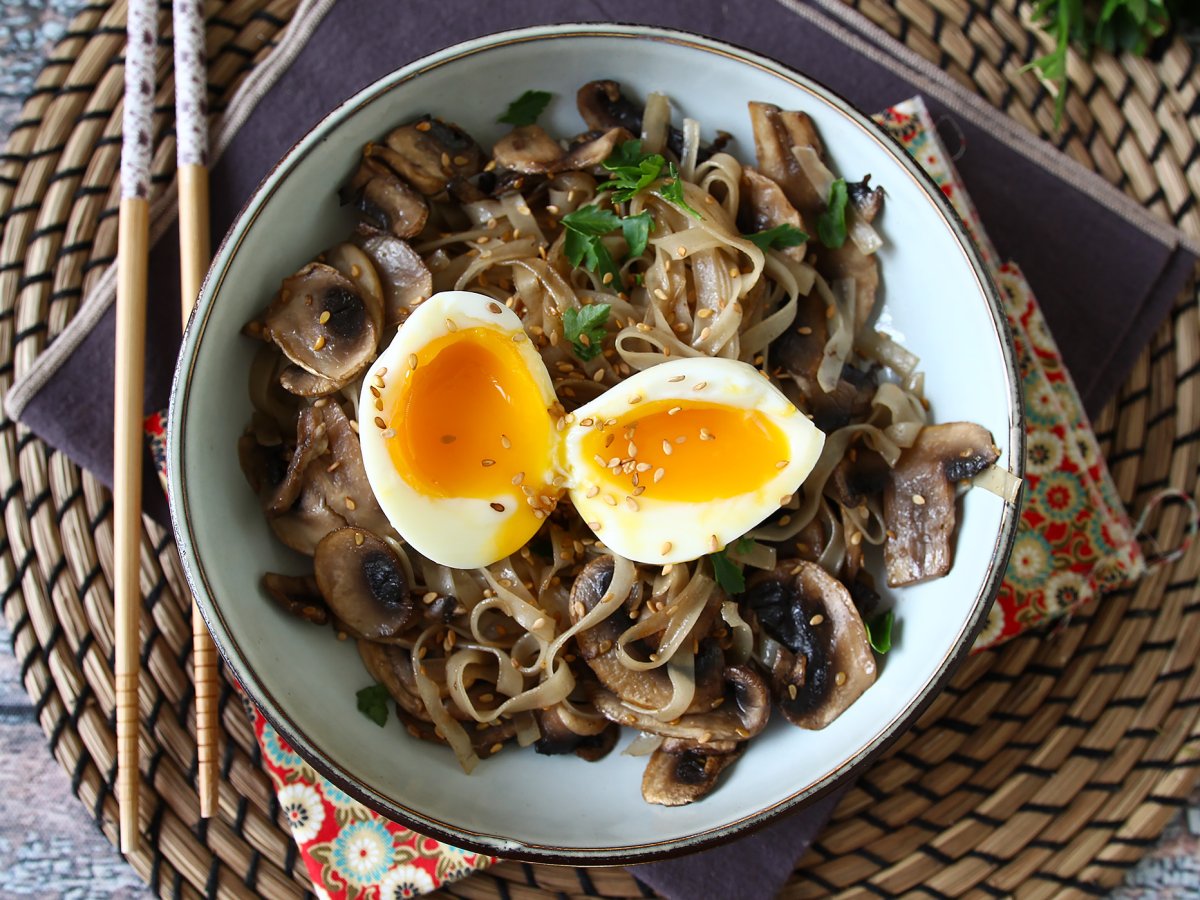 Questions:
You may like
Recipes