Roast Chicken with Glutinous Rice Stuffing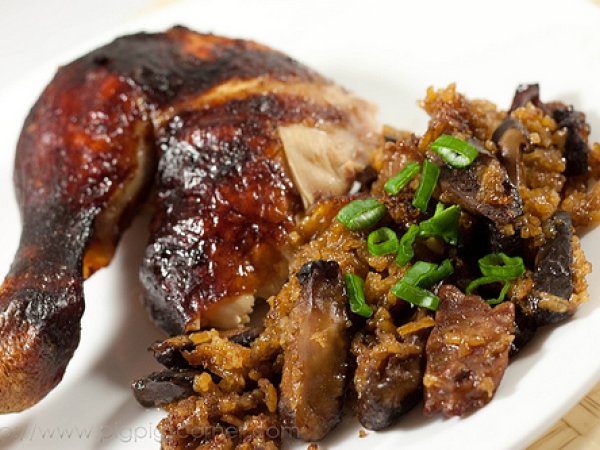 Preparation
Clean and trim chicken. Pat dry with paper towels. Generously rub salt all over chicken and the inside of the cavity. Leave to stand for about 30 minutes. Mix together ingredients for marinade and rub marinade all over chicken and the inside of the cavity. Wrap with cling flim and refrigerate overnight. Soak glutinous and Chinese mushrooms in water and leave overnight.
The next day:
Before roasting, prepare glutinous rice stuffing.Drain rice, leave aside for later use. Slice the mushrooms, Chinese sausages and chop up some dried shrimps. Heat up a non-stick pot, add Chinese sausages, fry until browned.
Discard some oil in the pot, leaving about 1 tablespoon of oil in the pot. Add dried shrimps. fry until fragrant.
Add mushrooms. Add rice. Pour in rice wine, water and water used for soaking mushrooms. Mix in seasonings. Bring to boil then reduce heat to simmer. Cover and leave to cook for about 20 minutes.
Stuff the cooked rice into the chicken's cavity. You will havea bout half of the stuffing left, so you can start eating now.
Rub chili oil all over the bird. Place on a roasting rack.
Roast at pre-heated oven (220°C for 30 minutes). Remove bird from oven, baste it and continue roasting at 200°C for another hour or until done. Check by piercing the the thigh with a knife, juices should run clear. You may have to cover with foil half way through to prevent it from burning.
Questions:
You may like
Recipes