Sambal petai udang (spicy prawns with stinky beans)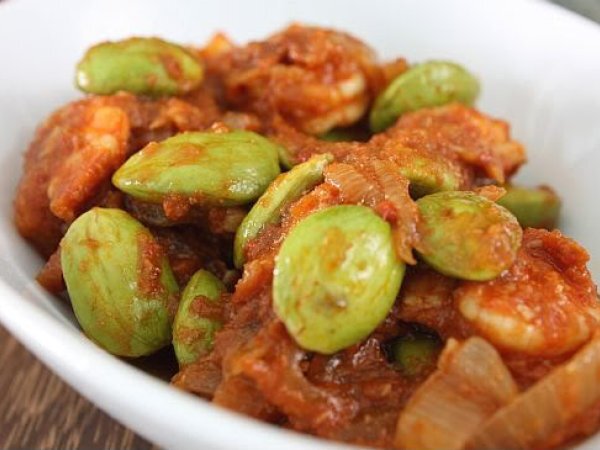 Recipe type:

Main Dish

Number of serving:

4 servings

Preparation:

20 min

Cook time:

15 min

Ready in:

35 min

Difficulty:

Very Easy
Ingredients
-
Rice
bowl petai shelled from four
- 4 tablespoons oil
- 10 shallots, ground with one stalk
lemon
grass
- 2 tablespoons dried chilli paste
- 3 chili padi
- 1/2 teaspoon dried
shrimp
paste
- 1 tablespoon tamarind paste mixed with 250 ml water
- 200 g fresh
prawns
- 1 large onion
- 1/2 to 1 teaspoon sugar
-
Salt
to taste
Preparation
Step 1
Heat oil in wok and fry the ground shallots and lemon grass till fragrant. Add the sliced onion, chilli paste, chili padi and shrimp paste and saute for a minute.
Step 2
Add tamarind juice and continue to stir till the desired consistency. Add prawns and stir till three-quarters cooked.
Step 3
Then add in the petai and cook for about two minutes. Add sugar and salt to taste.
Step 4
The petai should be just half cooked to taste good.
Questions:
---
---
Related video
Related recipes
Recipes
Related articles
Impress your friends with these St Patrick's day recipes!