Seafood stir fried rice
By
nonchefnick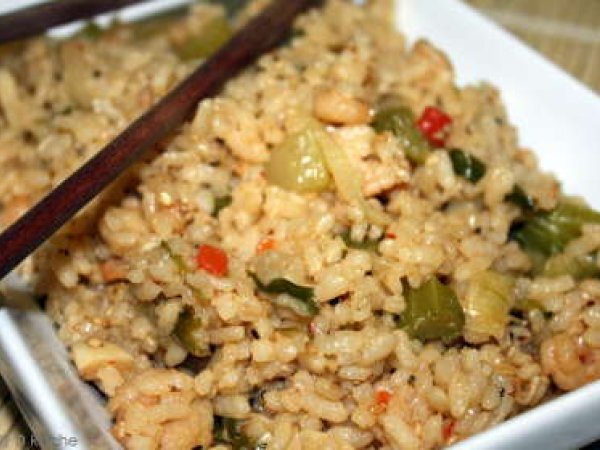 Recipe type:

Main Dish

Number of serving:

2 servings

Preparation:

20 min

Cook time:

10 min

Ready in:

30 min

Difficulty:

Very Easy
Ingredients
1 cup short grain
rice
2 cups
chicken
stock
1/4 pound bay
shrimp
1/4 pound bay scallops (small ones)
2 medium shallots, chopped
4
cloves
of garlic, finely chopped
1 small yellow
onion
, chopped
3 green onions, finely sliced
4 tablespoons olive oil
1 tablespoon sesame oil
2 tablespoons pimientos
1 teaspoon salt
1 teaspoon course ground black pepper
2 tablespoons toasted sesame seeds
1/4 cup water
1/2 cup celery, finely chopped
Preparation
1.In a pot, bring chicken stock and 2 tablespoons of the olive oil to a boil, add rice, and cook covered, reducing heat to low. Cook according to directions (about 18 to 20 minutes. When cooked, gently stir using a fork. Set aside.

2.In a saute pan, saute onions, shallots, celery, and garlic in the 2 remaining tablespoons of olive oil over medium high heat. Saute for about 3 minutes.

3.Now add the shrimp and scallops and saute, stirring for about 30 seconds, then add pimientos and green onions, stirring for another 30 seconds. Add the water.

4.Now add the sesame oil and the cooked rice, stir well so all ingredients are incorporated and rice is well coated. Add the salt and pepper, along with the sesame seeds. Stir for about 20 seconds and transfer to a serving platter. Serve hot.

Now how easy was that? If you want to feed a group of 4, just double the quantities of the ingredients. If you want, you may also add some shredded bbq pork, which can be found pre cooked in your grocery store. After a long day of tedious cooking for Thanksgiving, it's nice to give it a rest and make something simple. Save the turkey leftovers for the weekend!!
Questions:
By
nonchefnick

---
---
Related video
Related recipes
Recipes